Social Media Best Practices
After Snafu, Virgin America Rebuilds Trust One Tweet at a Time. BMW debuts social-media campaign for concepts. BMWBMW is using Foursquare, Mashable and iAd to reach younger buyers BMW launched its next marketing campaign for the BMW i3 and i8, aimed at the tech consumer.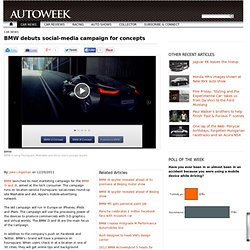 The campaign runs on location-service Foursquare, social-news round-up site Mashable and iAd, Apple's mobile-advertising network. The iAd campaign will run in Europe on iPhones, iPods and iPads. The 2 things you need to do to protect your online security from apps. It's amazing how many apps we all use on a daily basis that ask us to log in using either our Facebook or Twitter accounts.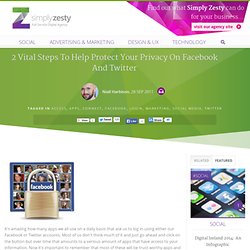 Most of us don't think much of it and just go ahead and click on the button but over time that amounts to a serious amount of apps that have access to your information. Now it's important to remember that most of these will be trust worthy apps and they sometimes don't ask for more than your email address but there are some simple steps you should be taking to protect yourself. Facebook You'll want to head over to this page (and be logged in to your Facebook account) and once you do you'll see a long list of the apps that you are currently using.
Using social media at live events: best practice tips. Social media has become an important part of a conference or event.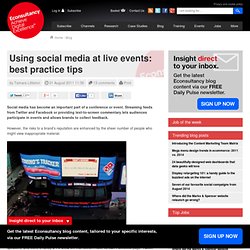 Streaming feeds from Twitter and Facebook or providing text-to-screen commentary lets audiences participate in events and allows brands to collect feedback. However, the risks to a brand's reputation are enhanced by the sheer number of people who might view inappropriate material. Conferences have long used Twitter to gather audience questions and feedback on the speakers, and there's hardly a TV show left that doesn't have its own Facebook page, Twitter hashtag feed streamed onto its website, or text-to-screen service. Political debates, from Obama's town hall to the London Mayoral debates, use social media to broadcast the event beyond the attending or viewing audiences. Q-and-A: Using social media to make connections in your career. Donna Farrugia is executive director of The Creative Group, a specialized staffing firm that places a comprehensive range of design and marketing professionals with organizations.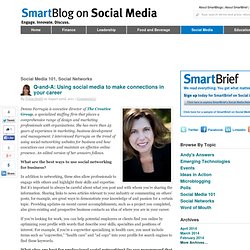 She has more than 25 years of experience in marketing, business development and management. I interviewed Farrugia on the trend of using social-networking websites for business and how executives can create and maintain an effective online presence. An edited version of her answers follows. What are the best ways to use social networking for business? A 5-step plan for explaining 'viral' content to wide-eyed clients. Ask any online marketer or PR pro, and you're sure to hear that one of the top requests from their clients is to have their content go "viral."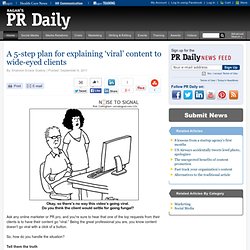 Being the great professional you are, you know content doesn't go viral with a click of a button. So, how do you handle the situation? Tell them the truth. 10 Things You Should Include in a Social Media Plan. While the 4 Ps of marketing are still relevant, it's the 7 Ps that are most applicable to modern day marketing.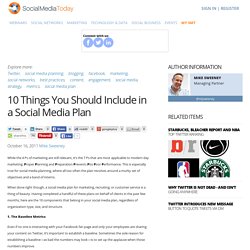 Proper Planning and Preparation Prevents Piss Poor Performance. This is especially true for social media planning, where all too often the plan revolves around a murky set of objectives and a band of interns. To Monetize Social Media, Humanize It - Amy Jo Martin. This post is part of the HBR Insight Center Marketing That Works.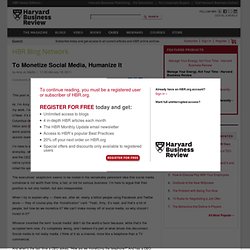 Hi, I'm Amy. A quick introduction is in order here because, while you don't know me, you may know my work. I've spent the past three years building an online brand you may know called Shaquille O'Neal. It's been an amazing voyage navigating the uncharted waters of social media with this Columbus-like pioneer of the medium. Through many experiments with @SHAQ, @DoubleTree by Hilton and @TheRock among others, I've created some best practices, and I've identified some worst practices. 4 Ingredients to a Successful Social Web Strategy. For many marketers, cross channel marketing on the social web has been a dizzying, ad hoc, and all-too-often unmeasured experiment.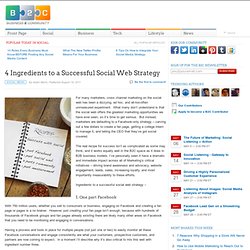 What many don't understand is that the social web offers the greatest marketing opportunities we have ever seen, so it's time to get serious. But instead, marketers are defaulting to a Facebook-only strategy – carving out a few dollars to create a fan page, getting a college intern to manage it, and telling the CEO that they've got social covered. The real recipe for success isn't as complicated as some may think, and it works equally well in the B2C space as it does in B2B business models. I've personally seen it have a dramatic and immediate impact across all of Marketing's critical initiatives – driving brand awareness and advocacy, website engagement, leads, sales, increasing loyalty, and most importantly measurability to these efforts.
Ingredients to a successful social web strategy – 23 Things Great Brands Do In Social Media. No one wants to invest time in something only to be mediocre at it.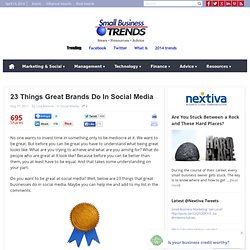 We want to be great. But before you can be great you have to understand what being great looks like. Social Media Strategy Follows the Golden Rule. Social media is fantastic, but the if you think creating a social media presence will yield instant results, you're in for an unpleasant surprise.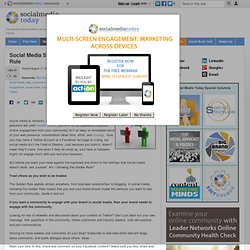 Online engagement from your community isn't an easy or immediate result of your web presence: conversation takes time, effort, and strategy. Sure, you may have a Twitter account or a Facebook fan page or a blog, but social media isn't the Field of Dreams. 7 Reasons Your Social Media Efforts Is Not Working. Let's Get Social: 3 Big Factors Why Your Company Should. Social media has proven success in the larger, retail driven market of business-to-consumer (B2C). How does that translate to your company, do you even need to be involved in social media space? If you participate, how do you manage a social media program and get the best return on investment (ROI)?
Social media is no longer a new technology, and poor presence leaves your company behind. But remember – social media is still ONE tool in your overall marketing strategy, not THE tool. Could Your Small Business Survive Without Social Media? Think your small business doesn't need social media? Here's why you need to join the conversation. August 23, 2011. 8 Essential Rules for Social Media and Business. Joshua Leatherman is the author of the book If Social Media is a Game, These are the Rules: 10 Rules for Building a Profitable Social Media Strategy.
Social Media is a complex and evolving medium that many businesses struggle to figure out. Few find quantifiable success with it, many have failed, and most have yet to truly form a social media strategy. Failure is often a result of using social media before taking time to understand it, including asking the questions why do people engage on it and what are the unwritten rules that govern its use. 2morrowknight: 16 Brilliant Business Minds on Twitter. This is the latest post in our series, Twitter Powerhouses, which focuses on the contributions of people who've helped to expand, influence, and redefine how we view social networking. Ideas can be powerful, and when they are combined with a strong will and a sense of optimism, they can become extraordinary. Business titans of the early 20th century - like Henry Ford, Hetty Green, and Madame C.J. Walker, to name just a few - understood this truth, and helped to build a powerful foundation upon which future generations have succeeded.
In fact, those who have succeeded in each of the three waves of the world economy, knew how to adapt to change, create opportunities for themselves and others, and how to turn an amazing dream into an economically constructive reality. This is some of what Huffington Post blogger Patricia Handschiegel has documented in her popular "The New Power Girls" series.
---