Social Media Best Practices
After Snafu, Virgin America Rebuilds Trust One Tweet at a Time
BMW debuts social-media campaign for concepts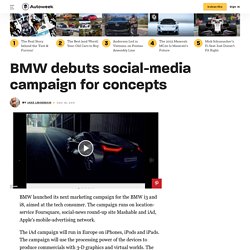 Autoweek loves passionate comments and debate, but remember that you're part of a diverse community. Above all: be respectful. Critique statements, not people; talk about the automotive world, but skip the political rhetoric, hate speech, and obscenities. While we can't read every post, this site is moderated and Autoweek will remove comments as we see fit. Questions?
It's amazing how many apps we all use on a daily basis that ask us to log in using either our Facebook or Twitter accounts.
The 2 things you need to do to protect your online security from apps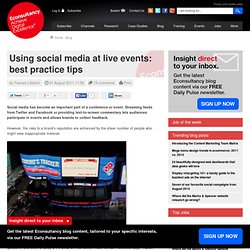 Social media has become an important part of a conference or event. Streaming feeds from Twitter and Facebook or providing text-to-screen commentary lets audiences participate in events and allows brands to collect feedback.
Using social media at live events: best practice tips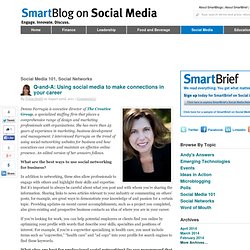 Donna Farrugia is executive director of The Creative Group , a specialized staffing firm that places a comprehensive range of design and marketing professionals with organizations.
Q-and-A: Using social media to make connections in your career
A 5-step plan for explaining 'viral' content to wide-eyed clients
Ask any online marketer or PR pro, and you're sure to hear that one of the top requests from their clients is to have their content go "viral."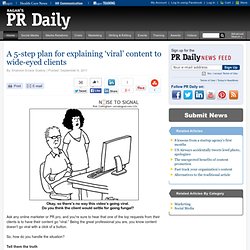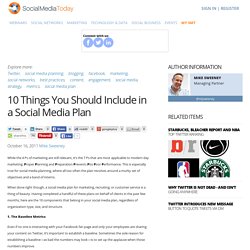 While the 4 Ps of marketing are still relevant, it's the 7 Ps that are most applicable to modern day marketing. P roper P lanning and P reparation P revents P iss P oor P erformance. This is especially true for social media planning, where all too often the plan revolves around a murky set of objectives and a band of interns.
10 Things You Should Include in a Social Media Plan
This post is part of the HBR Insight Center Marketing That Works .
To Monetize Social Media, Humanize It - Amy Jo Martin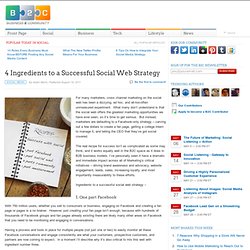 For many marketers, cross channel marketing on the social web has been a dizzying, ad hoc, and all-too-often unmeasured experiment. What many don't understand is that the social web offers the greatest marketing opportunities we have ever seen, so it's time to get serious.
4 Ingredients to a Successful Social Web Strategy
23 Things Great Brands Do In Social Media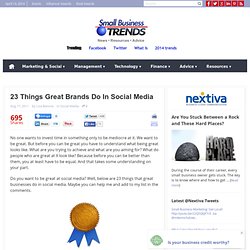 No one wants to invest time in something only to be mediocre at it. We want to be great. But before you can be great you have to understand what being great looks like.
Social media is fantastic, but the if you think creating a social media presence will yield instant results , you're in for an unpleasant surprise. Online engagement from your community isn't an easy or immediate result of your web presence: conversation takes time, effort, and strategy . Sure, you may have a Twitter account or a Facebook fan page or a blog, but social media isn't the Field of Dreams.
Social Media Strategy Follows the Golden Rule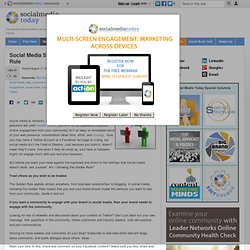 Social media has given people and brands the opportunity to make their message heard and there are so many venues available like Twitter, Facebook, and now Google plus.
7 Reasons Your Social Media Efforts Is Not Working
Social media has proven success in the larger, retail driven market of business-to-consumer (B2C).
Let's Get Social: 3 Big Factors Why Your Company Should
Could Your Small Business Survive Without Social Media?
Could your business survive without social media? If the answer is "No," you'll be just as surprised as I was to discover that in a recent survey by small business insurance provider Hiscox , a mere 12 percent of small business owners surveyed described social media as a "must." In comparison, a whopping 50 percent said word-of-mouth was essential to their businesses.
8 Essential Rules for Social Media and Business
Joshua Leatherman is the author of the book If Social Media is a Game, These are the Rules: 10 Rules for Building a Profitable Social Media Strategy .
2morrowknight: 16 Brilliant Business Minds on Twitter
This is the latest post in our series, Twitter Powerhouses , which focuses on the contributions of people who've helped to expand, influence, and redefine how we view social networking. Ideas can be powerful, and when they are combined with a strong will and a sense of optimism, they can become extraordinary.