Smartphones & tablets
13 Amazing Facts About Smartphone Use Around The World. Beatsurfing iPad App Lets You Design A Frankenstein Music Instrument. Most of our instruments today are based upon analog limitations.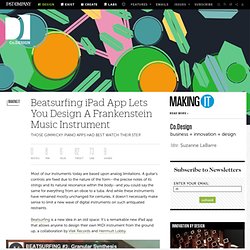 A guitar's controls are fixed due to the nature of the form--the precise notes of its strings and its natural resonance within the body--and you could say the same for everything from an oboe to a tuba. And while these instruments have remained mostly unchanged for centuries, it doesn't necessarily make sense to limit a new wave of digital instruments on such antiquated restraints. Beatsurfing is a new idea in an old space: It's a remarkable new iPad app that allows anyone to design their own MIDI instrument from the ground up, a collaboration by Vlek Records and Herrmutt Lobby. "While the iPad has been used for emulating lots of analog hardware or existing softwares during its short history, we thought it was important to take a step back and see it as a white sheet," the Beatsurfing team tells Co.Design.
Apple and the new iPad: By the numbers — Apple News, Tips and Reviews.
Tablets
Study: 52% of Smartphone Videos are Watched at Home. Over half of smartphone videos are viewed at home, a new study reports.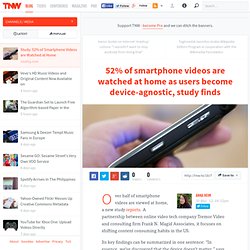 A partnership between online video tech company Tremor Video and consulting firm Frank N. Magid Associates, it focuses on shifting content consuming habits in the US. Its key findings can be summarized in one sentence: "In essence, we've discovered that the device doesn't matter," says Mike Vorhaus, President of Magid Advisors. 10 creative iPad apps for aspiring artists. Ever wonder how to use your iPad to expand your creative potential?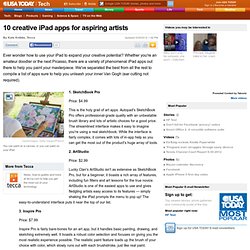 Whether you're an amateur doodler or the next Picasso, there are a variety of phenomenal iPad apps out there to help you paint your masterpiece. We've separated the best from all the rest to compile a list of apps sure to help you unleash your inner Van Gogh (ear cutting not required).
Smartphone Mania: The New Workforce. I started thinking about how many cell phones I have gone through since I first started using them, and I unfortunately lost count.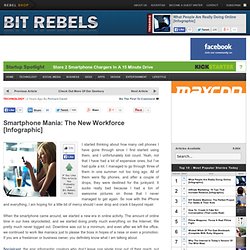 Yeah, not that I have had a lot of expensive ones, but I've had quite a lot. I managed to go through three of them in one summer not too long ago. Historic Timeline Of Mobile Productivity. Everyone is talking about how much the cell phone and the smartphone have increased our productivity; however, I don't completely agree with that statement.
I mean, of course it has helped us to leave our offices and do our work on the go, and I suppose that might be considered more productive. On the other hand though, there are so many apps being developed today, and most of them are designed to entertain us. I feel that we are constantly challenged to focus on what we are supposed to do instead of what we can do. I know so many people who find themselves completely emerged in Angry Birds, for example, that they pretty much loose a couple of hours a day just playing that.
So what has the mobile phone actually given us? How the iPhone Changed Everything: An Interview with Brian X. Chen. By Maria Popova Business advice from Steve Jobs, or why everything you knew about multitasking might be wrong.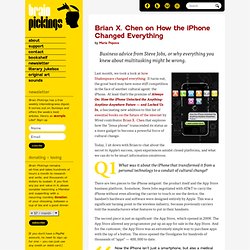 Last month, we took a look at how Shakespeare changed everything. It turns out, the great bard may have some stiff competition in the face of another cultural agent: the iPhone. At least that's the premise of Always On: How the iPhone Unlocked the Anything-Anytime-Anywhere Future — and Locked Us In, a fascinating new addition to this list of essential books on the future of the internet by Wired contributor Brian X. The Facebook iPhone. In The Facebook Effect, David Kirkpatrick posits the great social network is the one entity that could bully Apple, today's most powerful technology company.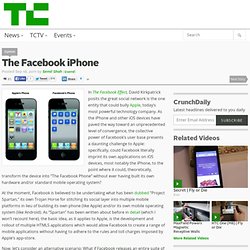 As the iPhone and other iOS devices have paved the way toward an unprecedented level of convergence, the collective power of Facebook's user base presents a daunting challenge to Apple: specifically, could Facebook literally imprint its own applications on iOS devices, most notably the iPhone, to the point where it could, theoretically, transform the device into "The Facebook Phone" without ever having built its own hardware and/or standard mobile operating system? At the moment, Facebook is believed to be undertaking what has been dubbed "Project Spartan," its own Trojan Horse for stitching its social layer into multiple mobile platforms in lieu of building its own phone (like Apple) and/or its own mobile operating system (like Android). Pew Study Reveals Who's Using Smartphones And How. A new study from the Pew Internet and American Life Project has some interesting findings about how Americans are using smartphones.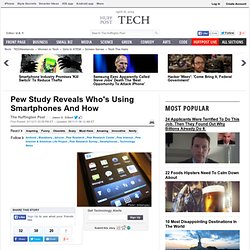 About one-third, or 33 percent, of Americans surveyed own a smartphone, though adoption is higher among young people, wealthy individuals, and African-American and Latino users. So what are people doing with their phones? Eighty-seven percent of smartphone users are going online or checking their mail with their smartphones, 67 percent saying they do so daily. How China's Youth Use Their Mobiles in 2011 [INFOGRAPHIC] The Infographic of the Day series visually expresses important stories from Asia and the world of technology.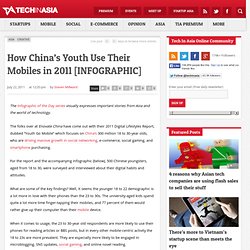 The folks over at Enovate China have come out with their 2011 Digital Lifestyles Report, dubbed "Youth Go Mobile" which focuses on China's 300 million 18 to 30-year olds, who are driving massive growth in social networking, e-commerce, social gaming, and smartphone purchasing. For the report and the accompanying infographic (below), 500 Chinese youngsters, aged from 18 to 30, were surveyed and interviewed about their digital habits and attitudes. What are some of the key findings?
---