Pinterest
6 Ways to Use Pinterest to Promote Your Brand. Is Pinterest part of your marketing strategy?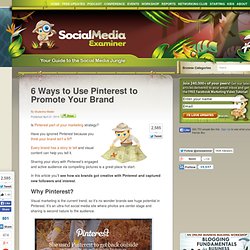 Have you ignored Pinterest because you think your brand isn't a fit? Every brand has a story to tell and visual content can help you tell it. Sharing your story with Pinterest's engaged and active audience via compelling pictures is a great place to start. In this article you'll see how six brands got creative with Pinterest and captured new followers and interest. Les réseaux sociaux qui montent Lausanne. How to Use Pinterest & Instagram to Build Relationships. It's a fact: pictures speak to us in ways that words never will, right?
In some cases, text will do a better job of accomplishing our goals: for instance, if I wanted to do a detailed tutorial on 'how to write a blog post', text would obviously work far better. But in terms of building relationships? I would argue that images go a long way to connecting with people on a heart-level, rather than simply on an intellectual level. For instance, here is what the Social Media Manager for flash sale travel site Jetsetter had to say about Pinterest: "We were looking for a fun way to involve our community to help us curate the world's best travel experiences.
How to Use Pinterest (The Ultimate Guide to Pinterest) How to Use Pinterest (The Ultimate Guide to Pinterest)Do you want to dominate on Pinterest?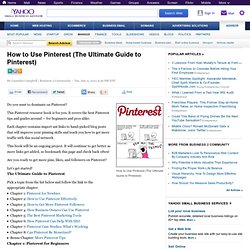 This Pinterest resource book is for you. It covers the best Pinterest tips and guides around — for beginners and pros alike. 142 Pinterest Board Ideas for Entrepreneurs | Pinterest Power Tips. Exclusif: Pinterest se lance aujourd'hui dans la géolocalisation, les explications de Stéphanie Tramicheck. La présidente de Pinterest France révèle en exclusivité pour Frenchweb la stratégie du réseau social Stéphanie Tramicheck est présidente de Pinterest France depuis septembre.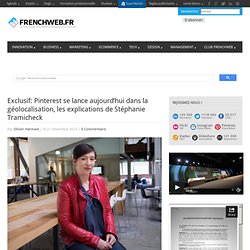 [Pour en savoir plus, consultez notre entretien vidéo : Qui est Stéphanie Tramicheck, la toute nouvelle country manager France de Pinterest ?] Untitled. I can't believe that I made it onto +socialmediaweek!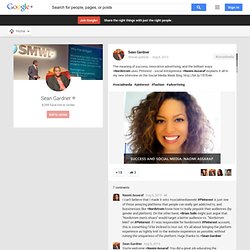 #Pinterest is just one of those amazing platforms that people can really get addicted to, and bussinesses like +Nordstrom know how to really pinpoint their audiences (by gender and platform). On the other hand, +Brian Solis might just argue that "Nordstrom men's shoes" would target a better audience vs. "Nordstrom Men" on #Pinterest. If I was responsible for Nordstrom's #Pinterest account, this is something I'd be inclined to test out. Pinterest Rolls Out Business-Friendly Monetizing Tools.
Pinterest came into existence in 2009 and has since seen a spate of businesses being attracted to it.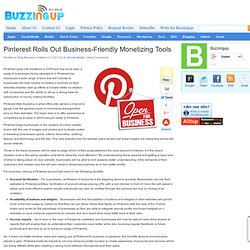 Pinterest has introduced a wide range of tools that will indicate to businesses the total number of visitors it receives on their websites besides start up efforts to enable better co-relation with companies and the ability to set up a strong base for introduction of money making facilities. Pinterest Web Analytics is what offers site owners a chance to gauge how the general public is conversing amongst their pins on their websites.
The basic idea is to offer awareness to companies as to ways in which people relate to Pinterest. Office / successful people. 10 Tips for Marketing your Business on Pinterest. If you think that publishing is going through an evolution then photography is experiencing a revolution.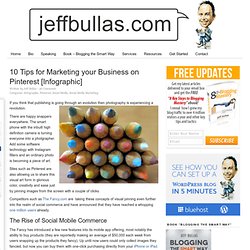 There are happy snappers everywhere. The smart phone with the inbuilt high definition camera is turning everyone into a photgrapher. — Pinterest: How 5 Top Brands Are Doing It Right. You surely have heard a lot about Pinterest these last few months.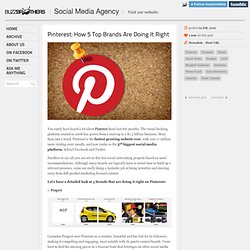 The visual booking platform created in 2008 has grown from a start-up to a $1.5 billion business. More than just a trend, Pinterest is the fastest growing website ever, with over 17 million users visiting every month, and now ranks as the 3rd biggest social media platform, behind Facebook and Twitter. Needless to say all eyes are set on this hot social networking property based on users' recommendations. 6 Ways Brands Can Rock Pinterest (Infographic) There are plenty of brands rocking Pinterest, and yours should be one of them.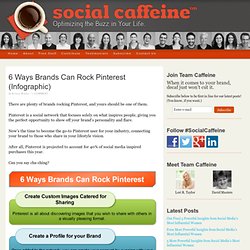 Pinterest is a social network that focuses solely on what inspires people, giving you the perfect opportunity to show off your brand's personality and flare. Now's the time to become the go-to Pinterest user for your industry, connecting your brand to those who share in your lifestyle vision. After all, Pinterest is projected to account for 40% of social media inspired purchases this year. Can you say cha-ching? Visual Marketing / How to measure success on #Pinterest? from the thenextweb. Daily Inspiration / always. The 10 Commandments of Using Pinterest for Business. A version of this post originally appeared at AmyPorterfield.com.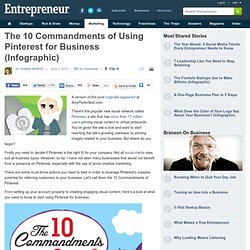 There's this popular new social network called Pinterest, a site that has more than 17 million users pinning visual content to virtual pinboards. You've given the site a look and want to start reaching the site's growing userbase by pinning images related to your business. 5 Pinterest Boards Every Content Marketer Should Follow (@nateriggs) | Nate Riggs Blog. Welcome to nateriggs.com. Why not while you're here? Let's be honest — step parenting and learning how to adapt to blended family life can be one of the toughest challenges that we face as parents and step parents. Rearing children is about teaching kids right from wrong, how to make good choices, and how to behave in a in a way that aligns with the values that the blended family unit holds most dear.
How to Use Pinterest to Drive More Traffic to Your Blog. Are you wondering how Pinterest could increase your blog readership? Pinterest drives more traffic to websites than YouTube, Reddit, Google Plus and LinkedIn combined according to new research. With this in mind, here are six easy steps for tapping the power of Pinterest to drive more traffic to your blog. #1: Choose the Best Blog Posts to Pin.
Log In. The rise of design heroes in digital technology. Social media and good design haven't always gone hand in hand. Myspace saw the concept of design reach lows few of us could ever have imagined. When Facebook Pages first emerged for brands, there was little in the way of customisation, and that which was available was fairly clunky and standardised. Social media is also responsible for the rush to place buttons on every single page on a website. Never mind what it looked like, your webpage has to have every single social media button under the sun, lest you forget a random site with ten users where you might not get bookmarked. How To Create a Pinteresting Healthcare Social Media Strategy. EXCLUSIVE POST - A recent study revealed that Pinterest, the latest social networking site to take the social media world by storm, is now driving more traffic to websites and blogs than YouTube, Google+ and LinkedIn combined.
What is Pinterest? Pinterest is a social networking site with a visually-pleasing "virtual pinboard" interface. Users collect photos and link to products they love, creating their own pinboards and following the pinboards of other people whom they find interesting. Pinterest has a New Design. Pinterest released a new page design for profile pages this week that will be advantageous for both pinners and businesses. The new design highlights the user profile in a large header and has added more connection options for a user to populate. The board's image preview has gotten an update, along with the ability to arrange the boards with a drag and drop feature, so you can organize what boards will appear above the fold.
They have also improved functionality by moving main navigation elements and activity to a single bar just below the profile header. This is an example from a recent blog post with the previous profile landing page design. Social Magazine NewsMix adds Pinterest Support. INTELLECTUAL Men of Google+ and the VAPID Women of Pinterest. Here's How to Use Pinterest to Make a Big Announcement. A Complete Ranking of the Most Popular Profiles on Google+ and 5 Other Social Networks. Pinterest for Brands: 5 Hot Tips. 3 Reasons Why Pinterest Is Addicting - Digital Curio | Online Marketing and Social Media in Jacksonville, FL. How to (easily) add a Pinterest tab to your Facebook Page. Pinterest For Local Business: What You Need To Know. Pinterest: 5 Things to Know about the New Social-Media Platform. The Secret History of Pinterest — REVEALED! Pinterest: An Illustrated Field Guide (Plus a Few Survival Tips) - Phoenix Art - Jackalope Ranch.
Pinterest: Everything You Need To Know Is In This Massive Post. Is Pinterest Right for Your Business, or Should You 'Put a Pin' in It? 7 Examples of Brands That Pop on Pinterest. 15 of the Most Popular Pictures on Pinterest. 10 Tips on Using Pinterest for your Business. What Pinterest is Doing that Facebook Isn't. Pinterest for Brands: 5 Hot Tips. Social Media / all about pinterest! Top 5 Tips For Brands Using Pinterest | Seedwalker.
Is Pinterest the 'next big thing' in social media? | The Digital Home.
---