Mobile Marketing
Mobile Marketing by the Numbers [INFOGRAPHIC] The number of Americans who own smartphones rocketed past the number who own basic mobile phones this year, and marketers have been expanding their mobile budgets at a similarly rapid rate.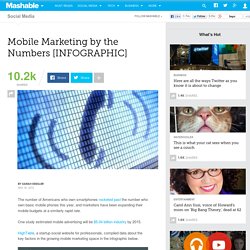 One study estimated mobile advertising will be $5.04 billion industry by 2015. HighTable, a startup social website for professionals, compiled data about the key factors in the growing mobile marketing space in the infographic below. The Mobile Market revolution | inZair. Mobile is fast becoming essential for our daily activities such as shopping, looking for a restaurant or other local information.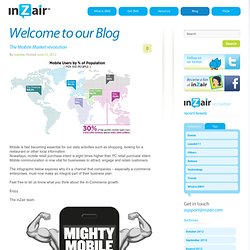 Nowadays, mobile retail purchase intent is eight times higher than PC retail purchase intent. Mobile communication is now vital for businesses to attract, engage and retain customers. The infographic below explores why it's a channel that companies – especially e-commerce enterprises, must now make an integral part of their business plan. Feel free to let us know what you think about the m-Commerce growth. Enjoy. 91% Of Top Brands Have Apps, But How Many Are Any Good? This article titled "91% of top brands have apps, but how many of them are any good?"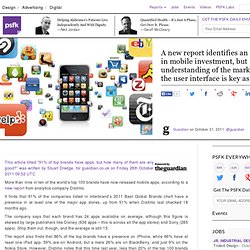 Was written by Stuart Dredge, for guardian.co.uk on Friday 28th October 2011 09.52 UTC More than nine in ten of the world's top 100 brands have now released mobile apps, according to a new report from analytics company Distimo. Mobile ad market gets more muscle. By Jon Swartz, USA TODAY Posted 7/14/2011 6:08:06 PM | SAN FRANCISCO — The mobile-ad market is scorching hot, in part because companies are getting more comfortable with using those ads to reach the third of American adults who own smartphones.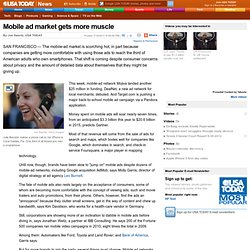 That shift is coming despite consumer concerns about privacy and the amount of detailed data about themselves that they might be giving up. Why You Need Mobile Marketing Now! [Research. Mobile phones and particularly the increasing adoption of smartphones, continue to change how people receive information, consume content and engage with others.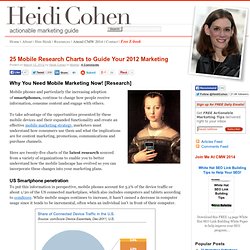 To take advantage of the opportunities presented by these mobile devices and their expanded functionality and create an effective mobile marketing strategy, marketers must understand how consumers use them and what the implications are for content marketing, promotions, communications and purchase channels. Here are twenty-five charts of the latest research sourced from a variety of organizations to enable you to better understand how the mobile landscape has evolved so you can incorporate these changes into your marketing plans.
Is your mobile strategy in motion? « mobi.luxe. This article was originally written for, and appeared in, Fashion's Collective (www.fashionscollective.com) In the constant-connective world of transmedia-enabled consumer engagement, it is imperative for retail marketers to challenge traditional structures of siloed brand marketing channels.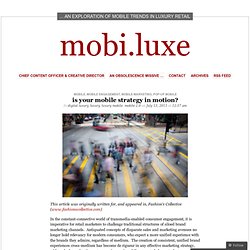 Antiquated concepts of disparate sales and marketing avenues no longer hold relevancy for modern consumers, who expect a more unified experience with the brands they admire, regardless of medium. The creation of consistent, unified brand experiences cross-medium has become de rigueur in any effective marketing strategy, with each channel acting not as one in a series of disconnected elements, but as a related transitive variable along the consumer engagement continuum. Mobile events are inherently transitive in nature. 360i Mobile Marketing Playbook. 360i Mobile Marketing Playbook.
Is this the Year of Mobile?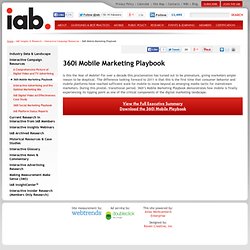 For over a decade this proclamation has turned out to be premature, giving marketers ample reason to be skeptical. The difference looking forward to 2011 is that this is the first time that consumer behavior and mobile platforms have reached sufficient scale for mobile to move beyond an emerging media tactic for mainstream marketers. During this pivotal, transitional period, 360i's Mobile Marketing Playbook demonstrates how mobile is finally experiencing its tipping point as one of the critical components of the digital marketing landscape. 360i-Mobile-Marketing-Playbook low res.pdf uploaded by @gleonhard (Gerd Leonhard) Leveraging mobile to market in the moment « mobi.luxe. This article was originally written for, and appeared in, Fashion's Collective (www.fashionscollective.com) Mobile is an action-oriented medium.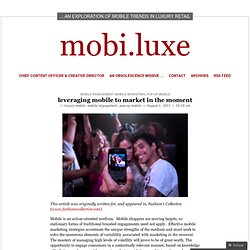 Mobile shoppers are moving targets, so stationary forms of traditional branded engagements need not apply. Effective mobile marketing strategies accentuate the unique strengths of the medium and must work to solve the numerous elements of variability associated with marketing in the moment. The mastery of managing high levels of volatility will prove to be of great worth. Mobile Is Not a Channel: Multi-Purpose Impact of the Smartphone. ExactTarget recently released a report, called "Mobile Indepence Day" (guess when they released it).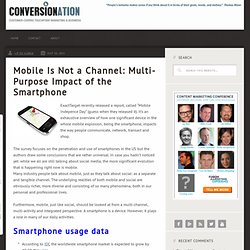 It's an exhaustive overview of how one significant device in the whole mobile explosion, being the smartphone, impacts the way people communicate, network, transact and shop. The survey focuses on the penetration and use of smartphones in the US but the authors draw some conclusions that are rather universal. In case you hadn't noticed yet: while we all are still talking about social media, the more significant evolution that is happening right now is mobile. Many industry people talk about mobile, just as they talk about social: as a separate and tangible channel. 8 Key Mobile Marketing Trends. This guest post was written by Christine Herrington, Co-Founder of SEO Skye , a search engine marketing firm based out of Denver, Colorado.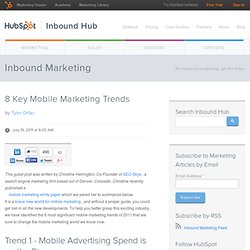 Christine recently published a mobile marketing white paper which we asked her to summarize below. It is a brave new world for mobile marketing , and without a proper guide, you could get lost in all the new developments. To help you better grasp this exciting industry, we have identified the 8 most significant mobile marketing trends of 2011 that are sure to change the mobile marketing world we know now. 9 Amazing Mobile Marketing Statistics Every Marketer Should Know. This is a guest blog post written by Jamie Turner. As the founder of the 60 Second Marketer, he is an in-demand marketing speaker and is currently writing a book entitled Go Mobile with Jeanne Hopkins, the director of marketing for HubSpot.
I attended Dreamforce in San Francisco last week to learn about new sales and marketing tools and techniques. The hot topic this year was mobile. (Okay, truth be told, there were three hot topics – cloud computing, social media, and mobile marketing. 7 Awesome New Mobile Marketing Infographics. As a follow up to the July blog post featuring 11 Mind-Blowing Mobile Marketing Infographics, we've kept our ear to the ground in order to bring more of the best to you. How Are Smartphones Being Used? This Tatango infographic was created by using a range of data culled via the Pew Research Centers, Internet and American Life Project.
Forrester: Smartphone mobile strategy means immediacy, push alerts and video. Travel companies should consider providing push alerts, the ability to modify or cancel reservations, and plenty of video and augmented reality as part of an effective mobile strategy, according to a new Forrester Research study. The study, Why Smartphones Will Become One of Travel's Two Most Important Touchpoints, written by Henry Harteveldt, notes that while only 22% of U.S. adults have smartphones, 35% of U.S. online leisure travelers and 55% of U.S. business travelers use these mobile devices. "This critical mass of adoption enables — make that compels — travel organizations to develop and executive smartphone-based eBusiness strategies and tactics that will keep them connected with their travelers, an audience that is willingly tethered to their smartphones," the study says.
By 2013, smartphone will join traditional websites as the two most important touchpoints in travel, Forrester says. 7 Big Reasons To Go Mobile | DudaMobile Blog. The transition to mobile for businesses has been a painfully slow one. It's been five years since the first iPhone came out, making smartphones mainstream, yet most businesses still don't have mobile-friendly sites. If anecdotal tales of consumers being attached to their mobile devices doesn't convince a business to go mobile, maybe this roundup of some of the most compelling mobile stats will sway you to the other side.
---