Marketing trends
40 Epic Marketing Insights From Google [Data] Ever needed a compelling, reliable stat to help make a point, round out a blog post, or make your ebook even more data-driven?
Think Insights with Google, Google's new information and resource hub for marketers, has got you covered! Officially out of beta today, Google's new resource offers helpful tools, studies, trends, stats, and videos to give marketers the data they need when they need it. Use the Real-Time Insights Finder to gather information about your business' target audiences, or simply browse through the site's Facts & Stats. 8 Mobile Marketing Trends You Should Track In 2012. With 2012 fast approaching along with it comes new mobile marketing opportunities that your business should follow as you consider efforts to spread the word about your brand and products and services through mobile.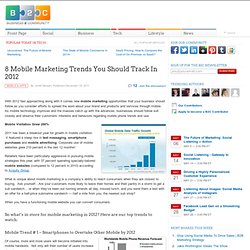 As mobile technology improves and the masses catch up with the advances, businesses should follow suit closely and observe their customers' interests and behaviors regarding mobile phone trends and use. Mobile Visitation Grew 200% 2011 has been a breakout year for growth in mobile visitation. It featured a steep rise in text messaging, smartphone purchases and mobile advertising. The Future of Marketing: 46 Experts Share Their Predictions For 2012. Last week, I explored "The Future of Social Media" and based on the positive feedback I decided to look into the crystal ball one more time and see what the future has in store for marketing.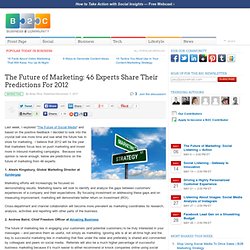 I believe that 2012 will be the year that marketers focus less on push marketing and invest more in inbound marketing campaigns. Because one opinion is never enough, below are predictions on the future of marketing from 46 experts. 1. Alexis Kingsbury, Global Marketing Director at Spidergap Marketing efforts will increasingly be focused on demonstrating results. The Future of Marketing 2012 and Beyond  Recently some clients have asked me to think about marketing, brands, consumers, the new media, technology, and how the new relationships among these elements are changing old enterprise/customer relationships.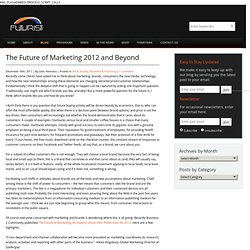 Fundamentally I think the deepest shift that is going to happen can be captured by asking one important question. Traditionally, one might ask which brands you like, and why? But a more powerful question for the future is, I think, which brands like you and how do you know?
---