Managing
Loyalty & New Media / Create a Killer Call-To-Action. #infographics #socialmedia #socialcaffeine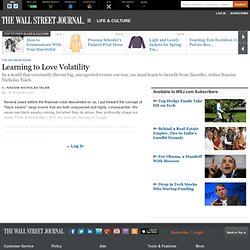 Several years before the financial crisis descended on us, I put forward the concept of "black swans": large events that are both unexpected and highly consequential. We never see black swans coming, but when they do arrive, they profoundly shape our world: Think of World War I, 9/11, the Internet, the rise of Google. In economic life and history more generally, just about everything of consequence comes from black swans; ordinary events have paltry effects in the long term. Still, through some mental bias,...
Learning to Love Volatility: Nassim Nicholas Taleb on the Antifragile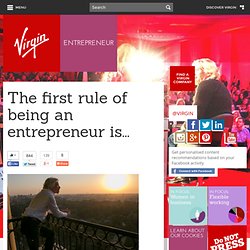 As part of our Global Entrepreneurship Week series, Virgins entrepreneur bloggers have come together to hand out some golden rules If something cant be explained on the back of an envelope, its rubbish.Richard Branson "Surround yourself with quality people that you can learn from, find a mentor that can help guide you along the way and dont give up!"Adam Toren "Don't be scared to fail.
The first rule of being an entrepreneur is... - Entrepreneur
blog.vash
Marketing & business development