Loyalty & New Media
Twitter Introduces Embedded Video. Four Types of Visual Content That Cut Through the Noise. From the beginning of time, people have been expressing themselves through visuals.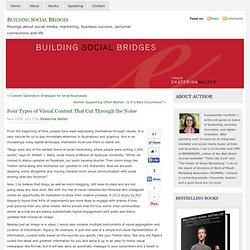 It is very natural for us to pay immediate attention to illustrations and graphics. And in an increasingly noisy digital landscape, marketers must use them to stand out. "Blogs were one of the earliest forms of social networking where people were writing 1,000 words," says Dr. Which Customers to Listen to, When - Maxwell Wessel. By Maxwell Wessel | 10:00 AM April 7, 2014 AOL, Nokia, RIM, Kodak, DEC. All the same story: once-great companies that suffered disruption. 10 questions à Eugène Schön, blogueur suisse | STAN. Sphere Of Influence: Diana Adams On Tech And Blogging For Newbies. From the moment that I first stumbled upon www.bitrebels.com, I was totally hooked.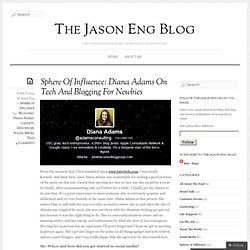 And back then, since Diana Adams was responsible for writing a good portion of the posts on that site, I knew that meeting her face to face one day would be a treat. So finally, after communicating only on Twitter for a while, I finally got the chance to do just that. This week on #BizHeroes: "Getting Started with Social Selling" w/ Barbara Giamanco.
Is your sales strategy aligned for success and social centered selling?
According to a study conducted by eMarketer in 2013: "Nearly 1 in 4 people in the world use social networks". There were a total of 1.73 billion social media users in 2013, a number that is expected to increase to a thriving 2.55 billion within the next five years.Whether you're an entrepreneur, small business owner or part a larger organization, this is a complete game changer if you are in sales. Veille : une méthode simple pour une vei. Looking for validation in all the wrong places. Which people do you look to for criticism?
Which metrics are you relying on to tell you if you're doing a good job? Who tells you if you're on to something? Alas, most of us usually look in the wrong place. Here are a few you might want to avoid: The Key To Economic Success: Loyalty Rules! Loyalty & New Media / 7 Social Design Principles: How to Make Content People Want to Share. Growing importance of mobile, content, social, authorship. I aspire to give people something to think about rather than tell them what to do.
My favorite Google Alert is "social media research," I am increasingly compelled by Gen Z, and I appreciate good writers agnostic of where they write. At one time I was Kred's 12th most influential social media blogger and Klout's most influential person on the topic of David Hasselhoff. Spinsucks. By: Gini Dietrich | May 30, 2013 | In just two days, I will be joining Karen Wilson , Lara Wellman , and all of my Canadian friends at Social Capital and I cannot wait (though I think Lindsay Bell might be just a tad more excited than me)!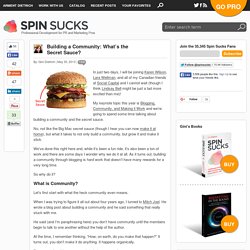 My keynote topic this year is Blogging, Community, and Making it Work and we're going to spend some time talking about building a community and the secret sauce. Edito. Le client, le meilleur ami de la marque Avec l'avènement de l'internet collaboratif, les sociétés doivent dorénavant faire face à un environnement plus complexe et beaucoup plus risqué où toute faute peut-être vite et durement sanctionnée (bad buzz).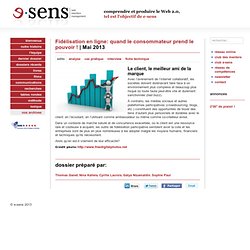 À contrario, les médias sociaux et autres plateformes participatives (crowdsourcing, blogs, etc.) constituent des opportunités de tisser des liens d'autant plus personnels et durables avec le client: en l'écoutant, en l'utilisant comme ambassadeur ou même comme co-créateur avisé. Dans un contexte de marché saturé et de concurrence exacerbée, où le client est une ressource rare et coûteuse à acquérir, les outils de fidélisation participative semblent avoir la cote et les entreprises sont de plus en plus nombreuses à les adopter malgré les moyens humains, financiers et techniques qu'ils nécessitent. Instagram Is. What does your brand stand for? If you tell me about service and quality and customer focus, you haven't answered my question, because a hundred other brands stand for that.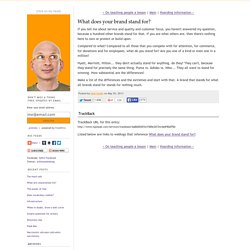 If you are what others are, then there's nothing here to own or protect or build upon. Compared to what? 4 Tips for Marketing to Millennials. Millennials , the coveted under-30 market, are highly discerning and tough to attract, unless you know how to reach them.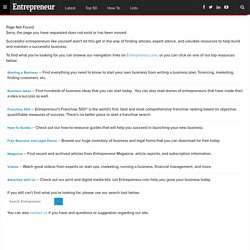 "[Millennials] are extremely impatient with irrelevant information, and they have no tolerance for unwieldy experiences." says Michele Serro, a former associate partner at IDEO, a leading design and innovation consulting firm, and founder of New York City-based Doorsteps, an online tool for prospective homeowners that targets young buyers. In both roles, Serro did extensive research about millennials's preferences.
She found that reaching them effectively requires a holistic approach to marketing — one where the message is inseparable from the product design itself. It's a Digital World. Let's Embrace it. A few years ago, I was on a conference call when I started to feel uneasy. I suddenly realized that I understood almost none of the conversation. Geotagging? Ad networks? Ad retargeting? What's all this talk of data ? Upgrade Your Blogging Skills. Having never attended journalism school, I constantly find myself trying to improve my writing skills and emulate the best in the business.
In my search for educational resources, I ran across a brief, yet complete guide, The Reuters Handbook of Journalism. Use this guide to upgrade the journalistic integrity of your organization's blog or news releases. The Handbook is divided into six sections. Why Brands Must Put The 'Social' In Social Media [INFOGRAPHIC. No Signal. At a party the other day, I saw a dead TV monitor. On the screen it said something like, "No signal... check power, cable and source selection... " It doesn't matter at all how hard the DVD player was trying to put on a show.
It is irrelevant how good the show on cable was. Talking It Out: The New Conversation-centered Leadership. Why Content Marketing is a Long Game (and How to Play It) The 7 Levels of Influence in the Attention Economy. Informative Infographics / 4 Digital Marketing Trends For 2013 [INFOGRAPHIC] Interview. L'email marketing n'est pas condamné par sa réputation ! - Christophe Chéron, Responsable Marketing chez Kompass International - , Management commercial.
?utm_source=dlvr. Six Steps to Becoming a Good (Social) Listener. The Digital You. 7 Tools to Get More Out of Pinterest. Is this spam? Lessons About Going Viral Learned From A Pin On Pinterest [Chart] Pinterest launches Web Analytics for brands, takes one giant leap towards monetization. Loyalty & New Media / What Is Reputation Management? Loyalty & New Media / Location, Location, Location – Geo-marketing & Why it Matters. Top 6 Reasons Every Company Should Have a Blog. Tumblr Crosses 100M Blogs. Welcome to Forbes. 5 Tools to Research the Demographics of Your Twitter Followers. Loyalty & New Media / Why Twitters Vine Is The Next Big Thing For Brands [INFOGRAPHIC] How to Use Pinterest to Build Trust and Loyalty. Customers Don't Want Ads, They Want A Conversation.
How to Get Eyeballs on Your Business with a Blog [INFOGRAPHIC] Five Ways to Get Unfollowed on Twitter. Customer Advocacy - Do You Have a Customer-Centric Culture? Keeping it Real: The Key to Loyalty Program Retention. How to Turn Customers into Brand Ambassadors. How To Build Your Brand On Pinterest [Research. 6 Tips to Grow Your Twitter Followers. Vine Tries to Make a Commercial for Vine in Vine. How to Build a Brand Experience for Customers. The Mobile Blogging Experience.
To Be Authentic, Look Beyond Yourself - Amy Jen Su and Muriel Maignan Wilkins. 8 Ways for Brands to Engage Using Hashtags on TwitterThe Hashtracking Blog. Traditional Publicity vs. Content Marketing [Chart] This Is What A Modern Marketing Professional Looks Like. Successful ways for writers to win with Pinterest. The 7 Types of Digital Marketer. 5 Marketing Lessons From Lady Gaga. Experience Innovation | Mitch Lieberman - A title would limit my thoughts.
5 Email Marketing Tactics from Barack Obama. 10 Tips on Writing from David Ogilvy. Algorithms Don't Feel, People Do - Alan Schulman. The Ultimate Guide to Customer Acquisition. Loyalty & New Media / Is Mobile Video The Next Big Thing In Social Media? Social Media / 20 Stunning Social Media Statistics Plus Infographic. Can you see me now? Video messaging and the future of communication. Be a Brand of Attraction. Get Inside Your Customers' Heads: 3 Ways | Inc. 5000.
Digital influence & relevance. Community Management & WOM.
---