Loyalty Building vs retention
Loyalty & New Media / Benchmarking the 'role of retention' in your marketing programs #loyaltyprograms #customerretention. Customer Retention: 10 Tips to Keep Your Community Engaged. Social Loyalty Platform CrowdTwist Raises $6M. CrowdTwist recently announced a Series A round of funding of $6M from lead investors SoftBank Capital and Fairhaven Capital.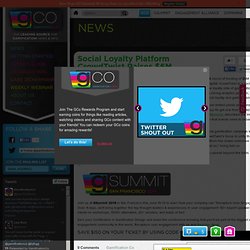 CrowdTwist is a social loyalty and rewards platform that draws heavily from the loyalty side of gamification with a focus towards rewards, monetization, and a strong analytics platform, and the new round is a signal in the future growth of social loyalty and gamification. Traditional loyalty campaigns have drawn from limited points programs and the majority of stores continue to rely on the "buy 10 get one free" model. CrowdTwist CEO Irving Fain, who spoke at last week's GSummit, described the impact on loyalty campaigns, "The funding is validation that the definition of loyalty is changing and that brands need to broaden their focus to encompass the true cross-platform world that we live in today."
[Infographic] The future of loyalty programs will be powered by social media. Shashank Nigam is the CEO of SimpliFlying and a globally sought-after consultant, speaker and thought-leader on airline branding and customer engagement strategy.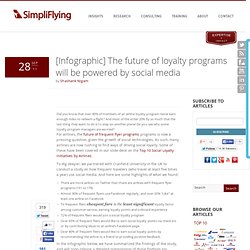 He is also the youngest winner of the Global Brand Leadership Award and has addressed senior aviation executives globally, from Chile to Canada and from Sydney to San Francisco. Shashank's perspectives have found their way into major media outlets, including CNN Travel, CNBC, MSNBC, Bloomberg UTV, Mashable and in leading publications like Airline Business, ATW, Aviation Week, and others. Shashank studied Information Systems Management and Business Management at Singapore Management University and Carnegie Mellon University. Hailing from India, he splits his time between Singapore and Vancouver, among other cities. M&S: Customer loyalty comes to the rescue. Marks & Spencer has turned in resilient first quarter revenues despite difficult times on the high street because its loyal customer base has "come to the rescue", an analyst has said.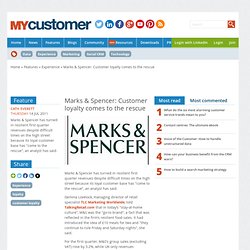 Gemma Lovelock, managing director of retail specialist TLC Marketing Worldwide, told TalkingRetail.com that in today's "stay-at-home culture", M&S was the "go-to brand", a fact that was reflected in the firm's resilient food sales. It had introduced the idea of £10 meals for two and "they continue to rule Friday and Saturday nights", she said. For the first quarter, M&S's group sales (excluding VAT) rose by 3.2%, while UK-only revenues increased by 2.7%. General merchandise sales grew by 0.3%, with food up 5%. Like-for-like UK revenues were ahead by 1.7%, with general merchandise sales flat and food up 3.3%. Sophisticated Game Mechanics for Luxury Mobile Marketing. The 21st Century digital native consumer is hyperconnected, socially integrated, empowered with information, and always in motion.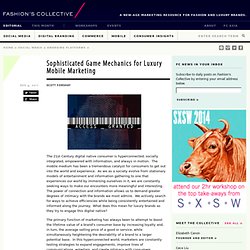 The mobile medium has been a tremendous catalyst for consumers to get out into the world and experience. As we as a society evolve from stationary models of entertainment and information gathering to one that experiences our world by immersing ourselves in it, we are constantly seeking ways to make our encounters more meaningful and interesting. The power of connection and information allows us to demand greater degrees of intimacy with the brands we most admire. Cathay replaces Marco Polo with iPad edition, HONG KONG, MARKETING, Digital, Custom publishing, iPad. Customer Loyalty in the Twitter Era - HBR IdeaCast. Featured Guests: Fred Reichheld and Rob Markey, authors of The Ultimate Question 2.0.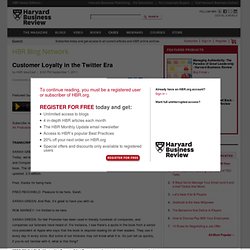 Download this podcast SARAH GREEN: Welcome to the HBR IdeaCast from Harvard Business Review. I'm Sarah Green. Acquisition, Retention, and Building Loyalty in Social Media. There are three important criteria while working on Social Media: AcquisitionRetentionBuilding Loyalty Acquisition: This is the process of getting new people on-board.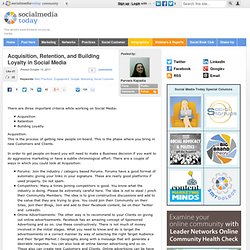 Relation client : Bâtir un programme de fidélité pour garder ses bons clients. C'est un fait avéré : les clients ont profondément changé leur comportement d'achat dans la décennie qui vient de s'écouler.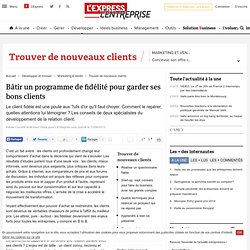 Les résultats d'études parlent tous d'une seule voix : les clients, mieux informés, sont devenus plus exigeants, plus critiques dans leurs achats. Grâce à internet, aux comparateurs de prix et aux forums de discussion, les individus ont acquis des réflexes pour comparer les produits entre eux et zapper d'un produit à l'autre, reprenant ainsi du pouvoir sur leur consommation et sur leur capacité à négocier les meilleures offres. L'arrivée de la crise a accéléré le mouvement de transformation.
Voyant effectivement leur pouvoir d'achat se restreindre, les clients sont devenus de véritables chasseurs de prime à l'affût du meilleur prix. Les attirer, puis - surtout - les fidéliser deviennent des enjeux forts pour toutes les entreprises, y compris en B to B. 15 Techniques That Build Loyal Followers. Surround yourself with people who will walk through hell with you.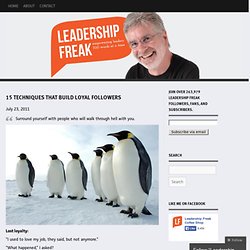 Lost loyalty: "I used to love my job, they said, but not anymore." "What happened," I asked? "The old boss left. Amazon : l'industrialisation de la fidélisation. Amazon vient de lancer un service de prêt de livres numériques baptisé : Kindle Lending Library.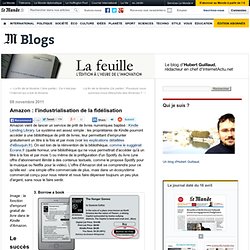 Le système est assez simple : les propriétaires de Kindle pourront accéder à une bibliothèque de prêt de livres, leur permettant d'emprunter gratuitement un titre à la fois et par mois (voir les explications détaillées d'eBouquin.fr). On est loin de la réinvention de la bibliothèque, comme le suggérait Ecrans.fr (quelle horreur, une bibliothèque qui ne vous permettrait d'accéder qu'à un titre à la fois et par mois !) Ou même de la préfiguration d'un Spotify du livre (une offre d'abonnement illimité à des contenus textuels, comme le propose Spotify pour la musique ou Netflix pour la vidéo). L'offre d'Amazon doit se comprendre pour ce qu'elle est : une simple offre commerciale de plus, mais dans un écosystème commercial conçu pour nous retenir et nous faire dépenser toujours un peu plus d'argent, sans nous le faire sentir.
Are You Making Customer Retention a Top Priority? Nearly two-thirds (64 percent) of consumers say they have "stomped out" of stores and 67 percent say they have hung up on hold because of poor customer service, according to a new Consumer Reports survey.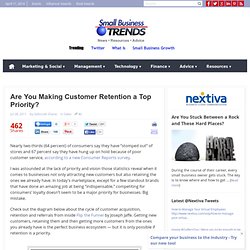 I was astounded at the lack of priority and vision those statistics reveal when it comes to businesses not only attracting new customers but also retaining the ones we already have. In today's marketplace, except for a few standout brands that have done an amazing job at being "indispensable," competiting for consumers' loyalty doesn't seem to be a major priority for businesses. Big mistake. Check out the diagram below about the cycle of customer acquisition, retention and referrals from inside Flip the Funnel by Joseph Jaffe. Tendances mobile: la fin de la carte de fidélité, du QR code et du leadership del'iPad ? Cela fait un moment qu'on a pas parlé de mobile sur ce blog. Certes le sujet est à la mode, mais à part dire que le trafic web en provenance du mobile augmente fortement, et que le nombre d'application lancées sur les "stores"augmente de jour en jour, il n'y avait pas grand chose de vraiment nouveau à dire jusqu'à aujourd'hui.
Au menu, deux très belles innovations et un chiffres qui fait mal à Apple. Bientôt la fin de la multitude des cartes de fidélité ?
---