Loyalty Building vs retention
Loyalty & New Media / Benchmarking the 'role of retention' in your marketing programs #loyaltyprograms #customerretention
Social Business is customer retention. This week I was at the Auto Remarketing Certified Pre-Owned Conference where one of the main themes was customer engagement and retention. They devoted an hour-long panel discussion to best practices for engaging customers.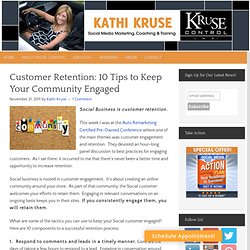 Customer Retention: 10 Tips to Keep Your Community Engaged
Social Loyalty Platform CrowdTwist Raises $6M
CrowdTwist recently announced a Series A round of funding of $6M from lead investors SoftBank Capital and Fairhaven Capital.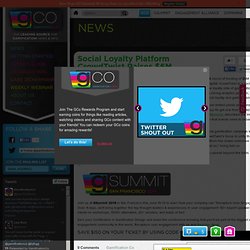 [Infographic] The future of loyalty programs will be powered by social media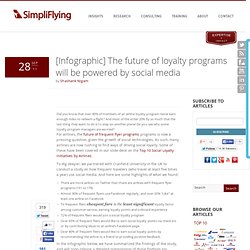 Shashank Nigam is the CEO of SimpliFlying and a globally sought-after consultant, speaker and thought-leader on airline branding and customer engagement strategy. He is also the youngest winner of the Global Brand Leadership Award and has addressed senior aviation executives globally, from Chile to Canada and from Sydney to San Francisco.
Marks & Spencer has turned in resilient first quarter revenues despite difficult times on the high street because its loyal customer base has "come to the rescue", an analyst has said. Gemma Lovelock, managing director of retail specialist TLC Marketing Worldwide, told TalkingRetail.com that in today's "stay-at-home culture", M&S was the "go-to brand", a fact that was reflected in the firm's resilient food sales.
M&S: Customer loyalty comes to the rescue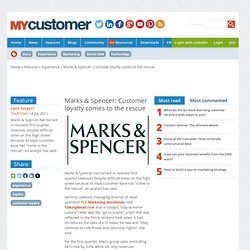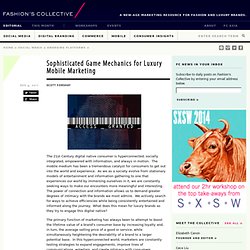 The 21st Century digital native consumer is hyperconnected, socially integrated, empowered with information, and always in motion.
Sophisticated Game Mechanics for Luxury Mobile Marketing
Cathay replaces Marco Polo with iPad edition, HONG KONG, MARKETING, Digital, Custom publishing, iPad
Featured Guests: Fred Reichheld and Rob Markey, authors of The Ultimate Question 2.0. Download this podcast SARAH GREEN: Welcome to the HBR IdeaCast from Harvard Business Review. I'm Sarah Green.
Customer Loyalty in the Twitter Era - HBR IdeaCast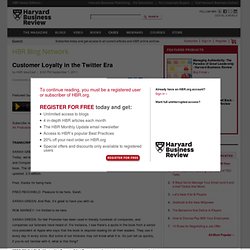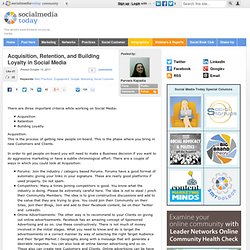 There are three important criteria while working on Social Media: AcquisitionRetentionBuilding Loyalty Acquisition: This is the process of getting new people on-board.
Acquisition, Retention, and Building Loyalty in Social Media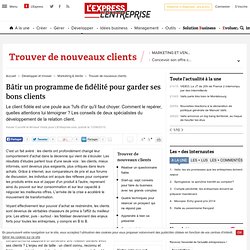 C'est un fait avéré : les clients ont profondément changé leur comportement d'achat dans la décennie qui vient de s'écouler. Les résultats d'études parlent tous d'une seule voix : les clients, mieux informés, sont devenus plus exigeants, plus critiques dans leurs achats.
Relation client : Bâtir un programme de fidélité pour garder ses bons clients
Surround yourself with people who will walk through hell with you.
15 Techniques That Build Loyal Followers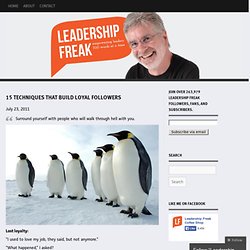 Amazon : l'industrialisation de la fidélisation
Amazon vient de lancer un service de prêt de livres numériques baptisé : Kindle Lending Library.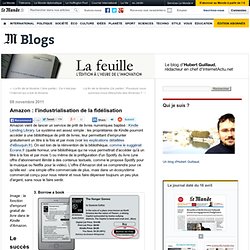 Are You Making Customer Retention a Top Priority?
Nearly two-thirds (64 percent) of consumers say they have "stomped out" of stores and 67 percent say they have hung up on hold because of poor customer service, according to a new Consumer Reports survey.
Cela fait un moment qu'on a pas parlé de mobile sur ce blog.
Tendances mobile: la fin de la carte de fidélité, du QR code et du leadership del'iPad ?