Instagramm
The 3 Essentials for Hotels on Instagram | eTou... Instagram : les hashtags les plus populaires - news télé. Eric Ratiarison jeudi 12 Juin 2014 à 10:30 © Instagram : noir_s2 A première vue Instagram semble simple mais comme tous les réseaux sociaux, une fois les bases maîtrisées il faut parvenir à trouver des astuces pour accroître sa popularité.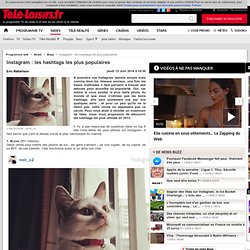 How to Increase Your Instagram Visibility: 5 Tips. Do you want more people to notice you on Instagram?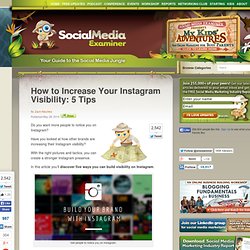 Have you looked at how other brands are increasing their Instagram visibility? With the right pictures and tactics, you can create a stronger Instagram presence. In this article you'll discover five ways you can build visibility on Instagram. Get people to notice you on Instagram. Beautiful Brands on Instagram. As a brand, you should always aim to increase engagement in order to grow your audience.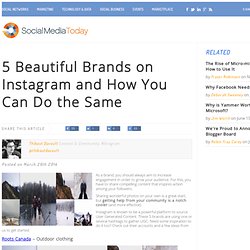 For this, you have to share compelling content that inspires action among your followers. Sharing wonderful photos on your own is a great start, but getting help from your community is a notch cooler (and more effective). Instagram is known to be a powerful platform to source User Generated Content. These 5 brands are using one or several hashtags to gather UGC. Need some inspiration to do it too? Publicité : Instagram publie un guide à l'attention des marques.
Introduire la publicité dans Instagram est un enjeu crucial pour le site et son propriétaire qui n'est autre que Facebook.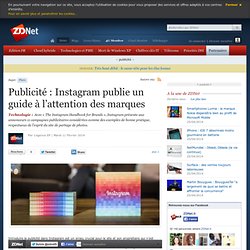 Toutefois, c'est avec précaution que la première réclame est apparue en novembre dernier pour les utilisateurs basés aux États-Unis, avec le souci d'instaurer une politique très qualitative. C'est dans cet esprit qu'Instagram vient de publier un guide des bonnes pratiques destiné aux marques : « The Instagram Handbook for Brands» recense 11 entreprises qui communiquent sur le service de partage de photos. Parmi celles-ci, Disneyland Chobani ou encore Patagonia qui ont en commun un style nettement moins apprêté que la première publicité postée par le créateur Michael Kors. TheNextWeb : Brands on #Vine and... Social Video Success for Brands on Vine and Instagram. Time is almost always a vital limiting factor in engaging with customers, but Vine and Instagram each impose a strict maximum (six and 15 seconds, respectively).
This may seem like a short amount of time, but consider instead how long it takes someone to scroll past a tweet or an individual photo on Instagram. Comparatively, video content gives you at least 10 times more eyeball time (also, Vines garner nearly four times the screen space of a typical tweet in a Twitter feed). Shouldn't your brand capitalize on that opportunity? 6 Tips For Instagram Marketing Mastery. Since its inception back in 2010, Instagram has become one of the fastest growing mobile applications to date.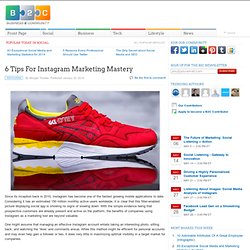 Considering it has an estimated 150 million monthly active users worldwide, it is clear that this filter-enabled picture displaying social app is showing no signs of slowing down. With the simple evidence being that prospective customers are already present and active on the platform, the benefits of companies using Instagram as a marketing tool are beyond valuable. One might assume that managing an effective Instagram account entails taking an interesting photo, sitting back, and watching the 'likes' and comments ensue.
While this method might be efficient for personal accounts and may even help gain a follower or two, it does very little in maximizing optimal visibility in a target market for companies. The biggest hurdle? Your Local Business But More Instagram-able. I recently followed along with "live tweeting" on Twitter during the Social Media Club LA (SMCLA) Foodie Event.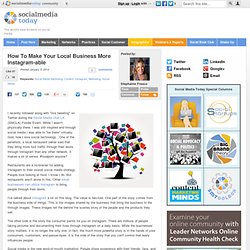 While I wasn't physically there, I was still inspired and through social media I was able to "be there" virtually. God, how I love social technology. Publications Instagram Rivals Twitter In Reach, Facebook In Engagement 12/31. Watching Facebook and Twitter navigate the rapid migration of their audiences from desktop to mobile was a key storyline of 2012 and 2013.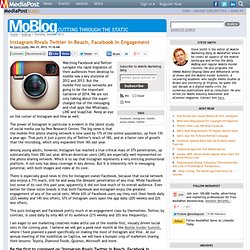 But the mobile-first social networks are going to be the important narrative of 2014. We are not only talking about the super-charged rise of the messaging and chat apps like Whatsapp, LINE and SnapChat. Why Instagram Will Be The King Of Social Media In 2014 (And How To Leverage It) Les tendances Instagram de 2013. Instagram et ses nombreux filtres peuvent être responsables de la vague de fausse nostalgie et d'abus de vintage.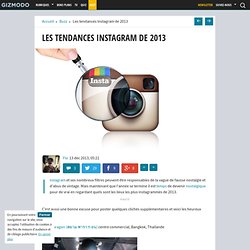 Mais maintenant que l'année se termine il est temps de devenir nostalgique pour de vrai en regardant quels sont les lieux les plus instagrammés de 2013. C'est aussi une bonne excuse pour poster quelques clichés supplémentaires et voici les heureux élus. Could Instagram inspire the next Yelp? 8 Surprising New Instagram Statistics to Get the Most out of the Picture Social Network. 2.3K Flares Filament.io 2.3K Flares × While just a little over turning 3 years old, Instagram has made huge strides in social media.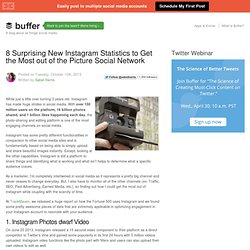 With over 150 million users on the platform, 16 billion photos shared, and 1 billion likes happening each day, the photo-sharing and editing platform is one of the most engaging channels on social media. Welcome to Forbes. Study: Instagram is the fastest growing social network among marketers worldwide. A new report from Simply Measured has found that 71 percent of the world's largest brands have adopted Instagram, which now rivals the brand adoption of Google+ and Pinterest, making it the fastest growing social network worldwide. The report included brand hashtag monitoring, multi-account monitoring, competitive monitoring and a complete social media snapshot. Nate Smitha, a marketing analyst with Simply Measured, discussed the findings with Inside Facebook: This was a comprehensive view of activity that tracked brands across all social channels and put in context with their other social media activity.
Instagram is a channel we've been tracking for sometime. It's an excellent channel for brands to repurpose their marketing content. STUDY: How Fortune 500 Companies Use Instagram. How many of the Fortune 500 companies have accounts on Facebook-owned photo-sharing network Instagram? According to digital intelligence firm TrackMaven, the answer is 123, and of those 123, 112 (or 91 percent) have posted at least once, and 17 percent (85) posted in the 30 days leading up to Sept. 17.
TrackMaven examined the Instagram accounts of the Fortune 500 companies through Sept. 17 and found that the 123 with accounts had uploaded a total of 19,009 pictures and 243 videos. Other findings in the report by TrackMaven included: Nike was the Fortune 500 company with the most Instagram followers, by far, at more than 2.3 million as of Sept. 17. Foot Locker had posted the most photos, 1,018. Get Better At Instagram. Instagram's new video service might train us all to be artists. The eye-bite influx speaks to our general impatience and frenetic attention spans, to our self-involved need to self-document, to all of the social media themes we typically fret about. But it also speaks to the way consumers are increasingly expected to become auteurs. Instagram video is artistic training wheels. Facebook-owned Instagram currently has about 100 million active users. What Instagram Taught A Photographer About Life. Dirk Dallas, a graphic designer currently residing in southern California, downloaded the photo-sharing and -filtering app Instagram the day it came out on October 6, 2010.
He then promptly deleted it. "It didn't make sense because unless you follow people or have followers, what is it?" The 30-year-old university professor says of his early mindset. Flash forward two and a half years, after a friend told Dallas to give the app another try, and he has 106,000 followers under the handle @dirka. Important lessons from the Instagram controversy. Winning at Instagram is all about hashtags [Infographic] 5 Ways I Use Instagram to Boost My Art Business. 'The New York Times' Runs An Instagram Photo On Front Page. 8 Ways to Grow an Instagram Community. Blog - ReputationChanger.com | Online Reputation Repair | Cleaning | Internet | Removal. Instagram Celebrates Its Second Year With Lots To Be Happy About. 6 Tips for Better Instagram Photos | Appdaptation. The Top 10 Brands Photos on Instagram. Instagram Stars Snap Gorgeous U.S. Open Pics. How Instagram has grown since Facebook announced its intent to buy the company. Leading Brands Becoming Active on Instagram.
10 Tips to Increase Your Instagram Followers » Internet Marketing Zone 6. Instagram and its Impact on the World of Photography. How Instagram Harnesses the Awesome Power of Mobile, Social Media and Photos: 3 Success Stories. As Instagram continues exploding here are reasons why 2012 is their year. Full-Sized Instagram Photos Invade Facebook.
10 Things To Do With Your Instagram Photos After You Take Them. Why Instagram Is So Popular: Quality, Audience, & Constraints. Instagram Tips From Top Beverage Brands. Instagram to introduce video sharing, sooner rather than later. Introducing Instagram v2.0. Does Instagram Make You a Better Photographer? The Complete List of Top Instagram Apps - TNW Apps. Justin Bieber Takes A Picture Of Traffic, Instagram Usage Explodes. Hechos y datos de Instagram #Infografía. Instagram-Powered Art Show to Open in London.
---