Gaming
Get flash to fully experience Pearltrees
By Brett Molina , USA TODAY Updated 2012-04-30 1:14 PM A scene from 'Angry Birds Space.'
La prochaine grande conférence de l'Association aura lieu lundi 30 avril 2012 à Lausanne .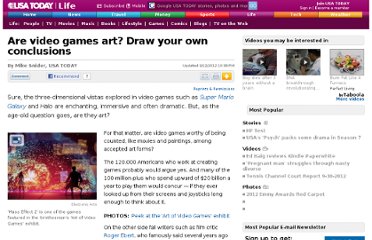 Sure, the three-dimensional vistas explored in video games such as Super Mario Galaxy and Halo are enchanting, immersive and often dramatic. But, as the age-old question goes, are they art? For that matter, are video games worthy of being counted, like movies and paintings, among accepted art forms?
By Mike Snider , USA TODAY Updated 2011-11-14 3:17 PM
Technology expert Scott Steinberg is the CEO of high-tech consulting firm TechSavvy Global, and a frequent keynote speaker and media analyst for ABC, CBS and CNN who's covered the field for 400+ outlets from NPR to Rolling Stone.
Each month, the NPD's report on game sales disappoints.
By Mike Snider, USA TODAY