Economy 2.0
Get flash to fully experience Pearltrees
A company banning social communication in the workplace is failing to connect with a fast-changing world around them and will be left behind, argues Vala. Photograph: Sarah Lee for the Guardian Mobile and social are bringing a dramatic cultural shift to the enterprise.
« Petite Poucette », pour Michel Serres la jeune génération va tout réinventer Observateur optimiste des enfants passés maîtres dans l'usage des téléphones-ordinateurs portables à clavier grâce à l'agilité de leurs pouces, Michel Serres bouscule les notions d'autorité, de savoir, de pouvoir… Les nouvelles technologies vont encore modifier la vie et la pensée de l'homme dans les décennies à venir.
Les trentenaires sont bien moins insouciants qu'on pourrait le penser. (Flickr/ Celesteh /cc)
If you look up Generation Y in Wikipedia, you'll find it referred to as 'Generation We ' — a generation "generally marked by an increased use of communications, media, and digital technologies". So what are the implications of this generational shift for today's marketer? To stay relevant, it means we need to re-write the entire playbook.The best marketers are taking this phenomenon to the bank by using a powerful combination of social, mobile, and digital technology to tap into and connect with this new generation.
Originally published on Social Business News
15 in Share . . Gen Y loves Instagram according to a recent study published by the Pew Internet and American Life Project. In fact 67% of 18-29 year old internet users surveyed are what Pew calls image "creators." This is a big deal.
When access trumps ownership By Gioia Deucher, Head of Startup Services at swissnex San Francisco In the past year, I have stayed at a stranger's apartment, run numerous errands with cars rented by the hour, taken rides from people I had never met before, borrowed a sewing machine from a stranger, and crowdsourced the assembly of my new bike.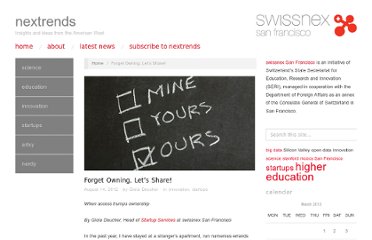 It's 8:30 a.m. in Silicon Valley, and Neal Gorenflo is already busy sharing. Inside his Mountain View town house, just a few short blocks from the Caltrain station where commuters pour out each morning on their way to Google, Gorenflo hands over his 15-month-old son, Jake, to a nanny he shares with his neighbor. At a local coffee shop, he logs on to a peer-to-peer banking site called Lending Club to make a series of small loans to someone planning a wedding, another starting a pet business, and a guy named Pat who wants to move.