Economy 2.0
5 Trends That Will Shape Small Business in 2013 - OPEN Forum. OPEN business expert unveils the five trends small-businesses need to know about for next year.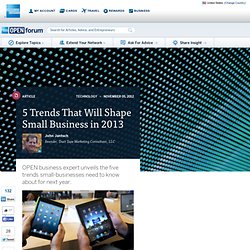 November 05, 2012 As you start preparing for next year, you may wish you had a crystal ball to see what's in store for your business. Lucky for you, for the past three years right here at Open Forum, I've been suggesting imminent trends that will most impact small businesses in the coming year. (See my past predictions at the end of this article.) Gartner Hype Cycle for Emerging Technologies 2012. Shhhh... don't tell CoverGirl!
At 55, Ellen DeGeneres is looking better than ever. She looks even more radiant and youthful than she did when she was years younger! Many have tried to discover her secret: is it botox, face lifts, or just good lighting? The truth is much simpler (and cheaper!) Science & Environment - Cities: How crowded life is changing us. More than half the world's population are concentrated in urban areas, and this is having an effect not just culturally, but biologically too.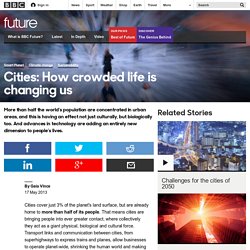 And advances in technology are adding an entirely new dimension to people's lives. Cities cover just 3% of the planet's land surface, but are already home to more than half of its people . That means cities are bringing people into ever greater contact, where collectively they act as a giant physical, biological and cultural force. Transport links and communication between cities, from superhighways to express trains and planes, allow businesses to operate planet-wide, shrinking the human world and making the global local. Loyalty & New Media / Millenials- repinned by www.competia.com.
How the always connected generation might shake out by 2020 [INFOGRAPHIC] About the Writer :: Linda Fox Linda Fox is deputy editor for Tnooz.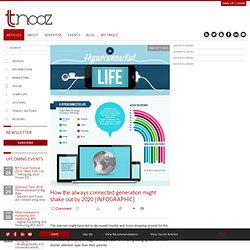 For the past six years she has worked as a freelance journalist across a range of B2B titles including Travolution, ABTA Magazine, Travelmole and the Business Travel Magazine. In this time she has also undertaken corporate projects for a number of high profile travel technology, travel management and research companies. Prior to her freelance career she covered hotels and technology news for Travel Trade Gazette for seven years. Linda joined TTG from Caterer & Hotelkeeper where she worked on the features desk for more than five years. Altimeter's Four Disruption Themes for Business. Jeremiah: This was initially posted on the official Altimeter blog, which I'm now cross-posting here on Web Strategy.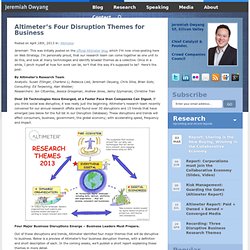 I'm personally proud, that our research team can come together as one unit to do this, and look at many technologies and identify broader themes as a collective. Once in a while, I pinch myself at how fun work can be, isn't that the way it's supposed to be? The Future Shopper Report from The Futures Company. The Future of Sales. Handing the Keys to Gen Y. In recent years, many have focused on the challenges of Gen Y, the latest generation of workers to arrive in and begin to reshape the workplace.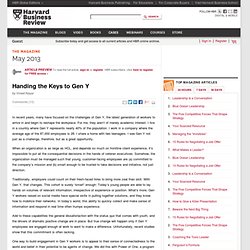 For me, they aren't of merely academic interest. I live in a country where Gen Y represents nearly 40% of the population. I work in a company where the average age of the 87,000 employees is 28. The Next Phase of Social Business is the Collaborative Economy. Above Image: Market Opportunities for the Collaborative Economy by Vertical, from Sharable Magazine follow them on Twitter.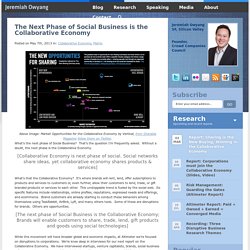 What's the next phase of Social Business? That's the question I'm frequently asked. Without a doubt, the next phase is the Collaborative Economy. [Collaborative Economy is next phase of social. Does Car Sharing Really Reduce Vehicle Ownership? With rapid growth and significant user communities, the car sharing industry in North America has been hailed as a solution to traffic, parking, and pollution problems in urban areas.
Supporters say that with enough convenient and affordable ways to rent a car when they need it, people will find owning a vehicle to be redundant, and eventually choose to go car free. With companies like Zipcar leading the way, the car sharing industry has quickly gone global, branching out into peer-to-peer avenues and community-centric solutions. There's no denying that these services meet an urban need and have potential for significant economic and environmental improvements, but the question remains: does car sharing really mean less cars on the road? Researchers at the University of California recently published the results of a nationwide survey of over 6,200 carsharing members designed to answer that and other pressing questions about this new industry.
Dare To Imagine. 5 Tips to Claim Your Identity in the Sharing Economy. Anonymity is your enemy in the world of collaborative consumption.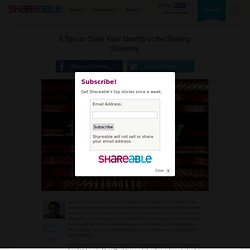 Your ability to share personal spaces and valuable possessions with strangers hinges on your ability to trust one another. Trust, however, doesn't grow on trees: it's earned. You earn it based on personal observations or independent proof. Social and mobile are driving a cultural shift that organisations can't ignore | Media Network | Guardian Professional. A company banning social communication in the workplace is failing to connect with a fast-changing world around them and will be left behind, argues Vala.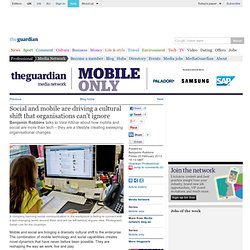 Photograph: Sarah Lee for the Guardian Mobile and social are bringing a dramatic cultural shift to the enterprise. The combination of mobile technology and social capabilities creates novel dynamics that have never before been possible. They are reshaping the way we work, live and play. « Petite Poucette », pour Michel Serres la jeune génération va tout réinventer  Les nouvelles technologies vont encore modifier la vie et la pensée de l'homme dans les décennies à venir. Et la jeune génération, « qui va devoir tout réinventer », a, selon « l'optimiste et/ou lucide » philosophe des sciences Michel Serres, les moyens de relever ce défi.
Se mettant à la place de ses deux petits enfants passés maîtres dans l'usage des téléphones-ordinateurs portables à clavier grâce à leur agilité poucière – d'où le titre–, le professeur de Stanford bouscule les notions d'autorité, de savoir, de pouvoir… Les élèves sont détenteurs du savoir Désormais, professeurs et médecins, autrefois détenteurs d'un savoir propre, doivent reconnaître que leurs élèves ou patients sont aussi des sachants, ce que Michel Serres appelle la « présomption de compétence ». How 'Millennials' Are Changing Food as We Know It. Génération Y : les trentenaires peuvent-ils encore changer le monde. Les trentenaires sont bien moins insouciants qu'on pourrait le penser. (Flickr/Celesteh/cc) Ces derniers jours on parle beaucoup du traité budgétaire européen. D'ailleurs, on ne se demande plus si l'austérité sera à l'ordre du jour mais comment les petits plats seront mis dans les grands. Jusque là, François Hollande avait réussi à prolonger les thèmes de sa campagne autour du "mieux vivre en 2017 qu'en 2012", en plaçant la jeunesse et l'éducation au centre de toute attention.
Sans doute, les désillusions vont être nombreuses dans les semaines à venir. Rewriting the playbook for "Generation We" If you look up Generation Y in Wikipedia, you'll find it referred to as 'Generation We' — a generation "generally marked by an increased use of communications, media, and digital technologies". So what are the implications of this generational shift for today's marketer? To stay relevant, it means we need to re-write the entire playbook.The best marketers are taking this phenomenon to the bank by using a powerful combination of social, mobile, and digital technology to tap into and connect with this new generation.
The 3 main expectations customers have for social companies. Originally published on Social Business News As the world becomes more and more dependent on social media, brands are now using platforms like Facebook and Twitter to communicate with their customers. Marketing is no longer the most important way to reach customers on these networks, and social customer service is quickly becoming a useful – and necessary – tool to meet customer expectations. Many Internet users turn to social media to write positive comments about their experiences, but a significant number of people use it to let their complaints be heard publicly. These negative comments can be very detrimental to a company's reputation, especially if they are not handled accordingly. La génération y fait mentir les clichés. Gen Y loves Instagram: A youth movement for Facebook? Gen Y loves Instagram according to a recent study published by the Pew Internet and American Life Project.
In fact 67% of 18-29 year old internet users surveyed are what Pew calls image "creators." This is a big deal. Facebook should love that Gen Y loves Instagram. Forget Owning. Let's Share!
The Sharing Economy | Page 2. [Entretien exclu] Médias sociaux, communauté, technologie : la vision de Brian Solis. Z Generation. Geek. Female geeks. Green affluents. Connected Consumer. Smart buyers. Millennials.
---