Digital influence & relevance
Infographics / Infographic: Who is using Google Analytics 2012 #li. A Couple of Tips for Digital Marketers. By Mark Evans - Wednesday, October 17th, 2012 at 7:30 am ShareThis Most brands and digital marketers seem to be using many of the same tactics to reach the same short and long term goals.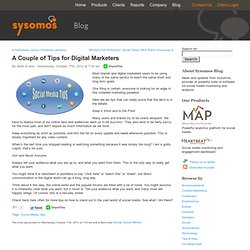 One thing is certain, everyone is looking for an edge in this crowded marketing paradise. Does Your Klout Score Determine Your Value? What makes Adele a better singer than Rebecca Black?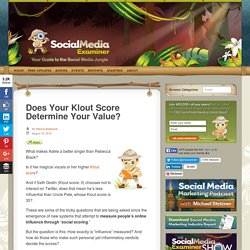 Is it her magical vocals or her higher Klout score ? And if Seth Godin (Klout score: 0) chooses not to interact on Twitter, does that mean he's less influential than Uncle Pete, whose Klout score is 35? These are some of the tricky questions that are being asked since the emergence of new systems that attempt to measure people's online influence through " social scoring ." The Standard for Influence. Six hot trends in social influence marketing. Now that access to the high-speed Internet and free social media publishing tools are widespread, everyone can create their own content and have a voice about topics they love.
The ability to create powerful content that moves through an audience is a legitimate source of influence on the web, and something that just could have happened now. Influence has been democratized! Companies like Klout, Kred, PeerIndex, and Appinions are tapping into this powerful new trend and attempting to quantify this new source of influence — not ALL influence, but a very small, important sliver of it — Can people effectively create content that moves through the Internet and elicit a reaction (like a RT, a comment, or opening a link).
The Standard for Influence. The Standard for Influence. The Standard for Influence. Klout and PeerIndex Don't Measure Influence. Brian Solis Explains What They Actually Do. Whether you like it not, Klout, Kred, PeerIndex, and Radian6 are measuring your social capital — not your influence but your potential for it.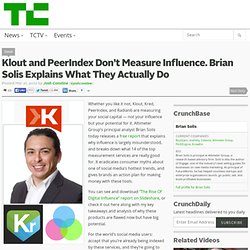 Altimeter Group's principal analyst Brian Solis today releases a free report that explains why influence is largely misunderstood, and breaks down what 14 of the top measurement services are really good for. It eradicates consumer myths about one of social media's hottest trends, and gives brands an action plan for making money with these tools. You can see and download "The Rise Of Digital Influence" report on Slideshare, or check it out here along with my key takeaways and analysis of why these products are flawed now but have big potential. The 7 Levels of Influence in the Attention Economy.
In today's digital age, the world is fast evolving into a large global attention economy.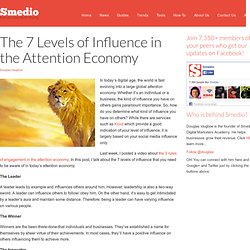 Whether it's an individual or a business, the kind of influence you have on others gains paramount importance. So, how do you determine what kind of influence you have on others? While there are services such as Klout which provide a good indication of your level of influence, it is largely based on your social media influence only. Last week, I posted a video about the 3 rules of engagement in the attention economy. In this post, I talk about the 7 levels of influence that you need to be aware of in today's attention economy. The Standard for Influence. The rise and fall of influence metrics. The Klout backlash was inevitable – and, if I'm being honest, enjoyable.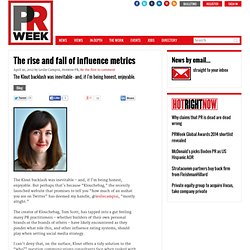 But perhaps that's because "Klouchebag," the recently launched website that promises to tell you "how much of an asshat you are on Twitter" has deemed my handle, @lesliecampisi, "mostly alright." The creator of Klouchebag, Tom Scott, has tapped into a gut feeling many PR practitioners – whether builders of their own personal brands or the brands of others – have likely encountered as they ponder what role this, and other influence rating systems, should play when setting social media strategy. I can't deny that, on the surface, Klout offers a tidy solution to the "who?" Question communications consultants face when tasked with identifying people to engage online. How To Be Influential In A Digital World: 10 More Leaders Reveal Their Secrets.
This is the second article in a series focusing on what makes you influential in a digital world where we look at 10 more leaders views on what they have found to work to spread their online brand whether that be at a personal or a corporate level.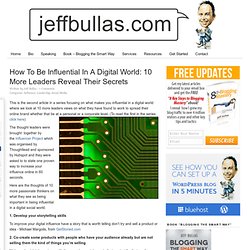 (To read the first in the series click here) Here are the thoughts of 10 more passionate thinkers on what they see as being important in being influential in a digital social world. 1. Develop your storytelling skills. #Kloutapocalypse: You're Not That Influential, Deal With It. Today you may find you're not quite as influential as you thought.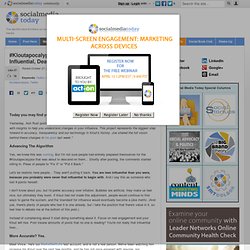 Yesterday, Ash Rust posted on the Klout Corporate Blog: "Today we're releasing a new scoring model with insights to help you understand changes in your influence. This project represents the biggest step forward in accuracy, transparency and our technology in Klout's history. Why Social Accountability Will Be the New Currency of the Web. John C.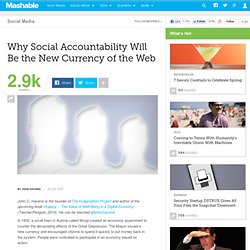 Havens is the founder of The H(app)athon Project and author of the upcoming book H(app)y -- The Value of Well Being in a Digital Economy (Tarcher/Penguin, 2014). He can be reached @johnchavens. In 1932, a small town in Austria called Worgl created an economic experiment to counter the devastating effects of the Great Depression. The Mayor issued a new currency and encouraged citizens to spend it quickly to put money back in the system. People were motivated to participate in an economy based on action. Circles of Influence | Nelson Biagio Jr. Why Social Accountability Will Be the New Currency of the Web. Transparency vs. Anonymity: The Rules Of The. Networking in today's online climate can not only be a way to express yourself with the utmost transparency, but it can also lead to some rather unwanted side effects.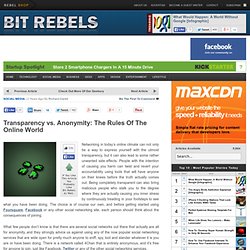 People with the intention of causing you harm can twist and revert your accountability using tools that will have anyone on their knees before the truth actually comes out. Being completely transparent can also bring malicious people who stalk you to the degree where they are actually causing you inner stress by continuously treading in your footsteps to see what you have been doing. The choice is of course our own, and before getting started using Foursquare, Facebook or any other social networking site, each person should think about the consequences of joining.
Social CRM: Using Transparency to Increase Business. Now that social media has been around for a while and so many people are using it for business, it is quite apparent that it has a tremendous amount of power if used in an appropriate manner. Transparency is key. The people who connect with you professionally are interacting with you in some way through your online presence on a very regular basis. They speak about your products and services to others, they ask you questions, they go to Facebook and seek out people who love your company as much as they do, and they find out through Twitter about the opinions of their followers regarding your products and/or services before they make a final decision about buying from you.
With the revolution of the Internet, businesses have less control over how their brand is being presented than when they paid for traditional advertising. With traditional advertising, they could portray their brand and offerings in any way that they wished.
---