Content
pinterest
21 Types Of Content Your Readers Crave ... | Loyalty & New Media
The Content Wars - Digital Age of Marketing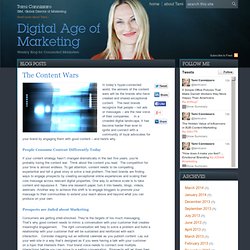 The Content Wars In today's hyper-connected world, the winners of the content wars will be the brands who have created and shared exceptional content. The best brands recognize that people – not ads or messages – are the new voice of their companies.
Digital content will dominate media — panel
Dubai: Digital content will take over media and publishing in the next few years, panelists discussing local content and migration to digital platforms said in Dubai Media City yesterday.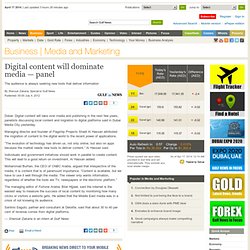 Content Curators Are The New Superheros Of The Web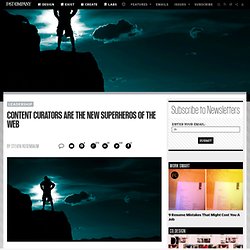 Yesterday, the ever-churning machine that is the Internet pumped out more unfiltered digital data.
Infographic: What Makes Content Go Viral?
The Only 4 Reasons Agencies Should Care About Their Own Content Marketing | Agency Promotion
Why Smart Marketing Is About Help, Not Hype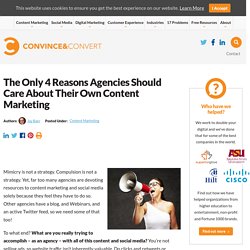 Tactics for Content Re-Use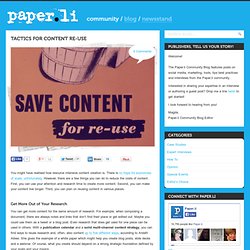 You might have realised how resource intensive content creation is. There is no hope for economies of scale, unfortunately. However, there are a few things you can do to reduce the costs of content.
How many hours have you spent adding buttons, gadgets and widgets to your new blog or website? You research the right tools, share buttons, share bars, analytic tracking tools and more. You install them with a hope and a prayer that someone somewhere is going to use them.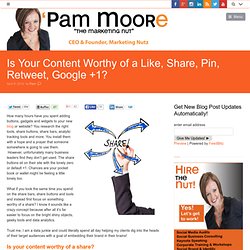 Is Your Content Worthy of a Like, Share, Pin, Retweet, Google +1?
There is no point in writing posts for your blog if no one is reading it or may be if even someone is reading it then you are getting higher bounce rate for your blog. So apart from just writing posts, you should focus more on writing viral posts so that you may get higher pageviews/user. Here we are not discussing anything about optimizing your posts for search engines, but just how you can draft your posts in such a way that it gets more and more reader virally.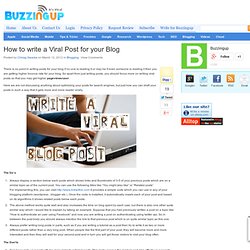 How to write a Viral Post for your Blog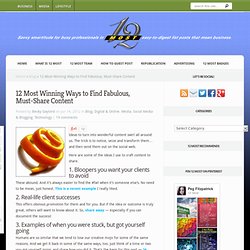 Ideas to turn into wonderful content swirl all around us.
12 Most Winning Ways to Find Fabulous, Must-Share Content
5 Types of Content That Every Business Must Employ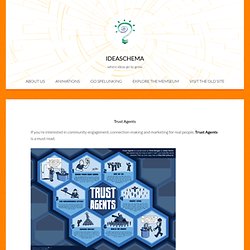 Trust Agents
If you're interested in community engagement, connection-making and marketing for real people, Trust Agents is a must-read. I admit it: We were late to the game reading Trust Agents, which is downright shameful because it's such a useful, insightful book. If you look at Connectors and wonder how the hell they do what they do — and if you want to be successful in online business? Uh, yeah.
We wind down the top trends of 2011 with one that's perfect for the holidays.
Top Trends of 2011: Content Shifting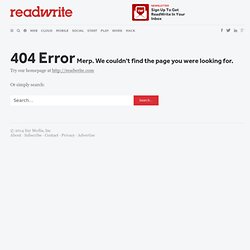 3 Reasons Why Relevant Content Matters
Editor's Note: This is a guest post from Michael Brito, Senior Vice President for Social Business Planning at Edelman Digital. We all know that the social customer is not only gaining influence but also inundated with content. The following diagram illustrates an example of two customer journeys and the way each interacts with different forms of media (content).
5 Types of Content That Every Business Must Employ
If you are an individual, organization or brand, and have a presence on any digital channel, building and sustaining trust with your audience is a key success factor in the growth or erosion of your business.
8 Components of Online Trust [Infographic]
You and your company have a voice and content marketing gives you a chance to use that voice to connect a relevant message/solution to your target audience. Content marketing — blogs, social media, articles, case studies, videos, infographics, etc — let's people hear your message. It gives them a chance to see who you are, what you have and how you do what you do.
Content Marketing: Use Your Voice
Data Is Great, But You Need to Learn When to Ignore It
Who can resist the temptation of real-time marketing performance data? I can't. Whether we've posted a video on YouTube or started to promote a Facebook page, it's hard to stop clicking the refresh button throughout the day to watch the number of "views" and "likes" increase.
Most marketers have realised by now that they have to swap from the classic communication approach of sending & advertising to an approach based on content.
Content Marketing in 6 Steps
10 Compelling Reasons to Brand Yourself Today by Curating Other People's Content
What Comes First, Content Creation or Curation?
Content Marketing + Social Media = Success in 2012 (and Beyond)
How to Reach New Customers Using Content Marketing
Ask an Expert: Content is king, entrepreneurs
Coca-Cola Content 2020 is a YouTube branding course from the best