Content Curation
Want to Tweet? First, Teach Your Brand to Speak. Jeffbullas. The cry of "Content is King" has been a rallying call for bloggers and on-line publishers for years.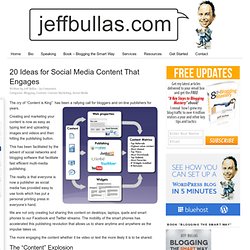 Creating and marketing your content is now as easy as typing text and uploading images and videos and then hitting the publishing button. This has been facilitated by the advent of social networks and blogging software that facilitate fast efficient multi-media publishing. The reality is that everyone is now a publisher as social media has provided easy to use tools which has put a personal printing press in everyone's hand. We are not only creating but sharing this content on desktops, laptops, ipads and smart phones to our Facebook and Twitter streams.
The mobility of the smart phones has accelerated this publishing revolution that allows us to share anytime and anywhere as the impulse takes us. 10 ways to make your content irresistible. "Content" is a cold word for the blood, sweat and tears you put into a blog post, and while the thought of your work being received unfavorably is frightening, the reality of it not being read or shared at all is even worse.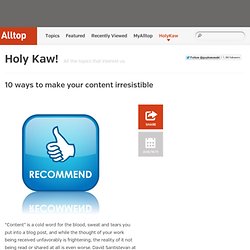 David Santistevan at Daily Blog Tips wants to give you an edge in the sharing game by offering these ten tips to getting readers as excited about your content as you are. 1. Write with convictionDon't be boring. 10 Ways To Be More Likeable Online. Dave Kerpen is the CEO of award-winning social media agency Likeable Media and the author of Likeable Social Media: How to Delight Your Customers, Create an Irresistible Brand, & Be Generally Amazing on Facebook (& Other Social Networks).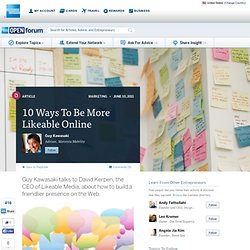 I asked him to provide a list of the top ten ways to be more likeable online, and these are his recommendations: 1. What are 10 Addictive Types of Content? Are you having problems driving traffic to your blog?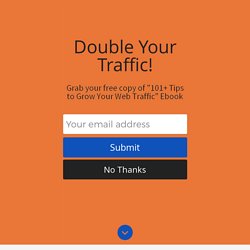 Are you finding that no one is retweeting your content or sharing it on Facebook? When starting a blog the challenge for any blogger is providing content that will entice and delight your readers. You want them looking forward to your next article. Developing an antenna for creative ideas for content is a skill that can be developed. Don't Forget to Engage: Hold Conversations — #3 out of 10 "Don'ts" of Corporate Social Media - Davia Temin - Reputation Matters. The Difference Between an Audience and a Community in New Media. Creative Commons Photo by Daehyun Park In the marketing world, we toss around some language that can be confusing.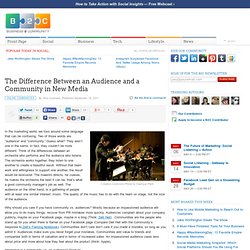 Two of those words are "audience" and "community." Guess what? They aren't one in the same. In fact, they couldn't be more different. Creating Community By Curating Content. InShare5 A lot of people are talking about content curating these days.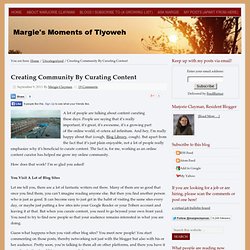 People are saying that it's really important, it's great, it's awesome, it's a growing part of the online world, et cetera ad infinitum. And hey, I'm really happy about that (cough, Blog Library, cough). But apart from the fact that it's just plain enjoyable, not a lot of people really emphasize why it's beneficial to curate content. Article of Interest: 5 Mobile Trends Loyalty Marketers Should Watch « VIPdesk Blog.
I'm not sure about you, but I don't know many people today without a smartphone, which is a tell-tale sign that companies should be paying attention to this ever-evolving trend.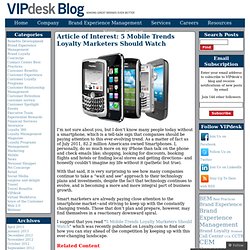 As a matter of fact as of July 2011, 82.2 million Americans owned Smartphones. I, personally, do so much more on my iPhone than talk on the phone and check emails like; shopping, looking for discounts, booking flights and hotels or finding local stores and getting directions– and honestly couldn't imagine my life without it (pathetic but true). How to find good stuff to post. Sharing on the Web: How, When, Where & Why We Do It [INFOGRAPHIC] When are people most likely to share content on the web?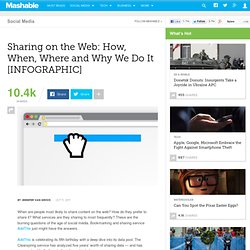 How do they prefer to share it? What services are they sharing to most frequently? These are the burning questions of the age of social media. Bookmarking and sharing service AddThis just might have the answers. Rethinking Lists, Groups and Circles. Eugen12's NewsMix. Digital Oxytocin: How Trust Keeps Facebook, Twitter Humming. The most surprising takeaway from the recent Pew Research Center study, "Social Networking Sites and Our Lives," wasn't that 80% of Americans regularly use the Internet or that 60% of web users have a social network account--double the number in 2008, with the vast majority on Facebook (52%) and Twitter (33%).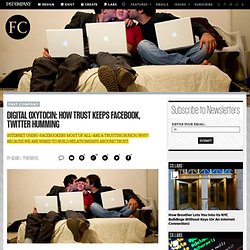 Nor is it that people have gone gaga over smartphones, with one in three Americans owning one. Rather, it's the idea that the Internet, in particular social networks, engender trust, and the more time you spend on them the more trusting you become. As the report put it, "The typical Internet user is more than twice as likely as others to feel that people can be trusted," with regular Facebook users the most trusting of all. "A Facebook user who uses the site multiple times per day is 43% more likely than other Internet users and more than three times as likely as non-Internet users to feel that most people can be trusted. " S Top Trends of 2011: Privacy. We're now over halfway through 2011 and it's been another year of technology disruption.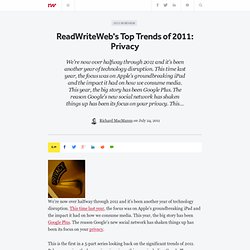 This time last year, the focus was on Apple's groundbreaking iPad and the impact it had on how we consume media. This year, the big story has been Google Plus. The reason Google's new social network has shaken things up has been its focus on your privacy. This is the first in a 5-part series looking back on the significant trends of 2011. The democratization of communication: In filter we trust. Time was, we would get recommendations from "trusted" institutions. You know the names: Consumer Reports for products, Lonely Planet for travel, KCRW for music, the New York Times for all the news that's fit to print, the list goes on. Their word was sacred, and we the masses were grateful for their filtering, their curation.
---