Content Curation
Over the last three years, the No. 1 question I've gotten from brand marketers is: "What should I tweet about?"
Want to Tweet? First, Teach Your Brand to Speak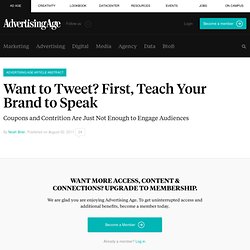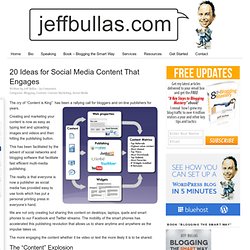 jeffbullas
The cry of "Content is King" has been a rallying call for bloggers and on-line publishers for years. Creating and marketing your content is now as easy as typing text and uploading images and videos and then hitting the publishing button.
"Content" is a cold word for the blood, sweat and tears you put into a blog post, and while the thought of your work being received unfavorably is frightening, the reality of it not being read or shared at all is even worse.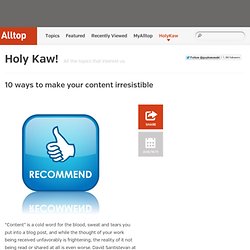 10 ways to make your content irresistible
Dave Kerpen is the CEO of award-winning social media agency Likeable Media and the author of Likeable Social Media: How to Delight Your Customers, Create an Irresistible Brand, & Be Generally Amazing on Facebook (& Other Social Networks) . I asked him to provide a list of the top ten ways to be more likeable online, and these are his recommendations:
10 Ways To Be More Likeable Online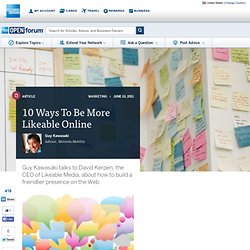 How can I add an Editor's note? : Paper.li Help
Are you having problems driving traffic to your blog?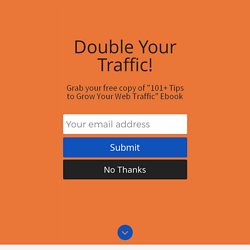 Creative Commons Photo by Daehyun Park In the marketing world, we toss around some language that can be confusing.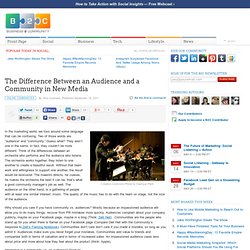 The Difference Between an Audience and a Community in New Media
in Share 5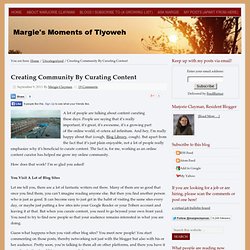 Creating Community By Curating Content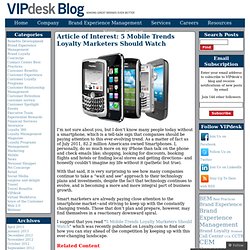 I'm not sure about you, but I don't know many people today without a smartphone, which is a tell-tale sign that companies should be paying attention to this ever-evolving trend. As a matter of fact as of July 2011, 82.2 million Americans owned Smartphones. I, personally, do so much more on my iPhone than talk on the phone and check emails like; shopping, looking for discounts, booking flights and hotels or finding local stores and getting directions– and honestly couldn't imagine my life without it (pathetic but true).
Article of Interest: 5 Mobile Trends Loyalty Marketers Should Watch « VIPdesk Blog
How to find good stuff to post
Sharing on the Web: How, When, Where & Why We Do It [INFOGRAPHIC]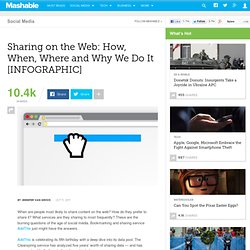 When are people most likely to share content on the web?
Editor's note : Yoav Shoham is professor of computer science at Stanford University and co-founder of Katango , which organizes Facebook friends into groups The recent introduction of Google+ has been fodder for much Google-versus-Facebook discussion. At the center of the discussion has been the Circles component of Google+ , which allows users to arrange their contacts in meaningful clusters (for example, "family" and "work") and share different content with different clusters.
Rethinking Lists, Groups and Circles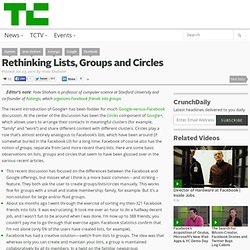 eugen12's NewsMix
Digital Oxytocin: How Trust Keeps Facebook, Twitter Humming
The most surprising takeaway from the recent Pew Research Center study, " Social Networking Sites and Our Lives ," wasn't that 80% of Americans regularly use the Internet or that 60% of web users have a social network account--double the number in 2008, with the vast majority on Facebook (52%) and Twitter (33%).
We're now over halfway through 2011 and it's been another year of technology disruption. This time last year , the focus was on Apple's groundbreaking iPad and the impact it had on how we consume media.
s Top Trends of 2011: Privacy
Content Marketers, Are You Listening?
Time was, we would get recommendations from "trusted" institutions. You know the names: Consumer Reports for products, Lonely Planet for travel, KCRW for music, the New York Times for all the news that's fit to print, the list goes on. Their word was sacred, and we the masses were grateful for their filtering, their curation.
The democratization of communication: In filter we trust