Consumer Trends
Multi-Screen and Consumer Behavior: What You Need to Know. Multi-screen viewers are here.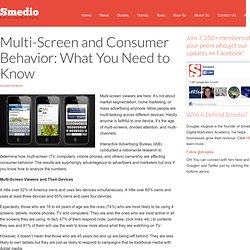 It's not about market segmentation, niche marketing, or mass advertising anymore. More people are multi-tasking across different devices. Hardly anyone is faithful to one device. It's the age of multi-screens, divided attention, and multi-channels. Interactive Advertising Bureau (IAB) conducted a nationwide research to determine how multi-screen (TV, computers, mobile phones, and others) ownership are affecting consumer behavior. Are User Behavior Analytics The Real Predictors Of Customer Engagement? When it comes to consumer insights, the rise of the social web has been both a blessing and a curse: a blessing because companies now have an unlimited amount of data about their customers at their fingertips; a curse because they have to figure out a way to sift through all of that data to figure out what's meaningful and what isn't.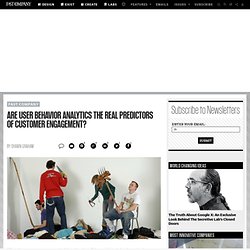 Every Facebook fan page, Twitter profile, and mobile app means that much more data about your customers. And if you're going to win market share and better engage your customers, you're going to have to look way beyond clicks and conversions. Social gaming startups figured it out early. Whether it's because they we're chocked full of deeply talented engineers who were able to interpret complex data or because of the hyper growth and hyper competition within the social gaming industry, companies like Zynga were able to rapidly interpret and develop meaningful insights from billions of data events each day.
S 12 Consumer Trends for 2012. Introduction | This year, much as in previous years, some brands may be staring into the abyss, while others will do exuberantly well.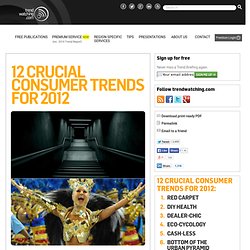 And while we can't offer any help to defaulting nations or bankrupt companies, we do believe that there are more opportunities than ever for creative brands and entrepreneurs to deliver on changing consumer needs. From Canada to Korea. Hence this overview of 12 must-know consumer trends (in random order) for you to run with in the next 12 months. Onwards and upwards: Dix tendances de consommation qui influenceront les TIC. Le cabinet Gartner revient sur dix grandes tendances de consommation qui auront un impact sur les entreprises technologiques au cours des dix prochaines années.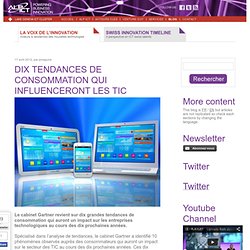 Spécialisé dans l'analyse de tendances, le cabinet Gartner a identifié 10 phénomènes observés auprès des consommateurs qui auront un impact sur le secteur des TIC au cours des dix prochaines années. Ces dix tendances, note le cabinet, convergent autour d'une question de valeurs: pour quoi les consommateurs sont-ils prêts à payer, comment les valeurs auxquelles ils s'identifient évoluent, et comment les fournisseurs technologiques peuvent répondre à ces évolutions de manière à augmenter leurs ventes et leurs marges.
---