Community Management
Five Lessons from Great Community Managers. I've been thinking about community management a lot lately.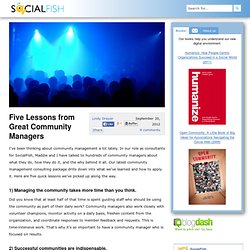 In our role as consultants for SocialFish, Maddie and I have talked to hundreds of community managers about what they do, how they do it, and the why behind it all. Our latest community management consulting package drills down into what we've learned and how to apply it. Here are five quick lessons we've picked up along the way. 1) Managing the community takes more time than you think. Did you know that at least half of that time is spent guiding staff who should be using the community as part of their daily work? Loyalty & New Media / What's the ROI of being attentive to your customers? [#Infographic] Why Small Business Have A Huge Advantage Over Brands In Social Media. I currently have the fortune to experience two different fronts of digital marketing.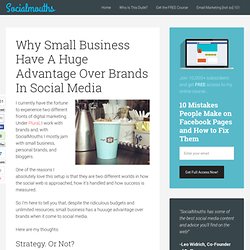 Under Plural, I work with brands and, with SocialMouths I mostly jam with small business, personal brands, and bloggers. One of the reasons I absolutely love this setup is that they are two different worlds in how the social web is approached, how it's handled and how success is measured. So I'm here to tell you that, despite the ridiculous budgets and unlimited resources, small business has a huuuge advantage over brands when it come to social media. Here are my thoughts: Strategy. 10 qualities of talented content curators. Content curation is all the rage.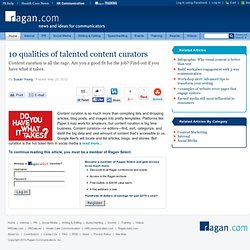 Are you a good fit for the job? Find out if you have what it takes. By Susan Young | Posted: May 25, 2012. The Standard for Influence. 5 Myths Around the Great Influencer Debate | Lift Five. I dare you: go into a room of community managers and start talking about influence.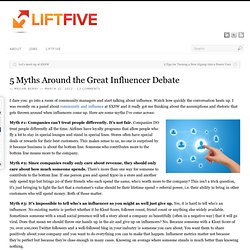 Watch how quickly the conversation heats up. I was recently on a panel about community and influence at SXSW and it really got me thinking about the assumptions and rhetoric that gets thrown around when influencers come up.
Shashi Bellamkonda: Small Business and Big Dreams. Shashi Bellamkonda has an unusual job title: Social Media Swami.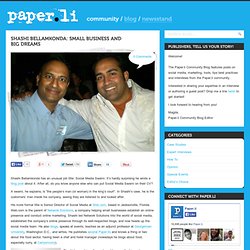 It's hardly surprising he wrote a blog post about it. After all, do you know anyone else who can put Social Media Swami on their CV? A swami, he explains, is "the people's man (or woman) in the king's court". In Shashi's case, he is the customers' man inside his company, seeing they are listened to and looked after. His more formal title is Senior Director of Social Media at Web.com, based in Jacksonville, Florida. Making Time for Community. Popular Today in Business: All Popular Articles Marketing By Michael Klein, Published December 26, 2011.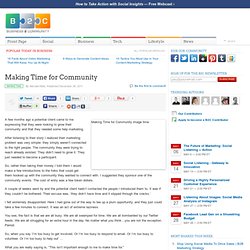 CM Imperatives
Audience vs Community. CM Cases. CM Profil. Permission marketing. CM Trends.
---