Blogging
Benefits of Guest Blogging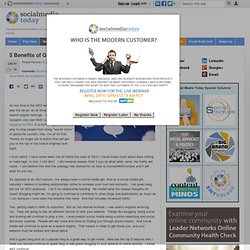 At one time in the SEO world guest blogging was the be all, do all thing to increase your search engine rankings. Just recently, Google's very own Matt Cutts says guest blogging for SEO is a no-no. I guess it was a ploy to stop people from doing "secret tricks" to game the system.
30 Inspiring Ideas To Develop Content For Your Blog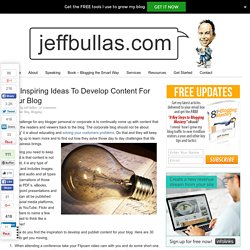 The challenge for any blogger personal or corporate is to continually come up with content that brings the readers and viewers back to the blog. The corporate blog should not be about "selling" it is about educating and solving your customers problems. Do that and they will keep showing up to learn more and to find out how they solve those day to day challenges that life and business brings. One thing you need to keep in mind is that content is not just text, it is any type of media and includes images, video and audio and all types of reincarnations of those such as PDF's, eBooks, Powerpoint presentations and these can all be published onto social media platforms, such as YouTube, Flickr and Slideshare to name a few. You need to think like a publisher!
Ich bin ein Blogger: un esprit, une attitude "Mise à jour"
Une mise à jour est bien souvent nécessaire pour repartir de plus belle. A une époque où de plus en plus de personnes sont amenées à faire un point de leur situation et redémarrer parfois de zéro, le projet des fondateurs de "Mise à jour" peut être une véritable source d'inspiration, aussi bien pour les geeks qui s'identifient aux néologismes web de leurs T-shirts que les autres personnes. Comme j'ai pu le découvrir en avril grâce à la présentation parue dans coolbrandz, les deux fondateurs de "Mise à Jour", Antoine et Basile se sont remis en question un soir d'hiver autour d'un verre.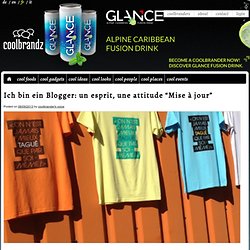 Share 513&media=ID), 'thumbnail' ); echo $thumb['0']; ?>&description=" class="pin-it-button" count-layout="horizontal" data-pin-config="beside" data-pin-hover="true">Pin ItShare When I decided to take up blogging, I had no idea about how to make a successful blog. Nor did I have any plans to make it reach a wider audience. Perhaps such is the case with most of the new bloggers. Was it the case with you too?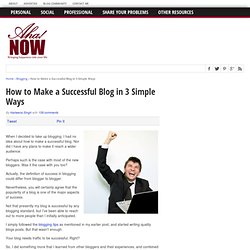 How to Make a Successful Blog in 3 Simple Ways
Note: This is a guest article by Misty B. McPadden. More details about her after the post.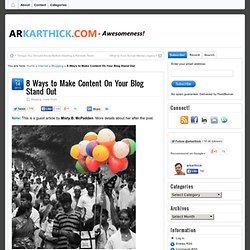 8 Ways to Make Content On Your Blog Stand Out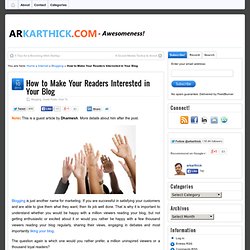 How to Make Your Readers Interested in Your Blog
Note: This is a guest article by Dharmesh. More details about him after the post. Blogging is just another name for marketing.
19 Reasons You Should Blog And Not Just Tweet
Unscientific observation: most bloggers use Twitter, but many Twitter users do not blog. Twitter is popular because it is easy. It is easy to setup, easy to copy-paste links into, and easy to write 140 character bits.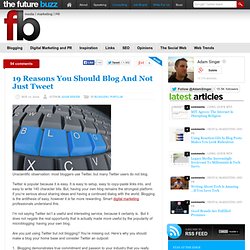 How to Write a Catchy Blog Post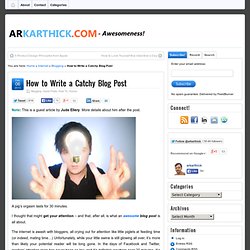 Note: This is a guest article by Jude Ellery. More details about him after the post. A pig's orgasm lasts for 30 minutes. I thought that might get your attention – and that, after all, is what an awesome blog post is all about. The internet is awash with bloggers, all crying out for attention like little piglets at feeding time (or indeed, mating time…) Unfortunately, while your little swine is still glowing all over, it's more than likely your potential reader will be long gone.
Do you need to use images in blog posts?
Blogging: la fréquence de parution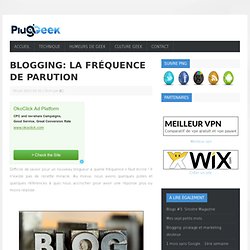 <a href="http://www.okoclick.fr" target="_blank">Régie pub et affiliation - OkoClick</a> Difficile de savoir pour un nouveau blogueur à quelle fréquence il faut écrire ! Il n'existe pas de recette miracle. Au mieux, nous avons quelques pistes et quelques références à quoi nous accrocher pour avoir une réponse plus ou moins réaliste.
Top 4 Traits Of A Successful Blogger
Most blogs are dead. By that I mean they get little traffic, no comments and no subscribers. It's unfortunate, but it's true. But there are reasons for this and that's what I'm gonna try to explain in this post. You see, my blog is no different than yours. I have a domain and hosting and you have a domain and hosting.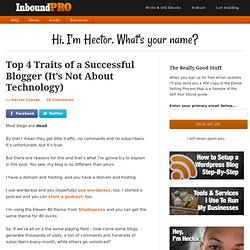 Blogs are everywhere and it looks like everybody has a blog. However, this isn't so – there are still millions of individuals and companies that don't have a blog (though they should). If you are one of them and you are wondering whether to start blogging or not, here are some solid reasons to make you decide that starting a blog is a great idea. 1. Blogging Gives You Exposure One of the main purposes of a personal or corporate blog is to gain exposure.
5 Reasons to Start Blogging
How to Create a Killer Blog
As a blogger what do you have in common with Seth Godin, Brian Clark, and Chris Brogan? Before you tell me, "You've got to be kidding me, I have nothing in common with these blogging superstars." Look in the mirror and repeat after me, "Yes I do!" You all started blogging at the same place. What distinguishes one blog from another is what you do with your blog and how you build yours to achieve your goals.
What makes a blog successful? What mistakes should you avoid on your blog? How do you tweak your blog to ensure better results? These are some of the most commonly asked questions from newbie bloggers. Till now, I've emphasized on the DON'Ts involved in creating a successful blog. Today, I'm going to present 7 Dos (tweaks) that can lead to better results for your blog.
7 Elements to Tweak on Your Blog for Better Results
Some say blogging is an art. Others claim it's a science with a well-defined formula for success. I believe it's a matter of individual perception.
7 Blogging Mistakes Most Bloggers Make that Stall Their Growth
Blogging 101: A BLOG is really like a MOVIE
Note: A guest article by Nischala. More details about her after the post. "What is a blog really like?" was the question asked. And the answer which satisfied the audience was "A blog is really like a Movie…" I was addressing a group of non-bloggers and I found it hard to explain what blogging really is.
What is the Recipe for a Great Blog Post
4 Easy Ways to Promote Your New Post
Friends' responses to the Key to Happiness: Part 2
The Social Freelancer: Media, Music, TV & Film » Blog Archive » Should You Blog? Don't be Fooled, it's a JOB
Invaluable Lessons by 10 Bloggers
Recommend Bloggers (and Podcasters!) for LeWeb'11 Accreditation
The role of a blog in building a brand
8 Tips to Create a Great Blog Post
Top 10 Things You Should Know before Leap into Blogging
Mastering the Art of Slow Blogging
Science of a Good Headline
How to Write Irresistible Blog Intros
6 Ways to Supercharge Your Writing
Blogging For The Online Entrepreneur
6 Tips to Writing Better Blog Posts (or Anything Else)
How do you support your blogging community
5 Ways to Make Your Blog Posts Outstanding
Writing a Book – Finding Time
10 Tips to Spice up Your Drained Blogging Sense