Advertising
Pin by Eugen Schoen on Marketing & Advertising. The whole force in small size - LEGO Star Wars Microfighters. Is coolbrands a Brandchamp? | As you already know, one of the aims of coolbrands is to break down the Rösti barrier and demolish the Gothard tunnel.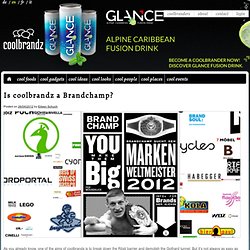 But it's not always as easy as you might think. As a result, any information to come out of cool German-speaking Switzerland, the trendy canton of Grisons or top-class Ticino doesn't always get to us straight away in cool French-speaking Switzerland, and vice versa. Flying People in New York City. Cool Sessions :) / Cool Swatch Surfboard :-) Perrier presents The Drop. Fiat 500 Spot Features a Baby Playing Off Super Bowl Spot | Advertising and Marketing Wisdom: Adages. Marketing & Advertising / Swatch Chrono Plastic TV commercial. Going Viral :) / Knorr Quick - Ping Pong (english) Facebook gives advertisers new ways to reach its members. Trends: Digital Advertising. A vast array of technologies and trends are transforming online marketing.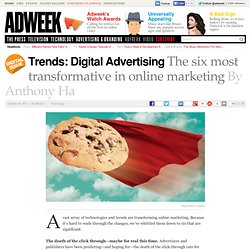 Because it's hard to wade through the changes, we've whittled them down to six that are significant. The death of the click through—maybe for real this time. Advertisers and publishers have been predicting—and hoping for—the death of the click-through rate for years, complaining it's a highly inefficient way to measure an ad's success, especially for brand advertising.
---