Real Time Solar Wind
MTOF Proton Monitor. ACE Real Time Solar Wind main page. ACE RTSW News and Announcements Introduction Geomagnetic storms are a natural hazard, like hurricanes and tsunamis, which the National Oceanic and Atmospheric Administration (NOAA) Space Weather Prediction Center (SWPC) forecasts for the public's benefit.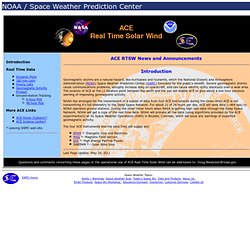 SolarSoft Latest Events.
---