New Kingdom (18th–20th Dynasties) (1549–1069 BC)
Dynasties of the New Kingdom of Egypt
New Kingdom of Egypt. The New Kingdom of Egypt, also referred to as the Egyptian Empire, is the period in ancient Egyptian history between the 16th century BC and the 11th century BC, covering the Eighteenth, Nineteenth, and Twentieth Dynasties of Egypt.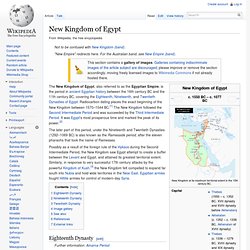 Radiocarbon dating places the exact beginning of the New Kingdom between 1570–1544 BC.[1] The New Kingdom followed the Second Intermediate Period and was succeeded by the Third Intermediate Period. It was Egypt's most prosperous time and marked the peak of its power.[2] The later part of this period, under the Nineteenth and Twentieth Dynasties (1292–1069 BC) is also known as the Ramesside period, after the eleven pharaohs that took the name of Ramesses.
Possibly as a result of the foreign rule of the Hyksos during the Second Intermediate Period, the New Kingdom saw Egypt attempt to create a buffer between the Levant and Egypt, and attained its greatest territorial extent. History of ancient Egypt. The history of Ancient Egypt spans the period from the early predynastic settlements of the northern Nile Valley to the Roman conquest in 30 BC.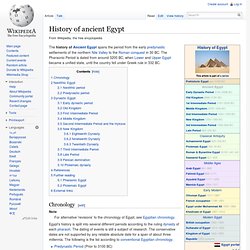 The Pharaonic Period is dated from around 3200 BC, when Lower and Upper Egypt became a unified state, until the country fell under Greek rule in 332 BC. Chronology[edit] Note For alternative 'revisions' to the chronology of Egypt, see Egyptian chronology. Egypt's history is split into several different periods according to the ruling dynasty of each pharaoh. Ancient Egypt. Ancient Egypt was an ancient civilization of Northeastern Africa, concentrated along the lower reaches of the Nile River in what is now the modern country of Egypt.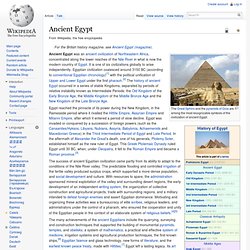 It is one of six civilizations globally to arise independently. Egyptian civilization coalesced around 3150 BC (according to conventional Egyptian chronology)[1] with the political unification of Upper and Lower Egypt under the first pharaoh.[2] The history of ancient Egypt occurred in a series of stable Kingdoms, separated by periods of relative instability known as Intermediate Periods: the Old Kingdom of the Early Bronze Age, the Middle Kingdom of the Middle Bronze Age and the New Kingdom of the Late Bronze Age.
---