Heidi Klum
Heidi Klum Seal Fansite - pictures, wallpaper, Topmodel Heidi Klum in project runway, photos, videos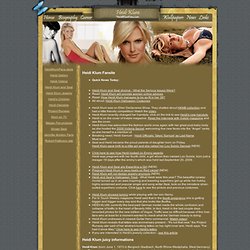 Heidi Klum Fansite Quick News Today: Heidi Klum and Seal divorce - What the Serious Issues Were? Read: Heidi Klum will provide women online advices Read: How Heidi Klum manages to be so fit in her 38? All about: Heidi Klum Halloween Costumes Heidi Klum was on Ellen DeGeneres Show. They chatted about HKNB collection and had a little friendly competition!
Heidi Klum
Heidi Klum GmbH: Willkommen
Early life and discovery[edit] Klum was born and raised in Bergisch Gladbach, a town outside Cologne. She is the daughter of Erna, a hairdresser, and Günther Klum, a cosmetics-company executive. A friend convinced her to enroll in a national modeling contest called "Model 92".[7] Out of 25,000 contestants, Klum was voted the winner on April 29, 1992 and offered a modeling contract worth US$300,000 by Thomas Zeumer, CEO of Metropolitan Models New York.[8] After winning, she appeared on the Gottschalk Late Night Show, a top German television show with host Thomas Gottschalk.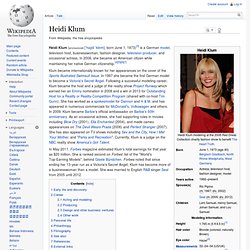 Heidi Klum