Hawaii
Pictures of Hawaii
Geography and Environment of Hawaii. Moving To Hawaii & Living In Hawaii. Hawaii's Official Tourism Site -- Travel Info for Your Hawaii Vacation. Hawaii Travel Guide , Hawaii Hotels and Resorts , Vacations in Hawaii. ALOHA!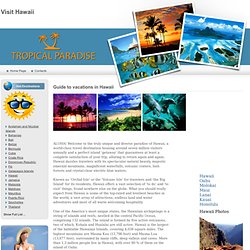 Welcome to the truly unique and diverse paradise of Hawaii, a world-class travel destination housing around seven million visitors annually and a perfect island 'getaway' that guarantees at least a complete satisfaction of your trip, alluring to return again and again. Hawaii dazzles travelers with its spectacular natural beauty, majestic emerald mountains, magnificent waterfalls, volcanic craters, lush forests and crystal-clear electric blue waters. Known as 'Orchid Isle' or the 'Volcano Isle' for travelers and 'the Big Island' for its residents, Hawaii offers a vast selection of 'to do' and 'to visit' things, found nowhere else on the globe. What you should really expect from Hawaii is some of the top-rated and loveliest beaches in the world, a vast array of attractions, endless land and water adventures and most of all warm welcoming hospitality.
Hawaii. Coordinates: Hawaii from space, January 26, 2014[19] Hawaii ( i/həˈwaɪ.iː/ or /həˈwaɪʔiː/; Hawaiian: Hawaiʻi Hawaiian pronunciation: [hɐˈvɐiʔi]) is the most recent of the 50 U.S. states (joined the Union on August 21, 1959), and is the only U.S. state made up entirely of islands.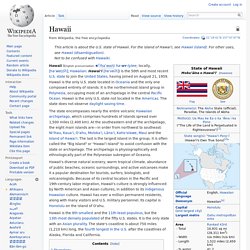 It is the northernmost island group in Polynesia, occupying most of an archipelago in the central Pacific Ocean. Hawaii's diverse natural scenery, warm tropical climate, abundance of public beaches, oceanic surroundings, and active volcanoes make it a popular destination for tourists, (wind) surfers, biologists, and volcanologists alike.
---