Chloroplastida (syn. Viridiplantae) (Green Plants)
Mesostigmatophyceae (syn. Chaetosphaeridiophyta)
Green algae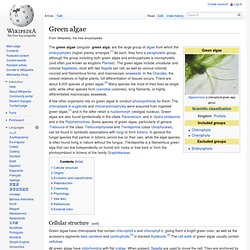 The green algae (singular: green alga ) are the large group of algae from which the embryophytes (higher plants) emerged. [ 1 ] As such, they form a paraphyletic group, although the group including both green algae and embryophytes is monophyletic (and often just known as kingdom Plantae ). The green algae include unicellular and colonial flagellates , most with two flagella per cell, as well as various colonial, coccoid and filamentous forms, and macroscopic seaweeds .
Viridiplantae
Plants , also called green plants ( Viridiplantae in Latin ), are living organisms of the kingdom Plantae including such multicellular groups as flowering plants , conifers , ferns and mosses , as well as, depending on definition, the green algae , but not red or brown seaweeds like kelp , nor fungi or bacteria . Green plants have cell walls with cellulose and characteristically obtain most of their energy from sunlight via photosynthesis using chlorophyll contained in chloroplasts , which gives them their green color. Some plants are parasitic and may not produce normal amounts of chlorophyll or photosynthesize.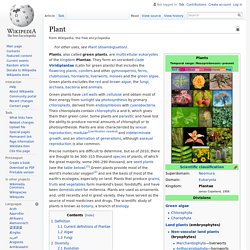 Plant
Chloroplastida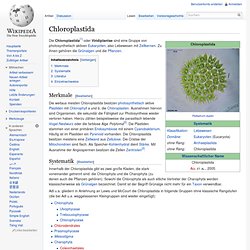 Die Chloroplastida [1] oder Viridiplantae sind eine Gruppe von photosynthetisch aktiven Eukaryoten , also Lebewesen mit Zellkernen . Zu ihnen gehören die Grünalgen und die Pflanzen .
Viridiplantae (literally "green plants") [ 1 ] [ 2 ] [ 3 ] are a clade comprising the green algae and land plants . [ 4 ] [ 5 ] In some classification systems they have been treated as a kingdom , [ 6 ] under various names, e.g. Viridiplantae , Chlorobionta , or simply Plantae , the latter expanding the traditional Plant Kingdom to include the green algae .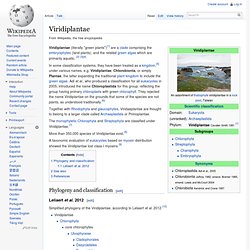 Viridiplantae