Archaeplastida
Chloroplastida (syn. Viridiplantae) (Green Plants)
Rhodophyta / Rhodophyceae (Red Algae)
Plantae
Diversity of plants Main Page Regnum: Plantae Phyla (6 + 1†): "Algae" (Charophyta - Chlorophyta - Glaucophyta - Rhodophyta) - Bryophyta - Tracheophyta - †Pteridospermatophyta NOTE: This taxon is sometimes referred to as Archaeplastida. Unplaced genera (1): †Pachytheca
Archaeplastida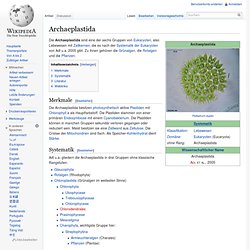 Archaeplastida
Die Archaeplastida sind eine der sechs Gruppen von Eukaryoten, also Lebewesen mit Zellkernen, die es nach der Systematik der Eukaryoten von Adl u.a. 2005 gibt. Zu ihnen gehören die Grünalgen, die Rotalgen und die Pflanzen. Merkmale[Bearbeiten] Die Archaeplastida besitzen photosynthetisch aktive Plastiden mit Chlorophyll a als Hauptfarbstoff. Die Plastiden stammen von einer primären Endosymbiose mit einem Cyanobakterium.
Welcome to United States Botanic Garden | United States Botanic Garden
eFloras.org Home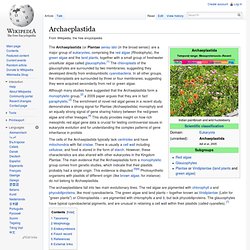 Archaeplastida
The Archaeplastida (or Plantae sensu lato (in the broad sense)) are a major group of eukaryotes, comprising the red algae (Rhodophyta), the green algae and the land plants, together with a small group of freshwater unicellular algae called glaucophytes.[1] The chloroplasts of the glaucophytes are surrounded by two membranes, suggesting they developed directly from endosymbiotic cyanobacteria. In all other groups, the chloroplasts are surrounded by three or four membranes, suggesting they were acquired secondarily from red or green algae.
Recommended this month New Book ** Plantes Comestibles: Le guide pour vous inspirer a choisir et cultiver des plantes comestibles hors du commun [Paperback] Edible Plants: French Translation. La traduction française du livre Plantes comestibles (Edible Plants) est maintenant disponible! Partagez ce lien avec vos amis. Nous sommes convaincus que les plantes peuvent répondre à la majorité de nos besoins, tout en respectant la santé de notre planète.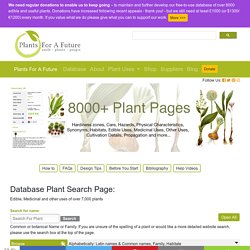 Pacific Island Ecosystems at Risk (PIER) home page
Following are lists of plant species that are invasive (or potentially invasive) on Pacific islands: Scientific names lists - species of concern to the Pacific islands with links to individual summaries (includes high elevation species–see below) Scientific names by family - complete list of species as above list but sorted by family rather than by speciesCommon names lists - alphabetically and by language Listed by location (region; country, territory or state; island group, island) Listed by growth habit (herb, shrub, tree, etc.) High elevation species - species that are primarily a threat to tropical ecosystems over 1000 m elevation or temperate islands. Hint - To search for a species, load one of the above lists and use your browser's "find" function to locate a specific name. You can also access the following lists:
Plant Threats to Pacific Ecosystems - index to PIER lists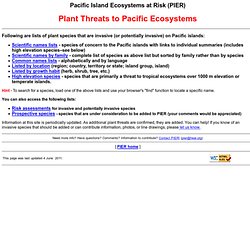 Global Invasive Species Database
The Global Invasive Species Database (GISD) aims to increase awareness about invasive alien species and to facilitate effective prevention and management activities. It is managed by the Invasive Species Specialist Group (ISSG) of the SSC- Species Survival Commission of the IUCN -International Union for Conservation of Nature. The GISD was developed as part of the global initiative on invasive species led by the Global Invasive Species Programme GISP and was/is supported through partnerships with the National Biological Information Infrastructure (NBII), Manaaki Whenua-Landcare Research and the University of Auckland. The GISD focuses on invasive alien species that threaten native biodiversity and natural ecosystems and covers all taxonomic groups from micro-organisms to animals and plants in all ecosystems. Species information is either supplied by or reviewed by expert contributors from around the world.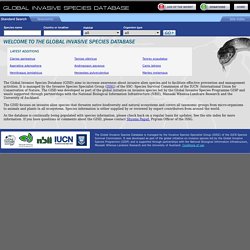 Today a group of 235 individual experts and organisations from 36 countries, including 23 EU Member States, published a joint statement calling on the European institutions to adopt a science-based approach for the EU-wide legislation on invasive alien species. The Call was coordinated jointly by BirdLife Europe, IUCN European Union Representative Office and Neobiota. "Invasive alien species have great impacts on biodiversity – at times determining dramatic declines in species' populations. The latest scientific data on invasives needs to be taken into account when prioritising action by the EU. It is essential to know where and how species arrive into Europe, how they are spreading, and their actual and potential impact to ensure that action is effective", said Piero Genovesi, Chair of IUCN SSC Invasive Species Specialist Group.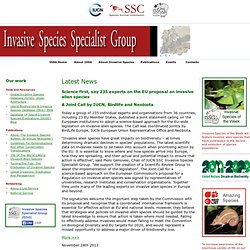 IUCN/SSC Invasive Species Specialist Group (ISSG)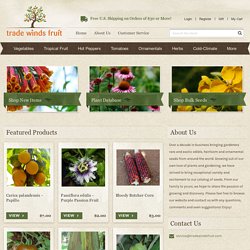 About Us Over a decade in business bringing gardeners rare and exotic edible, heirloom and ornamental seeds from around the world. Growing out of our own love of plants and gardening, we have strived to bring exceptional variety and excitement to our catalog of seeds.
Lady Bird Johnson Wildflower Center - The University of Texas at Austin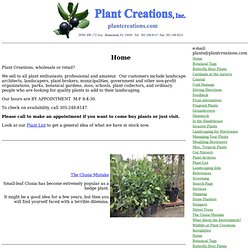 Home Plant Creations, wholesale or retail? We sell to all plant enthusiasts, professional and amateur. Our customers include landscape architects, landscapers, plant brokers, municipalities, government and other non-profit organizations, parks, botanical gardens, zoos, schools, plant collectors, and ordinary people who are looking for quality plants to add to their landscaping. Our hours are BY APPOINTMENT M-F 8-4:30. To check on availability, call 305-248-8147.
Plant Creations
Select the criterion by which you wish to search (Scientific name, Genus, Family, etc.) and enter that information into the provided field. Hint: Correct spelling is necessary for desired results, but because this function is a string search the full name need not be entered. Any correct part of a taxon name can be entered and a choice of the correct one made from the small list of resulting matches. For example, matching the full name exactly in a Scientific Name search for Piptochaetium avenacioides may be difficult, but strings of either tium aven or avenaci or m avenac or pipto will all result in very small lists of matches.
ISB: Atlas of Florida Vascular Plants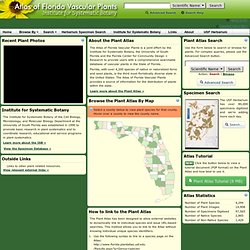 Gardening, horticultural and plant information | Irish Plant Database
VT Forest Biology and Dendrology
Plants & Fungi From Kew
GRIN NPGS
ARS : Home
PlantSystematics.org
The International Plant Names Index - home page
About IPNI The International Plant Names Index (IPNI) is a database of the names and associated basic bibliographical details of seed plants, ferns and lycophytes. Its goal is to eliminate the need for repeated reference to primary sources for basic bibliographic information about plant names. The data are freely available and are gradually being standardized and checked.
La gu a m s completa de plantas y flores para profesionales y aficionados a la jardiner a