Anna Paquin
Anna Paquin: True Blood Sex Scenes With Fiance Are Real - Movies, TV & Music. Anna Paquin and Stephen Moyer's real-life romance makes taping their sex scenes on True Blood a lot easier.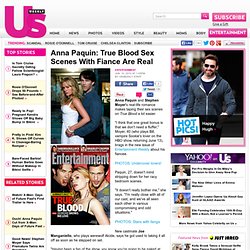 "I think that one great bonus is that we don't need a fluffer," Moyer, 40 (who plays Bill, vampire Sookie's lover on the HBO show, returning June 13), brags in the new issue of Entertainment Weekly about his fiancee. PHOTOS: Undercover lovers! Paquin, 27, doesn't mind stripping down for her racy bedroom scenes. "It doesn't really bother me," she says. "I'm really close with all of our cast, and we've all seen each other in various compromising and odd situations. " Anna Paquin Fan Site • PaquinAnna.com • Your 24/7 Largest & Longest Running Anna Paquin Resource Online.Anna Paquin Fan Site. Anna Paquin Online. Anna Paquin. Anna Paquin. Early life[edit] Paquin was born in Winnipeg, Manitoba, the daughter of Mary Paquin (née Brophy), an English teacher and native of Wellington, New Zealand, and Brian Paquin, a high school physical education teacher from Canada.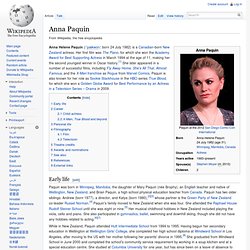 Paquin has two older siblings: Andrew (born 1977), a director, and Katya (born 1980),[2][3] whose partner is the Green Party of New Zealand co-leader Russel Norman.[4] Paquin's family moved to New Zealand when she was four. She attended the Raphael House Rudolf Steiner School until she was eight or nine.[5] Her musical childhood hobbies in New Zealand included playing the viola, cello and piano.
She also participated in gymnastics, ballet, swimming and downhill skiing, though she did not have any hobbies related to acting.[6][7] Anna Paquin: 'I'm Bisexual, and I Give a Damn' X-Men.
---