Research Skills Menu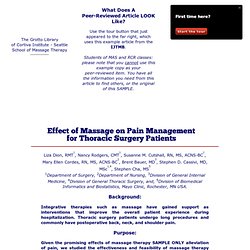 What Does Peer-Reviewed LOOK Like?
Liza Dion, RMT1, Nancy Rodgers, CMT1, Susanne M. Cutshall, RN, MS, ACNS-BC1, Mary Ellen Cordes, RN, MS, ACNS-BC2, Brent Bauer, MD3, Stephen D. Cassivi, MD, MSc1,4, Stephen Cha, MS51Department of Surgery, 2Department of Nursing, 3Division of General Internal Medicine, 4Division of General Thoracic Surgery, and, 5Division of Biomedical Informatics and Biostatistics, Mayo Clinic, Rochester, MN USA.Background:Integrative therapies such as massage have gained support as interventions that improve the overall patient experience during hospitalization.
The Virtual Training Suite is a set of free Internet tutorials to help you develop Internet research skills for your university course. From end of July 2011, the Virtual Training Suite has been taken over by TutorPro, who will host the new site and tutorials and work with the content providers to keep the content up to date whilst moving the whole project forward into the world of smartphones, tablets and mobile devices. ILRT will continue to host the popular Internet Detective tutorial, as well as the three JISC Digital Media tutorials. Internet for Archives will shortly be moving to a new home at Mimas.
Be Better@Google Searching (3-minute Video)
[Image of google.com search box] Audio: How can you make Google work better for you when you're searching? Here are a few tips and tricks to get you started. Let's say we're doing research on the impact of multiracial people & culture in America. We're just getting started, so we'll type "multiracial" into the Google search box.