Research Skills Menu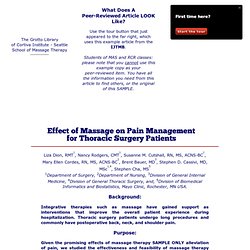 What Does Peer-Reviewed LOOK Like?
Liza Dion, RMT 1 , Nancy Rodgers, CMT 1 , Susanne M. Cutshall, RN, MS, ACNS-BC 1 , Mary Ellen Cordes, RN, MS, ACNS-BC 2 , Brent Bauer, MD 3 , Stephen D. Cassivi, MD, MSc 1, 4 , Stephen Cha, MS 5 1 Department of Surgery, 2 Department of Nursing, 3 Division of General Internal Medicine, 4 Division of General Thoracic Surgery, and, 5 Division of Biomedical Informatics and Biostatistics, Mayo Clinic, Rochester, MN USA. Background: Integrative therapies such as massage have gained support as interventions that improve the overall patient experience during hospitalization. Thoracic surgery patients undergo long procedures and commonly have postoperative back, neck, and shoulder pain.
Peer Review Tutorial
Be Better@Google Searching (3-minute Video)
[Image of google.com search box] Audio: How can you make Google work better for you when you're searching? Here are a few tips and tricks to get you started. Let's say we're doing research on the impact of multiracial people & culture in America. We're just getting started, so we'll type "multiracial" into the Google search box.