All Searchable Databases Menu
IN-CAM Outcomes Database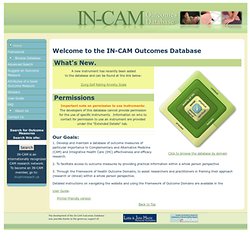 Important note on accessing instruments: The authors of this website cannot provide permission to use the scales as they are not our ownership. Details on how to access an instrument are provided on each individual instrument page in the "Extended Details" tab. Purpose of the IN-CAM Outcomes Database We have developed a database of outcome measures of particular importance to Complementary and Alternative Medicine (CAM) and Integrative Health Care (IHC) effectiveness and efficacy research in order to facilitate and support the assessment of CAM interventions through high quality research, and thus, to improve clinical practice and inform policy. Although important in research on CAM and IHC interventions, the outcomes included in this Database are not limited or exclusive to CAM or IHC research; rather they are useful for the study of health interventions framed within a whole person perspective and focused on health and well-being.
Yellow: Most Ignored Research Tool
Virginia Henderson International Nursing Library
University of Washington's Subscribed Journals
OMNI (formerly Issie) Search Agent
Massage Therapy Foundation Student Resources
JBMT: Journal of Bodywork and Movement Therapies (Peer-reviewed / Full Text Available On-campus Only)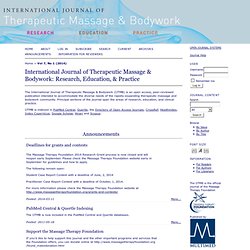 IJTMB: International Journal of Therapeutic Massage & Bodywork (Peer-reviewed)
The International Journal of Therapeutic Massage & Bodywork (IJTMB) is an open access, peer-reviewed publication intended to accommodate the diverse needs of the rapidly-expanding therapeutic massage and bodywork community. Principal sections of the journal span the areas of research, education, and clinical practice. IJTMB is indexed in PubMed Central, Quertle, the Directory of Open Access Journals, CrossRef, Healthindex, Index Copernicus, Google Scholar, Hinari and Scopus.
Citation Search at National Library of Medicine
What Does RCUK's Open Access Policy Mean for UK Researchers? Gateways Gateways are collections of content and resources from journals and sites published by BioMed Central.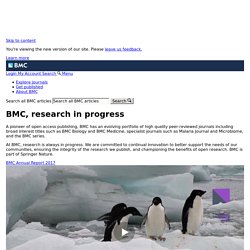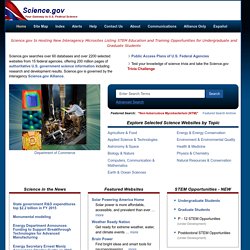 Science.gov searches over 60 databases and over 2200 selected websites from 15 federal agencies, offering 200 million pages of authoritative U.S. government science information including research and development results. Science.gov is governed by the interagency Science.gov Alliance Test your knowledge of science trivia and take the Science.gov Trivia Challenge Department of Agriculture 2 of 18
Sign in to NCBI Help Literature