Site Explorer, Whois & audit d'URL
Read what other people say about SEOprofiler: "SEOprofiler.com is a site that will make any webmaster's day. There's no better way to outplay your competitors."Review on KillerStartups.com "I was recently searching for a reliable backlink report source and came across SEOprofiler. And, boy, am I glad I did! Les fichiers .htaccess vous permettent de modifier rapidement la configuration de votre serveur Apache et d'ajouter des règles et directives en fonction de différents paramètres pour des répertoires spécifiques. C'est un peu la boîte à outils des SEO puisque c'est via ces fichiers que les règles de réecriture et les redirections 301 en tout genre sont configurées. Mais ils peuvent devenir un obstacle à la vitesse de chargement, qui a son importance comme vous le savez, pour Google, ses crawlers, et les internautes de manière plus générale. Fonctionnement des fichiers .htaccess Il y a un élément important à bien retenir: les fichiers .htaccess ne sont que des extensions du fichier de configuration Apache, le fichier de configuration étant apache2.conf ou httpd.conf en général. Ils fournissent une méthode pour modifier la configuration du serveur pour les répertoires dans lesquels ils se trouvent.
SEO: Les fichiers .htaccess sont à utiliser avec modération – Y'a pas de quoi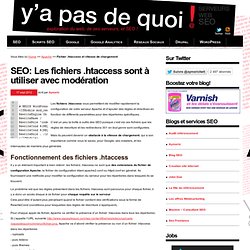 Use this free Java application to explore the connections between related websites. Try it now! Enter keywords or a URL, and click 'Graph it!' See Getting Started below for more details. Getting Started Make sure you have the latest version of java, at least Java 1.5 Type in your search keywords or a URL, and press "Graph It!"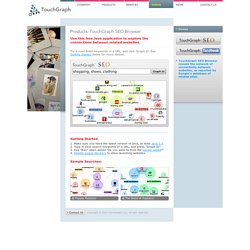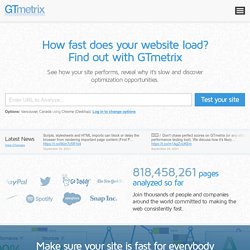 Everybody deserves a fast web experience. GTmetrix can help you develop a faster, more efficient, and all-around improved website experience for your users. Your users will love you for it. Create a free account instantly! Signup and get instant access to features like monitoring, graphing, ad blocking and more! Get more out of your reports.
Chrome Web Store - Scraper
SEODigger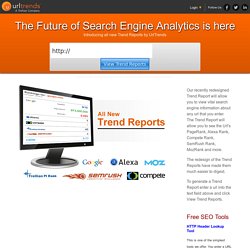 Our recently redesigned Trend Report will allow you to view vital search engine information about any url that you enter. The Trend Report will allow you to see the Urls link popularity, PageRank™, Alexa Rank, keywords that you can find the site by and more. The redesign of the Trend Reports have made them much easier to digest.