ScrapeBox XRummer
Short text image recognition, OCR, recognition software
Chrome Web Store - Scraper
Sick Scraper has been replaced by Sick Hunter which is included in Sick Submitter. Scraper will no longer be updated however it is still free to download. What is Sick ScraperSick Scraper helps you find links for your templates to run in Sick Submitter.
Download Sick Scraper - Beta - Sick Submitter Support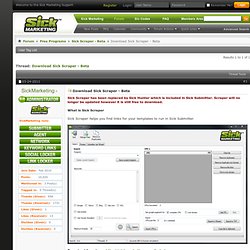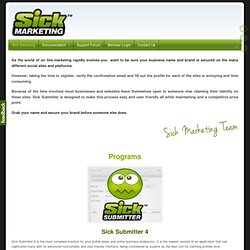 Sick Submitter - Automated Marketing Tool | Sick Marketing
As the world of on line marketing rapidly evolves Sick Marketing has decided to diversify into other niches. We have found WordPress to be an invaluable tool for building web sites that anyone can use regardless of skill level and felt we could put our spin and techniques on a set of plug-ins developed for internet marketers of any skill level. Keeping our management team small allows us to make quick changes and respond to user requests at an unprecedented speed making us better than the market leaders. Our promise to you is a quality program, at a reasonable cost with exceptional support. Sick Submitter 4 Sick Submitter 4 is the most complete solution for your backlink building plans and online business endeavors.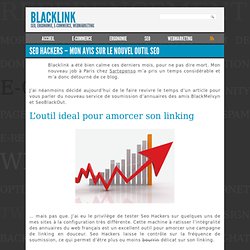 Seo Hackers – Mon avis sur le nouvel outil SEO Blacklink a été bien calme ces derniers mois, pour ne pas dire mort. Mon nouveau job à Paris chez Sartepenso m'a pris un temps considérable et m'a donc détourné de ce blog. J'ai néanmoins décidé aujourd'hui de le faire revivre le temps d'un article pour vous parler du nouveau service de soumission d'annuaires des amis BlackMelvyn et SeoBlackOut. L'outil ideal pour amorcer son linking
Seo Hackers – Mon avis sur le nouvel outil SEO | Blacklink
I will get to the point, Time is Money. We can't create more hours in a day, BUT we can Automate Tasks so they take minutes rather than hours so we can get more done. For a limited time i'm offering you the chance to grab My Personal Tool called ScrapeBox. How would you like to… The Complete Harvesting Solution!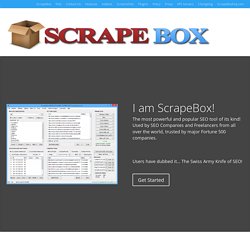 12 déc 2010 by Papilouvein seo, tuto, vidéo Tags: black hat, référencement, Scrapebox, seo, tutoriel, vidéo Aujourd'hui c'est tuto outil SEO Black hat chez Papilouve (enfin…chez moi ) et on va parler de SCRAPEBOX. Il n'est pas gratuit (et je n'ai pas d'affiliation) mais 97$ (c'est son prix actuel mais il varie souvent) pour une licence à vie, ce n'est pas cher payé !
Tuto Scrapebox - Soft SEO Black Hat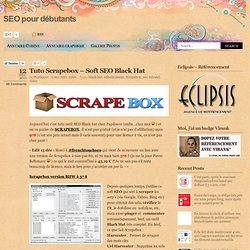 Plutôt que me lancer dans une longue review du soft comme je l'ai fait pour senuke, je vais vous montrer un bel exemple de ce dont est capable Xrumer. Oui xrumer casse presque tous les captcha ( mais vous avez aussi la possibilité d'utiliser plusieurs service de decaptcher privé et russe.Oui xrumer est capable de remplir TOUS les formulaireOui c'est du spam hyper cradeOui ca va très vite, installé sur mon server windows distant il me créer environs 1200 backlinks/minutes !Oui ce soft est russe.Si vous êtes admin d'un forum spammé à gogo, c'est certainement l'œuvre de Xrumer. Scrapper des proxy ( il les testes aussi )Scrapper d'url des moteurs de rechercheCheck PRCheck linksInscription forumPlusieurs mode de spam ( création profile, puis édition un autre jours )Création de topic ( puis édition un autre jour si le forum le permet )Puis réponse au topic créer depuis un autre compte !
The Xrumer effect...Ce n'est pas l'outil qui fait le moine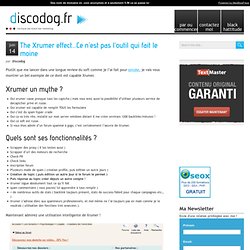 Vérification de proxys valides Akismet.
Lors de vos campagnes de Spam Comment soumissions de commentaires, vous utilisez surement des proxies. Entre autre avec le fameux couteau suisse du Black Hat SEO qu'est ScrapeBox. En effet avec ScrapeBox, il est très simple de trouver des proxys et de les tester.