ScrapeBox XRummer
Short text image recognition, OCR, recognition software
Chrome Web Store - Scraper
Sick Scraper has been replaced by Sick Hunter which is included in Sick Submitter. Scraper will no longer be updated however it is still free to download. What is Sick ScraperSick Scraper helps you find links for your templates to run in Sick Submitter.
Download Sick Scraper - Beta - Sick Submitter Support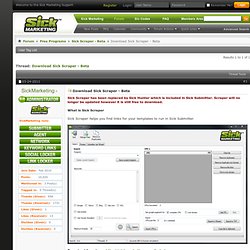 Sick Submitter - Automated Marketing Tool | Sick Marketing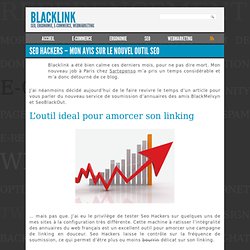 Seo Hackers – Mon avis sur le nouvel outil SEO Blacklink a été bien calme ces derniers mois, pour ne pas dire mort. Mon nouveau job à Paris chez Sartepenso m'a pris un temps considérable et m'a donc détourné de ce blog. J'ai néanmoins décidé aujourd'hui de le faire revivre le temps d'un article pour vous parler du nouveau service de soumission d'annuaires des amis BlackMelvyn et SeoBlackOut. L'outil ideal pour amorcer son linking
Seo Hackers – Mon avis sur le nouvel outil SEO | Blacklink
12 déc 2010
Tuto Scrapebox - Soft SEO Black Hat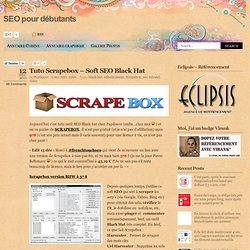 Plutôt que me lancer dans une longue review du soft comme je l'ai fait pour senuke, je vais vous montrer un bel exemple de ce dont est capable Xrumer. Oui xrumer casse presque tous les captcha ( mais vous avez aussi la possibilité d'utiliser plusieurs service de decaptcher privé et russe.Oui xrumer est capable de remplir TOUS les formulaireOui c'est du spam hyper cradeOui ca va très vite, installé sur mon server windows distant il me créer environs 1200 backlinks/minutes !
The Xrumer effect...Ce n'est pas l'outil qui fait le moine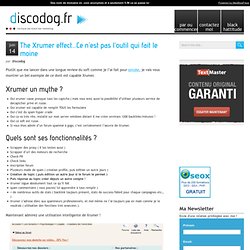 Vérification de proxys valides Akismet.
Lors de vos campagnes de Spam Comment soumissions de commentaires, vous utilisez surement des proxies. Entre autre avec le fameux couteau suisse du Black Hat SEO qu'est ScrapeBox. En effet avec ScrapeBox, il est très simple de trouver des proxys et de les tester.