Google Com et Business
Programme de Certification Google AdWords
L'infrastructure utilisée par le géant de la recherche Google est un mystère que beaucoup aimeraient percer, que ce soit les concurrents ou les utilisateurs étonnés de la réactivité sans faille des services malgré un nombre d'utilisateurs record. Voici quelques réponses et hypothèses concernant les Data centers de Google. La culture du secret Google estime que leurs Data Centers leur donnent un avantage important face à la concurrence, c'est pourquoi peu d'informations filtrent sur le nombre de centres, leur taille, leur localisation, leur puissance ou encore la consommation électrique de ceux-ci. Pour rester discrets, les data centers ne sont d'ailleurs pas créés sous le nom de Google, mais par des sociétés LLCs (Limited Liability Corporations) soit l'équivalent de nos sociétés à responsabilité limité en France.
GOOGLE : UN MYSTÈRE FASCINANT ET BIEN GARDÉ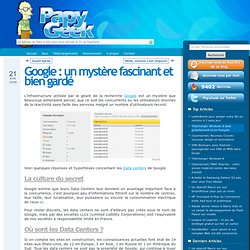 The NFL playoff race is in the home stretch and Google's got you covered with game times, stats, and... Read more … Today's doodle in France features writer and intellectual Simone de Beauvoir set against a Parisian ... Read more … Happy 141st birthday to poet Haim Nachman Bialik!