Google Com et Business
Programme de Certification Google AdWords. Centre d'aide Google Advertising Professionals. GOOGLE : UN MYSTÈRE FASCINANT ET BIEN GARDÉ. L'infrastructure utilisée par le géant de la recherche Google est un mystère que beaucoup aimeraient percer, que ce soit les concurrents ou les utilisateurs étonnés de la réactivité sans faille des services malgré un nombre d'utilisateurs record.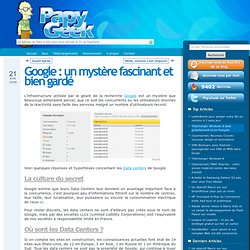 Voici quelques réponses et hypothèses concernant les Data centers de Google. La culture du secret Google estime que leurs Data Centers leur donnent un avantage important face à la concurrence, c'est pourquoi peu d'informations filtrent sur le nombre de centres, leur taille, leur localisation, leur puissance ou encore la consommation électrique de ceux-ci. Pour rester discrets, les data centers ne sont d'ailleurs pas créés sous le nom de Google, mais par des sociétés LLCs (Limited Liability Corporations) soit l'équivalent de nos sociétés à responsabilité limité en France. À propos de Google. Ten things we know to be true #1: Focus on the user and all else will follow.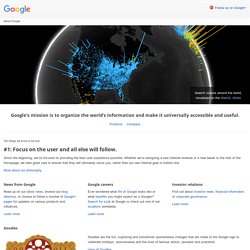 Since the beginning, we've focused on providing the best user experience possible. Whether we're designing a new Internet browser or a new tweak to the look of the homepage, we take great care to ensure that they will ultimately serve you, rather than our own internal goal or bottom line. Averroes' 888th Birthday (born 1126)
---