Everything in a Home
BRC Designs | BRC Designs
Sodastream Source
floating ripple vase by oodesign at designboom shop
designboom shop: floating ripple vase by oodesign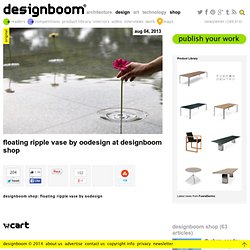 Welcome to the A+R Store
home design | Shop | home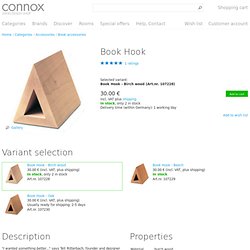 "I wanted something better..." says Tell Ritterbach, founder and designer of the Book Hook.
Book Hook | Interior Design | Shop
de mooiste innovatieve rookmelder, nu leverbaar in Nederland
Gervasoni |
iDoorCam WiFi Doorbell - See Who's at Your Door
Not Your Momma's Cookie — Page 2
A Community for Makers | Kollabora
Ask Anna | Answers to your cleaning, organizing questions & more!
Sebastian Bergne
Renova
Air purification, humidification, dehumidification, ionization and cleaning systems - The best brands at Air Naturel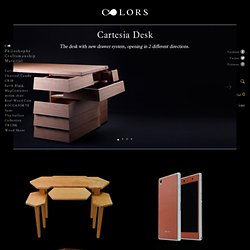 Cartesia Desk Tamo Tree - COLORS
The desk with new drawer system, opening in 2 different directions. Designed by NOSIGNER This innovative desk, developed with traditional wooden craftsmanship from Tokushima in Japan, possesses the same special feature as our CARTESIA drawer: a 2-directional structure, allowing you to access multiple storage at the same time as well as eliminating blind spots in the back of each drawer. This sophisticated business desk was designed to assist you.
Psalt Design — BUBBLE TANK
Milano
Micklish
BERNHARD | BURKARD product design
Johannes Hemann furniture stool
Machine Shop | Headlines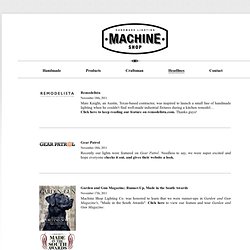 Remodelista November 18th, 2011 Marc Knight, an Austin, Texas-based contractor, was inspired to launch a small line of handmade lighting when he couldn't find well-made industrial fixtures during a kitchen remodel… Click here to keep reading our feature on remodelista.com. Thanks guys! Gear Patrol
Albatros - The bookmark following any journey
themosserstore on Etsy
[lhooq] design | curated webshop
the crib - an enviresponsible shelter
Witold Szostak
Mjölk : Mjölk
Seletti
monos
Fiat Lux - Modern lighting showroom
Curbed NY : The New York City neighborhoods and real estate blog