Writing
"Speaking and Writing English Effectively" is designed for proficient English speakers who would like to improve their speaking and writing skills. The course compares a variety of writing styles including imaginative writing, journalism, English in the media and textual analysis.
Speaking and Writing English Effectively Training Course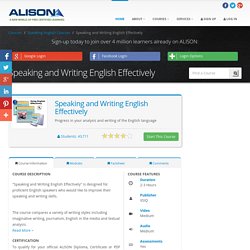 English Writing Skills is a free online language course which is designed for anyone wanting to improve their writing, or English students who wish to enhance their essay-writing abilities.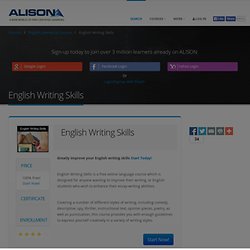 English Writing Skills Training Course
It's spring fever…. You don't quite know what it is you DO want, but it just fairly makes your heart ache, you want it so! –Mark Twain Spring has sprung…along with a serious bout of spring fever!
Spring into Writing | Homeschooling Blog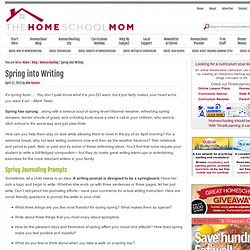 Welcome to the North Carolina Civic Education - Database of Civic Resources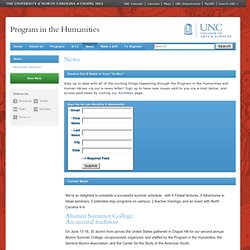 We're so delighted to complete a successful summer schedule, with 4 Flyleaf lectures, 3 Adventures in Ideas seminars, 2 extended-stay programs on campus, 2 teacher trainings, and an event with North Carolina 4-H. On June 13-16, 35 alumni from across the United States gathered in Chapel Hill for our second annual Alumni Summer College, co-sponsored, organized, and staffed by the Program in the Humanities, the General Alumni Association, and the Center for the Study of the American South. This year's theme was Old and New: Studying the South in the 21st Century, From a warm Southern welcome and fascinating look at the blues with Bill Ferris, to tours of campus, a farewell BBQ at the Love House—and dozens of lectures, discussions, and exhibits in between–attendees came to appreciate the American South as a place of lasting traditions and constant evolution.
A Writer's Love » More Christian prompts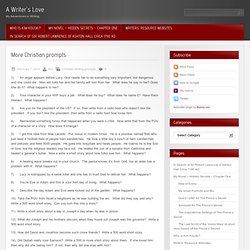 1) An angel appears before Lucy.