Health
Local Harvest / Farmers Markets / Family Farms / CSA / Organic Food. Eat Well Guide :: Local, Sustainable, Organic Food. Trigger Point and Referred Pain Guide. Home | CFIDS & Fibromyalgia Self-Help. Midwest Today: Do High-Voltage Power Lines Cause Cancer? Midwest Today, April/May 1996 Studies link Electromagnetic Fields (EMFs) To Illness By NEAL LAWRENCE.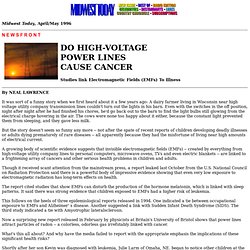 Toxic Effects: Everyday Exposures. Scorecard Home. About Your Community.
Irritable Bowel Syndrome ~ Help For IBS Treatments & IBS Education. Learn all about your Irritable Bowel Syndrome diagnosis, IBS treatments, and Irritable Bowel Syndrome symptom management. Sports. Cancer. Health Homework Help. Dental.
---