Drugs
The Salvia divinorum Research and Information Center
Could we live happily ever after? Perhaps. One's interest in the genetically pre-programmed states of sublimity sketched in The Hedonistic Imperative is tempered by the knowledge that one is unlikely to be around to enjoy them. It's all very well being told our descendants will experience every moment of their lives as a magical epiphany. For emotional primitives and our loved ones at present, most of life's moments bring nothing of the sort.
The Good Drug Guide : new mood-brighteners and antidepressants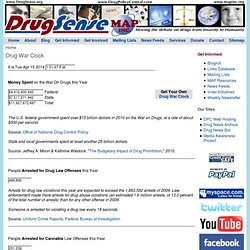 Researchers examining the effectiveness of ONDCP's anti-drug media campaign reported: "The NSPY [National Survey of Parents and Youth] did not find significant reductions in marijuana use either leading up to or after the Marijuana campaign for youth 12 to 18 years old between 2002 and 2003. Indeed there was evidence for an increase in past month and past year use among the target audience of 14- to 16-year-olds, although it appears that the increase was already in place in the last half of 2002, before the launch of the Marijuana Initiative. It will be worthwhile to track whether the nonsignificant decline from the second half of 2002 through the first half of 2003 is the beginning of a true trend.