Poultry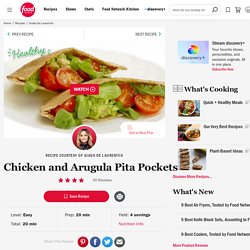 Chicken and Arugula Pita Pockets Recipe : Giada De Laurentiis
Ingredients 2 whole-wheat pitas, halved and opened 1/4 cup mayonnaise 1 teaspoon lemon zest 1/2 cup Arugula Pesto, recipe follows 2 store-bought rotisserie chicken breasts, diced into 1/4-inch pieces 8 cherry tomatoes, quartered 1 cup arugula Directions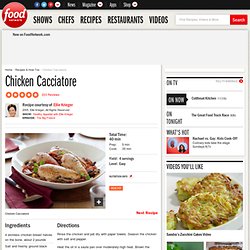 Ingredients 4 skinless chicken breast halves on the bone, about 2 pounds Salt and freshly ground black pepper 2 teaspoons olive oil 1 medium onion, thinly sliced 1 red bell pepper, thinly sliced 1/2 pound white mushrooms, thinly sliced 2 garlic cloves, minced 1/2 cup dry white wine 1 (14 1/2-ounce) can whole tomatoes in juice, chopped and juice reserved 1/2 teaspoon dried oregano 1/8 teaspoon red pepper flakes or more to taste
Chicken Cacciatore Recipe : Ellie Krieger
Ingredients Vegetable cooking spray 1/2 cup plain bread crumbs 1/3 cup chopped fresh flat-leaf parsley 1/4 cup chopped garlic and herb-marinated sun-dried tomatoes 2 cloves garlic, minced, optional 2 eggs, at room temperature, lightly beaten 2 tablespoons whole milk 1/2 cup crumbled feta cheese 1 1/2 teaspoons kosher salt 1 teaspoon freshly ground black pepper 1 pound ground turkey, preferably dark meat Directions Place an oven rack in the center of the oven.
Turkey Meatloaf with Feta and Sun-Dried Tomatoes Recipe : Giada De Laurentiis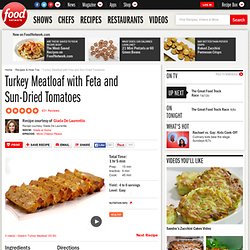 Begin by making the sauce: Warm the oil in a medium saucepan over medium heat, until it shimmers.
Sloppy Bombay Joes Recipe : Aarti Sequeira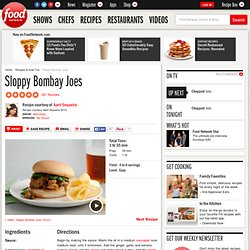 Logan Shanney's Chicken Cutlets With Spinach And Walnut Pesto - the chew
close Chicken Francese Recipe: A sophisticated Italian chicken dish for a simple weeknight meal or a classy dinner party. 345b8bbf-bcd8-4659-9ac3-fbca7cc979ba
Chicken Francese - Clinton Kelly - Recipe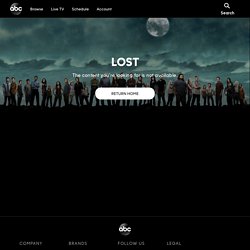 Grilled Orange Chicken and Romaine Salad - Allison Dalke - Recipe
Leboo's Buffalo Poppers - Semi-Homemaker Recipe : Sandra Lee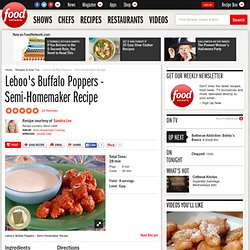 Ingredients 1 pound chicken tenders 1 (2.25-ounce) package seasoned bread coating mix (recommended: Shake 'N Bake Crispy Version) 1 cup buffalo wing sauce 1 tablespoon honey 1 cup lowfat ranch or lowfat blue cheese dressing Directions
Butter Chicken (Indian Chicken in Tomato Cream Sauce) Recipe :
A rotisserie chicken stands in quite well for the original tandoori chicken in this version of the simple north Indian dish. In just a few simple steps with a handful of spices, an ordinary chicken become an exotic, family-pleasing meal with a richly spiced sauce that melds right into the chicken. The dish is done when the meat is ? as Indian cookbook author Julie Sahni describes it ?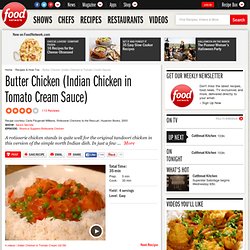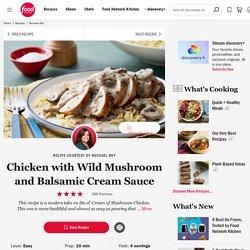 This recipe is a modern take on the ol' Cream of Mushroom Chicken. This one is more healthful and almost as easy as pouring that condensed, salty mass out of a can. It will heal a long day! Ingredients Salt 1/2 pound orzo pasta 2 tablespoons extra-virgin olive oil , 2 turns of the pan 4 boneless, skinless chicken breasts , 6 ounces Pepper 2 tablespoons butter 12 cremini or baby portobello mushrooms , sliced 12 shiitake mushrooms , stems removed and sliced 12 white mushrooms , sliced 2 large cloves garlic, chopped 1 tablespoon thyme leaves, a couple of sprigs, chopped 2 large shallots, thinly sliced 2 tablespoons all-purpose flour 1 1/2 cups chicken stock 1 tablespoon balsamic vinegar , eyeball it 3 tablespoons heavy cream or half-and-half, a couple turns of the pan 1/4 cup chopped flat-leaf parsley , a generous handful
Chicken with Wild Mushroom and Balsamic Cream Sauce Recipe : Rachael Ray
Curried Chicken Salad Recipe : Ellie Krieger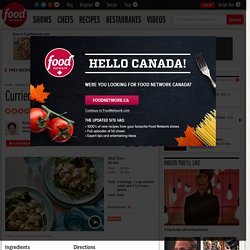 Ingredients
Ingredients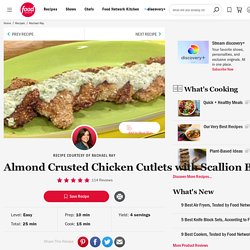 Almond Crusted Chicken Cutlets with Scallion Beurre Blanc Recipe : Rachael Ray
Ingredients 3 whole (6 split) chicken breasts, bone-in, skin-on Olive oil Kosher salt and freshly ground black pepper 1 1/2 cups good mayonnaise (recommended: Hellman's) 1/3 cup dry white wine 1/4 cup chutney (recommended: Major Grey's) 3 tablespoons curry powder 1 cup medium-diced celery (2 large stalks) 1/4 cup chopped scallions, white and green parts (2 scallions) 1/4 cup raisins 1 cup whole roasted, salted cashews Directions
Curried Chicken Salad Recipe : Ina Garten
Asian Chicken Salad Watch Everyday Food editor Sarah Carey toss together a colorful, crunchy Asian-inspired dinner salad that features tender, flavorful poached chicken.
Asian Chicken Salad
Chicken Scallopine with Saffron Cream Sauce Recipe :
Ingredients 2 tablespoons olive oil 1 pound chicken cutlets (scallopine) 2 shallots , sliced 1 clove garlic , minced 1/2 cup white wine 1 1/2 cups chicken broth 1/4 teaspoon saffron threads 1/2 cup heavy cream 3/4 teaspoon salt 1/4 teaspoon freshly ground black pepper 3 tablespoons chopped fresh flat-leaf parsley Directions
Indonesian Ginger Chicken Recipe : Ina Garten
Ingredients 1 cup honey 3/4 cup soy sauce 1/4 cup minced garlic (8 to 12 cloves) 1/2 cup peeled and grated fresh ginger root 2 (3 1/2 pound) chickens, quartered, with backs removed Directions Cook the honey, soy sauce, garlic, and ginger root in a small saucepan over low heat until the honey is melted. Arrange the chicken in 1 layer in a shallow baking pan, skin side down, and pour on the sauce.
Honey Nut Chicken Recipe : Rachael Ray
Ingredients
Chicken and Broccoli Stir-fry Recipe : Food Network Kitchens
Turkey Meatloaf with Feta and Sun-Dried Tomatoes Recipe : Giada De Laurentiis
Chicken with Roasted Red Pepper, Chorizo and Sweet Pea Sauce over Rice Recipe : Rachael Ray
Buffalo Chicken Salad Recipe : Ellie Krieger
Buffalo Wings Recipe : Alton Brown
Brined and Roasted Turkey Recipe : Emeril Lagasse
Weeknight Roast Chicken Recipe
Chicken Florentine Style Recipe : Giada De Laurentiis
Artichoke and Sun-Dried Tomato Stuffed Chicken Breast Recipe : Guy Fieri
Chicken Salad Veronique Recipe : Ina Garten
Chicken Satay Stir-Fry with Orange Scented Jasmine Rice Recipe : Rachael Ray : Recipes
Asian Chicken Burgers Recipe : Food Network Kitchens
Orange Chicken Fingers Recipe : Food Network Kitchens
Crispy-Skinned Chicken a l'Orange Recipe : Melissa d'Arabian
Chicken with Wild Mushroom and Balsamic Cream Sauce Recipe : Rachael Ray
Chicken Stew Recipe : Giada De Laurentiis
Chicken Piccata Recipe : Giada De Laurentiis
Barbecued Chinese Chicken Lettuce Wraps Recipe : Rachael Ray
4-Step Chicken Marengo Recipe : Melissa d'Arabian