Poultry
Chicken Fajitas Recipe : Food Network Kitchens
Directions 1. Put the cilantro, lime juice, broth, scallions, garlic, jalapeno, honey, and salt in a blender, puree until smooth. Reserve 2 tablespoons; do not wash out the blender.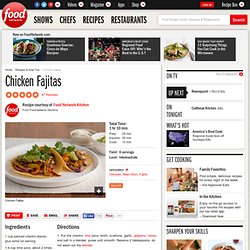 Chinese Chicken Salad Recipe : Ellie Krieger
Directions Preheat oven to 350 degrees F. Combine 1 tablespoon soy sauce and 1/2 teaspoon sesame oil and brush onto chicken breasts. Arrange in a baking dish and bake until juices run clear, about 13 to15 minutes. Remove from oven, cool completely, and cut into 1/4-inch slices. In a large bowl, combine Napa cabbage, red cabbage, carrot, scallions, water chestnuts, Mandarin orange and sliced chicken.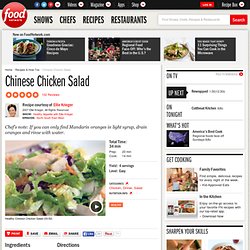 Lemon Chicken Breasts Recipe : Ina Garten
Falafel-Crusted Chicken With Hummus Slaw Recipe : Food Network Kitchens
White Bean and Chicken Chili Recipe : Giada De Laurentiis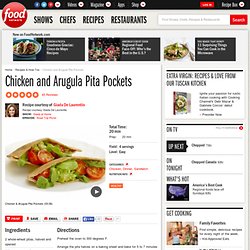 Chicken and Arugula Pita Pockets Recipe : Giada De Laurentiis
Directions Preheat the oven to 300 degrees F. Arrange the pita halves on a baking sheet and bake for 5 to 7 minutes until warmed through.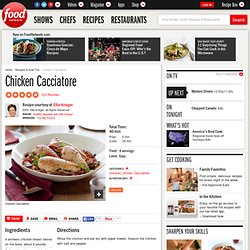 Directions Rinse the chicken and pat dry with paper towels. Season the chicken with salt and pepper. Heat the oil in a saute pan over moderately-high heat. Brown the chicken on both sides, about 8 minutes.
Chicken Cacciatore Recipe : Ellie Krieger
Turkey Meatloaf with Feta and Sun-Dried Tomatoes Recipe : Giada De Laurentiis
Directions Begin by making the sauce: Warm the oil in a medium saucepan over medium heat, until it shimmers. Add the ginger, garlic and serrano pepper.
Sloppy Bombay Joes Recipe : Aarti Sequeira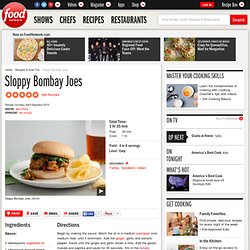 Logan Shanney's Chicken Cutlets With Spinach And Walnut Pesto - the chew
Grilled Orange Chicken and Romaine Salad - Allison Dalke - Recipe
Leboo's Buffalo Poppers - Semi-Homemaker Recipe : Sandra Lee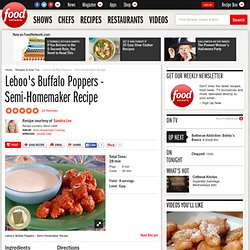 Ingredients 1 pound chicken tenders 1 (2.25-ounce) package seasoned bread coating mix (recommended: Shake 'N Bake Crispy Version) 1 cup buffalo wing sauce 1 tablespoon honey 1 cup lowfat ranch or lowfat blue cheese dressing Directions
Butter Chicken (Indian Chicken in Tomato Cream Sauce) Recipe :
Directions To make the spice blend: Stir the ingredients together in a small bowl and set aside. To make the sauce: Melt the butter in a 12-inch nonstick skillet over medium heat. Add the onion and cook, stirring frequently, until the pieces just begin to turn gold, about 5 minutes. Add the garlic, tomato paste and spice blend, and cook for 1 minute, stirring constantly to prevent burning.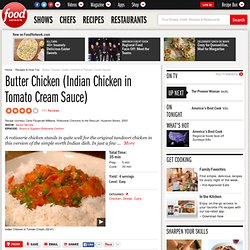 Chicken with Wild Mushroom and Balsamic Cream Sauce Recipe : Rachael Ray
Curried Chicken Salad Recipe : Ellie Krieger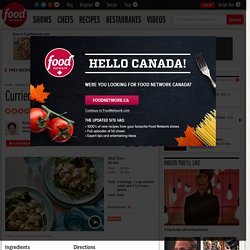 Ingredients 1 cup low-sodium chicken broth 1 cup water 1 1/4 pounds boneless skinless chicken breast halves, no more than 3/4-inch thick 1/4 cup sliced almonds 1/2 cup nonfat plain yogurt 2 tablespoons mayonnaise 1 teaspoon curry powder 1 cup halved red grapes 1/4 cup chopped cilantro leaves Salt and freshly ground black pepper 5 ounces mixed greens (about 5 cups lightly packed)) 1 tablespoon extra-virgin olive oil 1 teaspoon lemon juice Directions Bring the broth and water to a boil in a medium saucepan. Add chicken to broth and simmer, covered, for 8 minutes.
Ingredients 2 scallions , whites and greens, very finely chopped 1/2 cup dry white wine - eyeball it 4 tablespoons heavy cream 1 large egg 8 pieces chicken breast cutlets, 1 1/4 pounds 1/2 cup sliced almonds 1/2 cup plain bread crumbs 1/4 teaspoon grated nutmeg, eyeball it Salt and pepper 1/4 cup light extra-virgin olive oil or vegetable oil , 4 turns of the pan 1 stick cold butter, cut into pieces Directions Combine the scallions, white wine and 2 tablespoons cream in a saucepan over medium heat and reduce to 1/4 cup liquid, 5 to 6 minutes. While the sauce is working, beat egg and set chicken into it.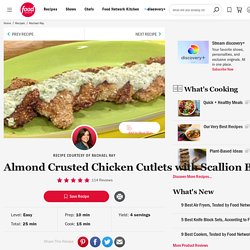 Almond Crusted Chicken Cutlets with Scallion Beurre Blanc Recipe : Rachael Ray
Ingredients 3 whole (6 split) chicken breasts, bone-in, skin-on Olive oil Kosher salt and freshly ground black pepper 1 1/2 cups good mayonnaise (recommended: Hellman's) 1/3 cup dry white wine 1/4 cup chutney (recommended: Major Grey's) 3 tablespoons curry powder 1 cup medium-diced celery (2 large stalks) 1/4 cup chopped scallions, white and green parts (2 scallions) 1/4 cup raisins 1 cup whole roasted, salted cashews Directions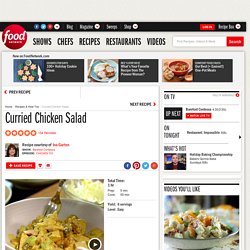 Curried Chicken Salad Recipe : Ina Garten
To make the poached Chicken as Sarah does in the video, add the following to a large straight-sided skillet or pot: 2-inch piece of ginger, cut into 1/8-inch slices; half a lemon, cut into 1/8-inch slices; and 3-4 garlic cloves, smashed and peeled. Add two skinless, boneless chicken breasts and top with enough water to cover chicken by 1 inch. Season with 1 teaspoon salt. Bring to a boil over high heat; skim foam and cover, reduce heat to medium-low, and cook 5 minutes. Flip the chicken, turn off heat and let stand, covered, until chicken is cooked through (an instant-read thermometer should read 160 degrees), 12-15 minutes. Remove chicken from water and let cool completely.
Asian Chicken Salad
Chicken Scallopine with Saffron Cream Sauce Recipe :
Ingredients 2 tablespoons olive oil 1 pound chicken cutlets (scallopine) 2 shallots, sliced 1 clove garlic, minced 1/2 cup white wine 1 1/2 cups chicken broth 1/4 teaspoon saffron threads 1/2 cup heavy cream 3/4 teaspoon salt 1/4 teaspoon freshly ground black pepper 3 tablespoons chopped fresh flat-leaf parsley Directions
Indonesian Ginger Chicken Recipe : Ina Garten
Honey Nut Chicken Recipe : Rachael Ray
Directions Preheat oven to 350 degrees F. Put nuts, bread crumbs and grill seasoning in food processor and pulse grind to combine the nuts into bread crumbs. Pour nutty-breading onto a plate. Beat eggs and half-and-half or milk with hot sauce in a shallow dish. Pour flour out on a plastic board or plate.
Chicken and Broccoli Stir-fry Recipe : Food Network Kitchens
In a medium bowl, toss the chicken with the scallion whites, about half the garlic and ginger, the soy sauce, sugar, 1 teaspoon of the cornstarch, 1 teaspoon of the salt, the sherry, and the sesame oil. Marinate at room temperature for 15 minutes. Mix the remaining cornstarch with 1/3 cup water. Heat a large nonstick skillet over high heat.
Turkey Meatloaf with Feta and Sun-Dried Tomatoes Recipe : Giada De Laurentiis
Chicken with Roasted Red Pepper, Chorizo and Sweet Pea Sauce over Rice Recipe : Rachael Ray
Directions Heat a medium size saucepot over medium heat with 1 tablespoon of extra-virgin olive oil, about 1 tablespoon, and the butter. Add 1/4 of the chopped onion and season with salt and pepper, cook for about 1 minute, add the rice and stir to coat in the oil.
Buffalo Chicken Salad Recipe : Ellie Krieger
Buffalo Wings Recipe : Alton Brown
Brined and Roasted Turkey Recipe : Emeril Lagasse
Weeknight Roast Chicken Recipe
Chicken Florentine Style Recipe : Giada De Laurentiis
Artichoke and Sun-Dried Tomato Stuffed Chicken Breast Recipe : Guy Fieri
Chicken Salad Veronique Recipe : Ina Garten
Chicken Satay Stir-Fry with Orange Scented Jasmine Rice Recipe : Rachael Ray : Recipes
Asian Chicken Burgers Recipe : Food Network Kitchens
Crispy-Skinned Chicken a l'Orange Recipe : Melissa d'Arabian
Chicken with Wild Mushroom and Balsamic Cream Sauce Recipe : Rachael Ray
Chicken Stew Recipe : Giada De Laurentiis
Chicken Piccata Recipe : Giada De Laurentiis
Barbecued Chinese Chicken Lettuce Wraps Recipe : Rachael Ray
4-Step Chicken Marengo Recipe : Melissa d'Arabian