Social Recruiting
Change is ever-present in today's world of recruitment. First, it was the paperless office, then it was Internet jobs boards, and, just as we got used to that, along came social recruitment. And, while many of us are still catching our breath with social media recruitment, along comes the next big transformational event in recruiting: Mobile Recruitment . And, just in case any of you think that Mobile Recruiting it isn't officially 'here', you should be aware that in September last year in San Francisco , there occurred the first annual mobile recruiting conference of its kind, sponsored and attended by all the major players, including the big two of Monster and Careerbuilder. Big players are thinking that mobile is, well… big. Surprisingly, even though mobile recruiting is officially 'here' and that nearly 70% of jobseekers would like to use their phone for career related purposes, only 3% of employers have a mobile job app.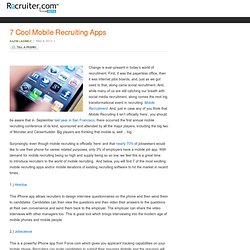 7 Cool Mobile Recruiting Apps
Jeremy Kruse
"I just don't get it"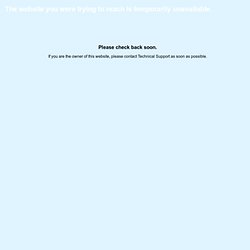 "Twitter? I Don't Get It!" A 3-Step Guide For Newbies - Brandon Twyford – Marketing Communications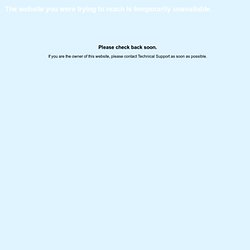 "Twitter? I Don't Get It!" A 3-Step Guide For Newbies - Brandon Twyford – Marketing Communications
"I just don't get it" "I don't care what someone had for lunch"
Beyond Facebook, there's an entire world of social media outlets worth exploring.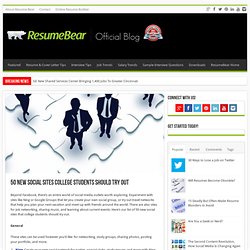 50 New Social Sites College Students Should Try Out
LinkedIn | INstant
Google Profile Search (Jeremy Kruse example)
Social Pro Files: Every employee in your company can have a role in social media
This post was written by Troy Janisch and Mark Anderson. Both contributors have two decades of digital marketing experience and lead social media activities at American Family Insurance, a Fortune 300 company. Janisch blogs at SocialMeteor.com and Anderson shares his art at Doodlehaus.com . Many companies are still overly wary of social networks when, instead, they could be leveraging their employees' social engagement power. According to a recent study, Facebook remains the most-blocked and most-filtered website by companies. The openDNS study said that 14% of companies blacklist Facebook — compared with the 1.2% of companies that blacklist certain pornography sites.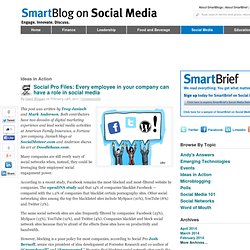 Jobmagic
LinkedIn Channels 80s Corporate Instruction Videos
INfinity
Blog Archive Discover the new LinkedIn Company Search «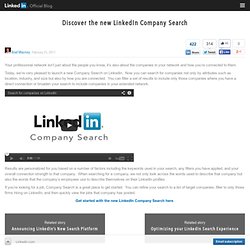 Brad Mauney , February 25, 2011