Resume/Profile Search
Get flash to fully experience Pearltrees
Jeremy Kruse Updated March 2013 Recruiting at Redbox looking for talented IT Professionals for innovative Company! ***Currently looking for .NET Developers coding in C#, and Sr Project Managers with Agile exp. Let me know if you want to hear more!!*** I am a corporate full-life cycle Recruiter in the Chicagoland area.
As we all know times are changing and the recruitment and candidate market place is changing with it. Candidates no longer submit hand-written, hard copy resumes; they don't always interview face-to-face. No-one expects a job for life these days; candidates have a wealth of job search information resources available to them on the Internet and they can apply for jobs at the click of a button. These changes to the recruiting and job seeking landscape are beginning to filter through to the resume short-listing process, which must adapt to suit the modern marketplace. For example, where once a candidate who changed jobs twice in a decade might have seemed unstable, in the modern age this might be the norm and could even constitute a long tenure. So, I thought it would be a good time to take stock five of the key resume red flags and update them to ensure they are in line with the modern age.
What you don't include on your resume can be as important as what you do include. Here are 10 things you should leave off: 1. An objective . Resume objectives never help and often hurt. Not only do they feel outdated at this point, but they're all about what you want, rather than what this stage of the hiring process is all about-- what the employer wants .
by David Silverman | 11:34 AM June 5, 2009 A Google search for "résumé" results in over 178,000,000 hits, whereas "possum" nets only 5,340,000. Thus the documentation of work experience is 33 and 1/3 more popular than arboreal marsupials.
By RACHEL LOUISE ENSIGN Crafting a good résumé for a job search is difficult enough. Doing so in later life—when issues like age discrimination potentially come into play—is tougher yet.
By PETER CAPPELLI
in Share 644
You can't recruit and hire passive candidates using the same workflow nor the same recruiters used for active candidates. We conducted an in-depth survey with LinkedIn last year that indicated that 82% of their fully-employed members were unlikely to even consider switching jobs unless directly contacted by a recruiter or through an employee they've worked with closely in the past. This increased slightly to 83% in this year's survey.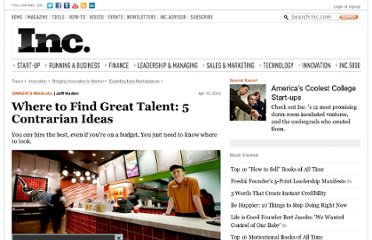 You can hire the best, even if you're on a budget. You just need to know where to look. Flickr 647 in Share Connect with Evernote: