Facebook
Identified is LinkedIn for the cool kids. While LinkedIn has become the gold standard of resume and career-building sites, the service is too boring and bland for today's young professionals.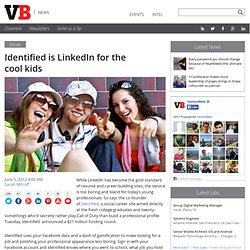 So says the co-founder of Identified, a social career site aimed directly at the fresh college graduates and twenty-somethings who'd secretly rather play Call of Duty than build a professional profile. Tuesday, Identified announced a $21 million funding round. Identified uses your Facebook data and a dash of gamification to make looking for a job and polishing your professional appearance less boring.
Sign in with your Facebook account and Identified knows where you went to school, what job you hold now, and where you've worked before. You can then connect with your friends and other young professionals to build a network of people who want to brag about their jobs. Facebook Privacy: 10 Settings Every User Needs to Know. Facebook's privacy settings are extremely detailed, giving you the ability to fine-tune the privacy aspects of almost every little part of your Facebook account.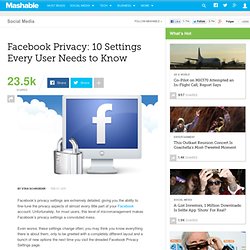 Unfortunately, for most users, this level of micromanagement makes Facebook's privacy settings a convoluted mess. Even worse, these settings change often; you may think you know everything there is about them, only to be greeted with a completely different layout and a bunch of new options the next time you visit the dreaded Facebook Privacy Settings page. So, what do you do when you've got over 170 options to choose from?
You focus on the most important ones. We've entered Facebook's maze of privacy options and came out on the other side bruised, battered, but with 10 essential settings in our hands. Recruiter's Connection (27) Jobalized.com (27) Jobs (28) Jobs (27) Chicago Job Referral Network (28)
---