Habitos y organización
50 Things Everyone Should Know How To Do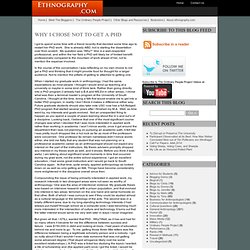 I got to spend some time with a friend recently that decided some time ago to restart her PhD work. She is already ABD, but is starting the dissertation over from scratch. My question was "Why?" She is a well-respected professional, and within the her field a PhD will likely be of limited benefit professionally compared to the mountain of work ahead of her, not to mention the expense involved.
Blog Archive » Why I chose not to get a PhD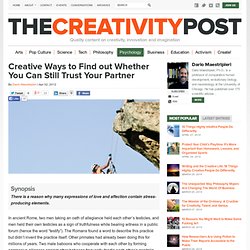 Creative Ways to Find out Whether You Can Still Trust Your Partner
0Share Synopsis There is a reason why many expressions of love and affection contain stress-producing elements.
Since this review was published, author Jonah Lehrer has admitted to fabricating quotes and the book has been withdrawn from sale by the publisher Catherine de Lange, contributor THE process of creativity is notoriously mysterious. Moments of insight are unpredictable, and as a result have come to be seen as otherworldly, randomly bestowed gifts somehow separate from the cognitive processes of our brain.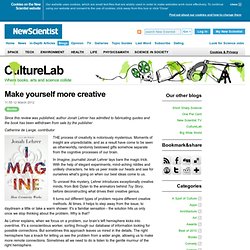 CultureLab: Make yourself more creative
How Companies Learn Your Secrets
Choose a simple cue (like always putting on your sneakers before breakfast or leaving your running clothes next to your bed) and a clear reward (like a midday treat or even the sense of accomplishment that comes from ritually recording your miles in a log book).
After a while, your brain will start anticipating that reward — craving the treat or the feeling of accomplishment — and there will be a measurable neurological impulse to lace up your jogging shoes each morning. by esthermartinez Feb 18