Blog World; Personal & Favorite blogs
La Columnata
Bloggin Zenith | Nuestra mirada a lo que se habla
4 años en la Blogosfera: 11 lecciones para aprender a bloguear bien
Publicado por Antonio Cambronero el ago 7, 2013 Llevamos 4 años en la Blogosfera y en este post lo celebramos con 11 lecciones para aprender a bloguear bien. Este blog iniciaba su andadura por la Blogosfera el 8 de Agosto de 2009 con el artículo Historia de los Premios en la Blogosfera hispana.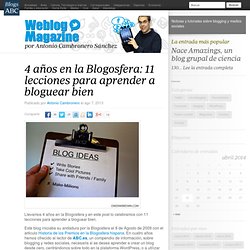 Berlunes | Ellos tienen Mallorca, nosotros tenemos Berlín
The Great God Pan Is Dead
Colectivo Burbuja | Verdades sobre la Crisis
Clasificación de los mejores blogs - Top blog Ebuzzing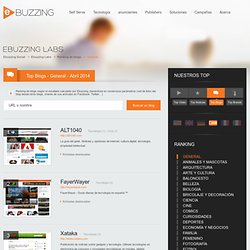 Ebuzzing
Webonomía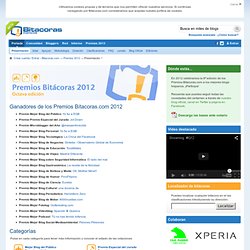 Premios Bitacoras.com 2012 - Presentación
Pulsa en cada categoría para tener más información y conocer el estado de las votaciones
Wordpress | InstantShift | Web Designers and Developers Daily Resource.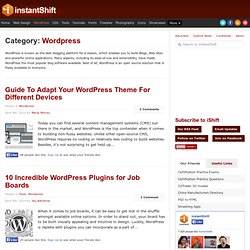 Are you running WordPress based website? Are you looking to improve the WordPress menu system?
The Lovie Awards
ALAIN FORTON
Crea Tu Pagina Web Gratis | Wix.com
Blog de Hosting WordPress Casi todo lo que se de WordPress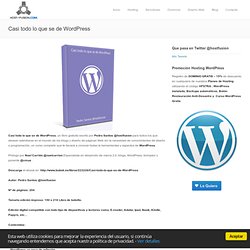 Casi todo lo que se de WordPress, un libro gratuito escrito por Pedro Santos @hostfusion para todos los que desean adentrarse en el mundo de los blogs y diseño de páginas Web sin la necesidad de conocimientos de diseño o programación, un curso completo que te llevará a conocer todas la herramientas y aspectos de WordPress. Prólogo por Noel Carrión @noelcarrion Especialista en desarrollo de marca 2.0, blogs, WordPress, formador y ponente @cmua .
El Blog del Guerrero
Hace algo menos de un año me di de alta por fin en Womenalia, ya que yo comenzaba con mi nueva andadura y esta plataforma representaba un nicho de mercado único en España, el de las mujeres emprendedoras.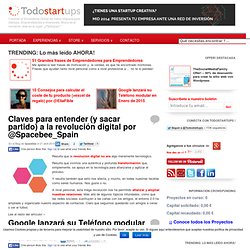 Bloggers
No Plastic Sleeves
Diez consejos para despistar al 'Gran Hermano' de internet
Quizá el lector haya intentado en alguna ocasión teclear su nombre y apellidos en algún buscador de internet, y probablemente haya encontrado diversos o multitud de resultados donde se le cita.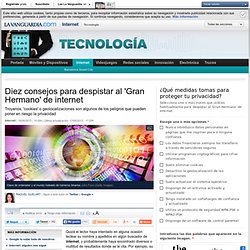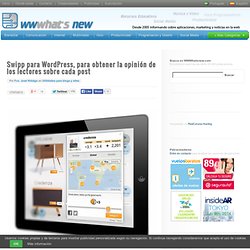 Swipp para WordPress, para obtener la opinión de los lectores sobre cada post
A principios de este año, nos hicimos eco de la aparición de la plataforma social Swipp, la cual nos permite establecer nuestro grado de sentimiento acerca de aquello que queramos, ya sea una persona, un lugar, o una cosa.
¿Conoces a tu audiencia? Hagamos un mapa de empatía
Sin duda una de las claves para tener éxito en medios y redes sociales, y más aún, en nuestros negocios, es conocer bien a las personas a las que nos dirigimos, y no hablo sólo de conocer su edad, poder adquisitivo, estudios, sexo, etc, sino de ir mucho más alla y conocer sus gustos, sus aficiones, sus necesidades, sus pensamientos, etc, es decir, entender a la persona, algo que es cada vez más "fácil" gracias a las redes sociales.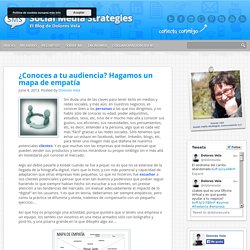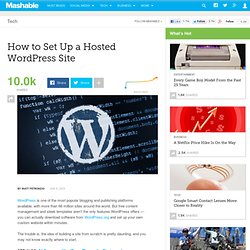 WordPress is one of the most popular blogging and publishing platforms available, with more than 66 million sites around the world.
How to Set Up a Hosted WordPress Site
blog/
My Favorite Blogs & Webs In Spanish
How to create a Blog, Tools and Tips
My Own Blog / Songs for the Weekend