Webs
Gizmodo Brasil | Tech Lovers
Illustrators of work shown, clockwise starting at top left: Mark McGinnis, Edward McGowan, Daniel Krall, Kate Hindley and Susy Waters Pilgrim. (Editor's note: This post was contributed by Hannah Fichandler with Connecticut-based, marketing and communications company Taylor Design. This post originally appeared on the company's blog 247 Main.)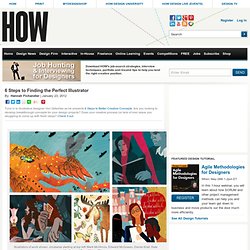 6 Steps for Designers to Successfully Partner with an Illustrator
Smashing Magazine
Interview With Khajag Apelian"Type Design Is Not Only About Drawing Letters" Having started his career studying under some of the best typographic minds in the world, Khajag Apelian not only is a talented type and graphic designer, unsurprisingly, but also counts Disney as a client, as well as a number of local and not-for-profit organizations throughout the Middle East. Even more impressive is Khajag's willingness to take on work that most people would find too challenging. Designing a quality typeface is a daunting task when it's only in the Latin alphabet. Khajag goes deeper still, having designed a Latin-Armenian dual-script typeface in four weights, named "Arek", as well as an Arabic adaptation of Typotheque's Fedra Display.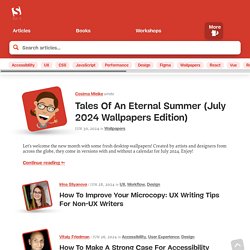 The New Yooxer
HD Wallpapers (High Definition) | 100% Quality HD Desktop Wallpapers
RottenEggs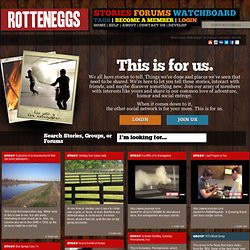 View story 8 years ago Story: Exploration of an Abandonded Oil Well Site (defiler)
Randomizer | Zombie Panda
Milk Design
About - Instrument
Toy Design Served :: Gallery
Story People Home
...t.y.p.o.r.g.a.n.i.s.m...
Hennessy Blending of Art Featuring The Roots, Q-Tip, Questlove, Kid Sister and more... A limited edition BOTTLE Collaboration by Myself and Questlove of The ROOTS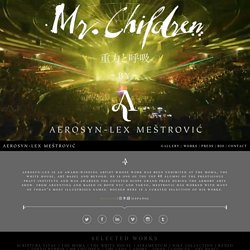 AEROSYN - LEX
Dream Big by Peter Fecteau
Wine Bottle Design | Recycled Wine Bottle Torch | Package Design Firm | Sustainable Packaging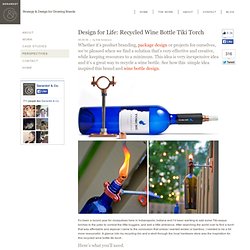 08.09.09 | by Erik Anderson Whether it's product branding, package design or projects for ourselves, we're pleased when we find a solution that's very effective and creative, while keeping resources to a minimum. This idea is very inexpensive idea and it's a great way to recycle a wine bottle. See how this simple idea inspired this brand and wine bottle design. It's been a record year for mosquitoes here in Indianapolis, Indiana and I'd been wanting to add some Tiki-esque torches to the patio to combat the little buggers, and add a little ambiance. After searching the world over to find a torch that was affordable and atypical I came to the conclusion that unless I wanted wicker or bamboo, I needed to be a bit more resourceful.
Despark's team did a really awesome job in building onlyadate.com! You were very professional during the entire process and I couldn't be more impressed. All my friends who take a look at the website are really impressed by the design and I also make sure to tell fellow entrepreneurs that my website was built by Despark. Look forward to continuing to work with you and your team! - GLEN ADRIANOV, CEO OF ONLYADATE.COM I have worked with Despark over many years now as we've built HowAboutWe.com. They supported us with critical design tasks and some front-end development.
Despark | new media design
Abduzeedo | Graphic Design Inspiration and Photoshop Tutorials
MoCo Loco - Modern contemporary design & architecture
Publiz – Inspiration graphique et publicité créative
Design Ideas, DIY Projects and Practical Advice For Inspired Living---Stylelist Home
Creative - Galerie d'inspiration pour les créatifs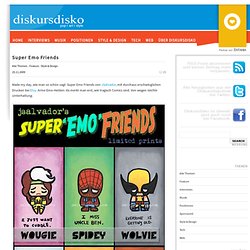 Super Emo Friends
Super Emo Friends Made my day, wie man so schön sagt: Super Emo Friends von JSalvador, mit durchaus erschwinglichen Drucken bei Etsy. Arme Emo-Helden: da merkt man erst, wie tragisch Comics sind. Von wegen leichte Unterhaltung. (via Albotas)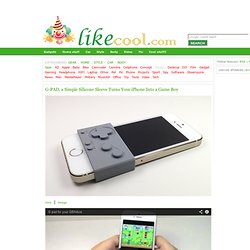 Gear : Design Magazine
With this G-PAD, a slide-on silicone sleeve which turns your smartphone into a Game Boy. Created by Aws Jan who's currently trying to raise $16,000 on Indiegogo to put it into production, the G-PAD is designed to work with an iOS Game Boy emulator called GBA4iOS that doesn't require iPhone users to Jailbreak or hack their hardware to install. The sleeve slides up and onto an iPhone so that it perfectly covers the emulator's on-screen controls. There's no additional software needed and no Bluetooth connectivity.
Home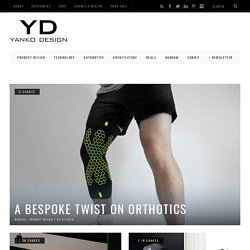 Yanko Design - Modern Industrial Design News
Ever wonder why there are different glasses for different wines? The idea is that each wine deserves its own type of glass to enhance its unique flavor, aroma and color. It's an often overlooked part of the experience that every vino-enthusiast has come to appreciate. Inspired by this concept, the Doublet incorporates not one, but two of the more common types into one beautiful, seamless, stemless piece. Even if you're not a wine snob, you can clear out some cabinet space with this artistic two-in-one alternative!
THE KERNEL – New technology for enquiring minds
Fubiz™
FAD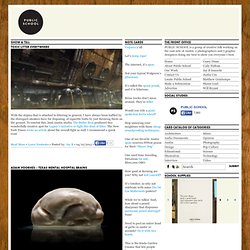 PUBLIC SCHOOL
Show & Tell With the stigma that is attached to littering in general, I have always been baffled by the disregard smokers have for disposing of cigarette butts by just throwing them on the ground. To combat this, local Austin studio, The Butler Bros produced this wonderfully creative spot for Legacy's initiative to fight this kind of litter.
Illusion – The Most Amazing Creations in Art, Photography, Design, and Video.
Awwwards: Website Awards - Best websites around the World
Dizorb | HD Wallpapers and Design Resources | HD Wallpapers and Design
UnBeige - Where Designers Read Design
Graphic Design Forum
Design Seeds®: For All Who Love Color
Design Inspiration
DesignFestival » For Web Design Trends | Inspiration | Design Theory | Colors | Web Fonts | UX | Photoshop | Tutorials and more
KNSTRCT
Freelance Graphic Design Inspiration and Design Gallery | DesignersCouch.org
Designaside — L'ispirazione è ovunque
Modern 50
gràffica.info
DesignDim
Art Gallery & Community - T-Shirts, Posters, Greeting Cards, Wall Art, Fine Art Prints, Calendars & More
ColectivoBicicleta | ilustración y diseño Colombia y Latinoamerica
stapledesign.com
From up North | Design inspiration & news
Pixelovely
Designspiration
Post Club
Креативная реклама
PingMag - The Tokyo-based magazine about "Design and Making Things"
Hidden Talent
The Wondrous Design Magazine
GizMag - Design Magazine
Adbusters Culturejammer Headquarters | Journal of the mental env
Noupe - The Curious Side of Smashing Magazine
Home
ThisIsWhyImBroke.com - ThisIsWhyImBroke is where you'll find cool gift ideas, unique products, and awesome birthday and christmas gift ideas. With hundreds of reasons to spend every penny you've got, ThisIsWhyImBroke features amazing products you can buy
» will galloway Design. Inspired.
Design Awards 2012 - nominees announced | Design | Agenda | Phaidon
Portfolios, Inspiration, Jobs and Networking for Creative Professionals
La boite verte : Site de découverte sur la photographie, la science, les arts et tout ce qui est insolite.
Design daily news
Bluefaqs | Web & Graphic Design Blog
Pioneros Gráficos
Yanko Design - Modern Industrial Design News
Visual News - The Cure For Eyeball Boredom
Dude Craft
NOTCOT.ORG
MWM Graphics | Matt W. Moore
Bad Graphic Design
TheFWA
Communication Arts - Webpicks
DESIGN | MulttiClique
bic pen - reinventing the most popular ballpoint - StumbleUpon
since 1999 home of design culture, leading independent publication for design, architecture, art, photography and graphics
Ubersuper ~ Stuff I Like
Creattica
Best Web Gallery
Colossal | An art and design blog.
http://www.theselby.com/
25 Creative and Awesome 3d Character Designs - Front and Profile View
Welcome to The Computer Graphics Society
Yatzer
Behance Network :: Gallery
Art, Design, Photography and Free Resources @ Designzzz
Top Ten Pets
Best of Swiss Web 2012
Web Design Blog - Webdesigner Depot