To curate
Social bookmarking : Les meilleurs services dans une infographie ! | L'Infographie
tuticfr: Créer une page d'accueil p
MindMeister
Intensebate
Twun.ch
onvasortir.com
BagTheWeb
WOT (Web of Trust)
Cookies must be enabled. Please modify your browser settings so we can remember you when you visit TripIt. After cookies are enabled, please refresh the page. Show me how. Internet Explorer 6/7 Click on Tools - Internet Options.
TripIt !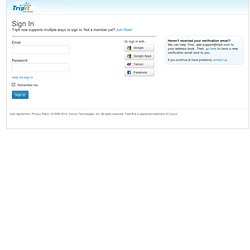 Storify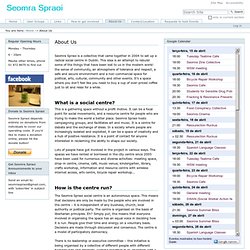 Seomra Spraoi is a collective that came together in 2004 to set up a radical social centre in Dublin. This idea is an attempt to rebuild some of the things that have been lost to us in the modern world: the sense of community, an atmosphere of tolerance and respect, a safe and secure environment and a non-commercial space for political, arts, cultural, community and other events. It's a space where you don't feel like you need to buy a cup of over-priced coffee just to sit and relax for a while. What is a social centre? This is a gathering space without a profit motive. It can be a focal point for social movements, and a resource centre for people who are trying to make the world a better place.
About Us — Seomra Sproai
The Museum of Me
http://www.mas-arguin.com
Yahoo Pipes
Infomous
Gimme Bar
What's this Place?
whats-this-place_booklet_PDF
your.flowingdata / Capture your life in data.
Post Your Screencast
Fondeadora
Plancast
Knowtex
Home
Sign In We've moved. Exciting times.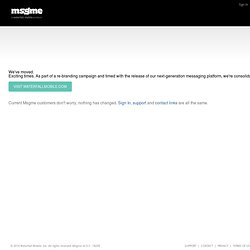 Tiki'mee
Viadeo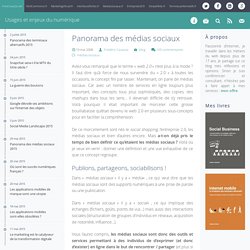 Aviez-vous remarqué que le terme "web 2.0" n'est plus à la mode ?
Panorama des médias sociaux
Popplet
Faveous
Yahoo! Social Bar
CR
mirror.me
Anomaly Innovations
minigroup
Wiser.org: The Social Network for Sustainability
EasyZic : LE portail des amoureux de la musique ! Annonces, partitions gratuites, conseils entre musiciens...
PeaceJam | Change Starts Here
Social Map
Welcome to Windows Live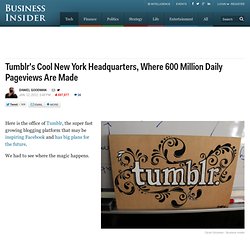 Daniel Goodman / Business Insider Here is the office of Tumblr, the super fast growing blogging platform that may be inspiring Facebook and has big plans for the future. We had to see where the magic happens. The Tumblr office is on E 21 St. and that building in the background is actually home to Business Insider. Tumblr splits its office between two floors. The top one is where most of the staff works.
Tumblr Office Tour
lastnightsparty
Welcome to the World Café!
Petition Site - Start free petitions
My Delicious
Tuto Twitter
Socialphy - Collective Intelligence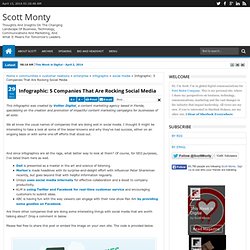 Infographic: 5 Companies That Are Rocking Social Media
This infographic was created by Voltier Digital, a content marketing agency based in Florida, specializing on the creation and promotion of impactful content marketing campaigns for businesses of all sizes. We all know the usual names of companies that are doing well in social media. I thought it might be interesting to take a look at some of the lesser-knowns and why they've had success, either on an ongoing basis or with some one-off efforts that stood out. And since infographics are all the rage, what better way to look at them?
AllTwitter
All Facebook
les-medias-sociaux---conference-annuelle-2e-edition- - grandes-conferences - evenements
Les activités sur les médias sociaux représentent maintenant 23 % du temps passé en ligne par les internautes américains ; 65 % des publicités en ligne sont évaluées sur la performance. Dans un tel contexte, il devient nécessaire de s'approprier les modèles de monétisation des médias sociaux. Nielsen Q3 2011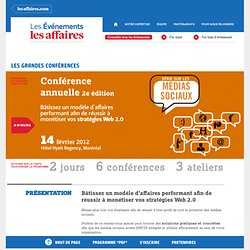 Social Times