To curate
Social bookmarking : Les meilleurs services dans une infographie ! | L'Infographie
Have an account? Sign in New to Twitter? Join Today » Forgot password?
tuticfr: Créer une page d'accueil p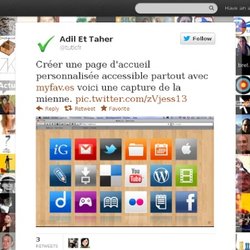 MindMeister
Intensebate
People generally do not like to go to the dentist in Palatine IL because they associate the visit with pain and discomfort. That perception today, however is not well founded, and most dentists offer pain free treatment. Our dental health is very important, and if neglected for any length of time situations can develop that can be injurious to the state of our overall health.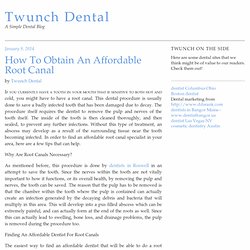 Twun.ch
onvasortir.com
BagTheWeb
WOT (Web of Trust)
Cookies must be enabled. Please modify your browser settings so we can remember you when you visit TripIt. After cookies are enabled, please refresh the page. Show me how. Internet Explorer 6/7 Click on Tools - Internet Options.
TripIt !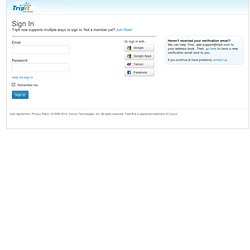 Storify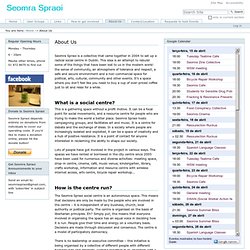 Seomra Spraoi is a collective that came together in 2004 to set up a radical social centre in Dublin. This idea is an attempt to rebuild some of the things that have been lost to us in the modern world: the sense of community, an atmosphere of tolerance and respect, a safe and secure environment and a non-commercial space for political, arts, cultural, community and other events. It's a space where you don't feel like you need to buy a cup of over-priced coffee just to sit and relax for a while. What is a social centre? This is a gathering space without a profit motive. It can be a focal point for social movements, and a resource centre for people who are trying to make the world a better place.
About Us — Seomra Sproai
The Museum of Me
http://www.mas-arguin.com
Yahoo Pipes
Infomous
Gimme Bar
What's this Place?
What's this place? Social centres have always been a vital part of the infrastructure of radical social movements, and recently in the UK and Ireland struggles in our cities and communities have given energy to a whole network of places. This is what this booklet is about – the growth of a network of autonomous spaces and social centres. The demand to mark out a place – giving us space to breath, take action and experiment with managing our own lives collectively – is an almost universal desire amongst radical groups today.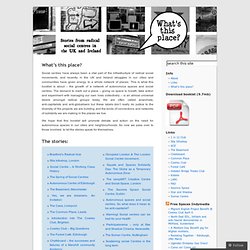 whats-this-place_booklet_PDF
your.flowingdata / Capture your life in data.
Capture your life in data. One tweet at a time. Get Started Now » Step 1. Follow @yfd on TwitterStep 2. Sign in to your.flowingdata with TwitterStep 3.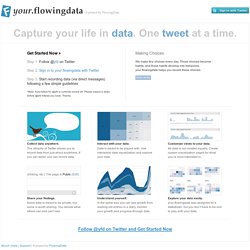 Post Your Screencast
Fondeadora
Plancast
Knowtex
Home
Sign In We've moved. Exciting times.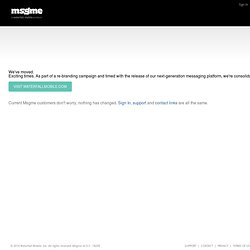 Tiki'mee
Viadeo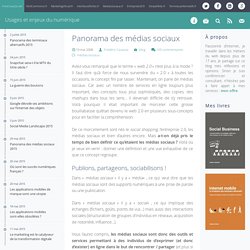 Aviez-vous remarqué que le terme "web 2.0" n'est plus à la mode ? Il faut dire qu'à force de nous survendre du "2.0″ à toutes les occasions, le concept fini par lasser. Maintenant, on parle de médias sociaux. Car avec un nombre de services en ligne toujours plus important, des concepts tous plus sophistiqués, des copies, des mashups dans tous les sens… il devenait difficile de s'y retrouve.
Panorama des médias sociaux
Popplet
Faveous
Yahoo! Social Bar
Looking for Monthly Active Users (MAU) or Daily Active Users (DAU) for an app or a developer? Subscribe to AppData and gain access today. For more information please visit our TOUR or PRICING pages: TourPricing You can also contact us at (415) 230-2558 or email us at more.info@insidenetwork.com.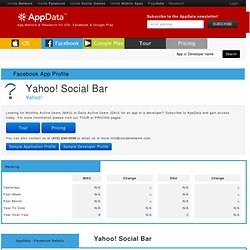 CR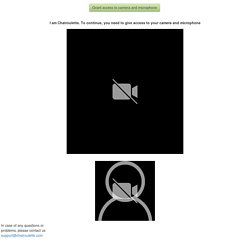 Chatroulette is a place where you can interact with new people over text-chat, webcam and mic. In order to use it, you need to have latest Flash Player installed. If you are having any problems with Flash Player installation, please post about it on Adobe Flash Player forum. Preview of Chatroulette:
mirror.me
Anomaly Innovations is a software company based in San Francisco focused on making products for real people. We take a different approach to building products, one rooted in empathy and data. Our team is led by Frank and Jay. We are working on Melt, a mobile app where you make friends with people by sharing a glimpse of your life. It's based on a belief that the world would be a much better place if we had a chance to connect with each other through our differences and not in spite of them.
Anomaly Innovations
minigroup
Wiser.org: The Social Network for Sustainability
EasyZic : LE portail des amoureux de la musique ! Annonces, partitions gratuites, conseils entre musiciens...
Bienvenue sur EasyZic, communauté de musiciens sur internet. Le but premier de ce site est de favoriser les contacts entre acteurs de la musique, qu'ils soient amateurs ou professionnels. C'est un lieu de rencontre et d'échange, auquel quiconque peut contribuer. Vous êtes musiciens ? Inscrivez-vous !
PeaceJam's Southeast Spring Conference - 2014 Join the PeaceJamily as we welcome high school students from the Southeast Region and our Nobel Prize Laureate, Leymah Gbowee of Liberia. At Florida State University, in Tallahassee, Florida on April 12 at 8:00 a.m. and April 13th at 3 p.m. in the ballrooms. Southeast Youth Leadership Conference
PeaceJam | Change Starts Here
Social Map
Welcome to Windows Live
Tumblr Office Tour
lastnightsparty
Welcome to the World Café!
Petition Site - Start free petitions
My Delicious
Tuto Twitter
Socialphy - Collective Intelligence
Infographic: 5 Companies That Are Rocking Social Media
AllTwitter
All Facebook
les-medias-sociaux---conference-annuelle-2e-edition- - grandes-conferences - evenements
Social Times