To curate yet
12ozprophet COPE2 UNDER THE INFLUENCE MAY 15 AZART GALLERY NYC selectism Easy Accessories with this 6 Piece Pin Badge Set from A.Four freshnessmag LC23 – Spring/Summer 2014 Collection Lookbook
Steve-O Talks About Doing Blow With Lindsay Lohan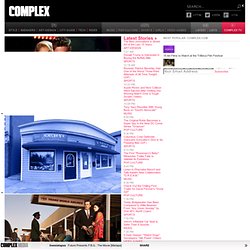 psst! you should definitely click for the full size on this one Never seen Jupiter's "Great Red Spot" so up close, er, zoomed in. Pretty rad. [ Great Red Spot ] posted by tizmatti on Mar. 24, 2011 in Pictures | tags: astronomy, jupiter, photography, space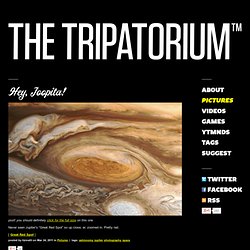 Pictures
Dolce Vita
Gérard Klein est surtout connu pour son rôle dans la série de France 2 Sur le podium des dessins animés de dépressifs, aux côtés de Rémi sans famille et "Qu'est ce qu'il y a ? Ca vous étonne Richard Berry qui mange un C'est le 26 janvier 1984 que Steve Jobs présente le premier Macintosh au public:
Coup de vieux - années 80 et 90 - blog, site nostalgie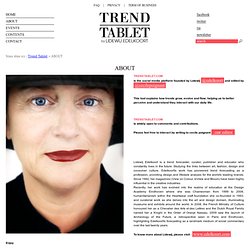 is the social media platform founded by Lidewij @edelkoort and edited by @cecilepoignant This tool explains how trends grow, evolve and flow; helping us to better perceive and understand they interact with our daily life. is widely open to comments and contributions. Please feel free to interact by writing to cecile poignant our editor Lidewij Edelkoort is a trend forecaster, curator, publisher and educator who constantly lives in the future.
About Trend Tablet
The Burning House
Fubiz™
FOUND by Travis in Baltimore, Maryland Found in the gutter on Ramsay Street. I am most struck by the comment about the stove.
FOUND Magazine | Like Birds Flying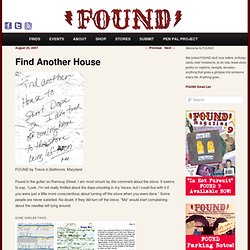 For my dad's 60th birthday last week, I wanted to do something really fun. My dad and I talk a lot about the past---nostalgia runs in our blood, I think---and we both love to reminisce. Inspired by Jordan Ferney's Postcard Birthday Poster, I started batting around an idea: what if I could get everyone from my dad's past to contribute a memory they had of him? What if I had all those people send their memories to me, and then I put each one into an envelope---sixty total, of course---and had him open them, one by one, on his birthday? That would be a lot of memories, right?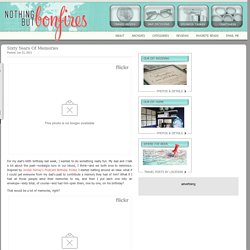 Sixty Years Of Memories
Le Tigre (la bête)
Think Quarterly by Google
TREND HUNTER - #1 in Trends - Fashion Trends, Tech, Style, Design, Pop Culture and Marketing
Trends Now
Ufunk.net - Gadgets japonais et Arts insolites
[62 images] UFUNK – La Sélection du Week End n°84 Comme les oeufs en chocolat cachés au fond du jardin, c'est maintenant l'heure de découvrir la Sélection du Week end n°84 ! Comme chaque... Couchers de Soleil et Miroirs brisés – 13 photographies étonnantes de Bing Wright "Broken Mirror/Evening Sky", une magnifique série du photographe Bing Wright, qui capture les lumières envoutantes des couchers de soleil... Marshmallow Cat – Des sucreries japonaises adorables… Voici les "CafeCat", des marshmallows adorables en formes de petits chatons et de pattes de chat, imaginés par le confiseur japonais Marshmallow... 24 nouveaux portraits vintages de Super Héros Une nouvelle sélection des créations des artistes italiens Marvellini Brothers, basés à Milan, qui réalisent des portraits de super héros et de...
le partenaire de vos ébats culturels
New York designers aim to build world's first underground park
Short List
The Awesomer
Por Joey Rego Lo mío era una extravagancia, un capricho maniático. Desde que llegué a Caracas lo primero que me atrajo fue la idea de usar el metro, y la primera vez que sentí la ola de viento golpearme la cara, segundos antes de ver un monstruo a noventa por hora llegar imponiéndose y cargado de vidas, me di cuenta de lo violenta que es esta ciudad. Es que nada define mejor a Caracas que el metro: es rápido, vehemente, lleno de vidas, algunas que acaban de nacer y otras consumidas por enfermedades, hay arrogancia de pie y cansancio en los asientos azules, murmullos curiosos, discapacidades atravesando bultos de carne y teléfonos costosos escupiendo ritmos baratos. La primera vez que lo hice fue cuando esperaba a Dayana en la estación Capitolio. Compré dos ida y vuelta y escribí en el de ella: "Para que te vengas como lo haces encima de mí".
Revista Ojo
Evento benéfico a PTT Lizardo El templo del rock Tiburón Club estará participando este miércoles 28 de marzo en un evento a beneficio del músico PTT Lizardo a partir de las 7:00 de la noche. El fundador de La Misma Gente sufrió hace más de 15 días un ACV (accidente cerebro vascular), y los fondos recaudados de ese día serán... Taller de Fotografía Editorial Inicio: martes 16 de abril de 2013 Cierre: jueves 25 de abril de 2013 Práctica: sábado 27 de abril de 2013 Duración: 15 horas, cinco clases Plazas: 12 puestos Horario: Nocturno. 7pm a 9pm. Objetivo: Este taller proporcionará a los participantes una visión general sobre la fotografía editorial e introducirá los elementos necesarios para su producción.
REVISTA TERCIO |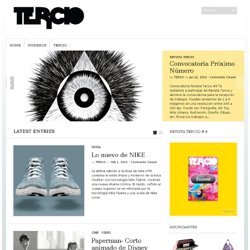 Ponto Eletrônico | alimentado pela Box 1824.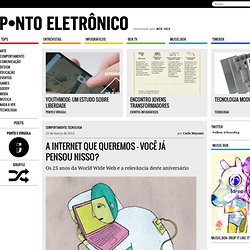 Em 12 de março de 1989 nascia esta que é a ferramenta mais importante da Internet – nada menos que o www que você digita antes de qualquer coisa que coloca em um browser. Você já parou pra pensar que a Internet ainda é o espaço mais aberto, neutro e democrático que temos? Aqui na Web, essa que você está usando para ler esse post e fazer tantas outras coisas, a informação gerada e lida pelas pessoas se organiza de forma espontânea e orgânica.
Revista Mono
Indulgy - Everyone deserves a perfect world!
8 Hot Media Trends You Need to Know
Inspiring images and videos recently added to we heart it / visual bookmark
025: The Next Big Thing
40 Unwritten Rules to Live By
5 Ways the Networks Want to Change How You Watch TV - Alyssa Rosenberg - Entertainment
Boing Boing
Celebrating Excellence in Data Visualization and Information Design
DesignTAXI - Creativity and Innovation Daily
Explore more. Web pages, photos, and videos | StumbleUpon.com
FiveMagazine :: The cool hunting magazine - 5Magazine
Gizmag | New and Emerging Technology News
Highsnobiety
Hmagazine
Infographics & Data Visualizations - Visual.ly
Infographics
Jezebel: Celebrity, Sex, Fashion for Women. Without Airbrushing.
lamono magazine | art&urban culture magazine
Ned Hardy — Curating The Internet Since Cats Took It Over
popurls® | the genuine news aggregator for the latest web buzz
Random, Interesting, Amazing Facts - Fun Quizzes and Trivia
Sassy Magazine's Eat This Column | Good. Food. Stories.
The 8 Stages of Staying Up All Night - StumbleUpon
The FADER
The Smart List 2012: 50 people who will change the world
Thu, 02/16/2012
ThumbPress | fer teh lolz
Topix: Your town. Your news. Your take.
TRENDLAND: FASHION & TREND BLOG * ART * DESIGN * PHOTOGRAPHY * CULTURE
Wired.com