Social Networks
Image Bookmarking :: Recent posts. Welcome to about.me (about dot me) Welcome. In July we launched Lively in Google Labs because we wanted users to be able to interact with their friends and express themselves online in new ways.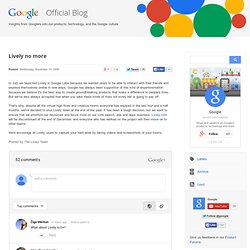 Google has always been supportive of this kind of experimentation because we believe it's the best way to create groundbreaking products that make a difference to people's lives. But we've also always accepted that when you take these kinds of risks not every bet is going to pay off. That's why, despite all the virtual high fives and creative rooms everyone has enjoyed in the last four and a half months, we've decided to shut Lively down at the end of the year. It has been a tough decision, but we want to ensure that we prioritize our resources and focus more on our core search, ads and apps business. Lively.com will be discontinued at the end of December, and everyone who has worked on the project will then move on to other teams. Tag Galaxy. Google Groups. Geocaching - The Official Global GPS Cache Hunt Site.
Experience Project - Personal Stories about any Life Experience. Foursquare. MercadoLibre. Mizozo. Be Heard. Be a VJ. Imgur. Life by me. My Yahoo! Habbo Hotel - Make friends, join the fun, get noticed! Conoce Gente Nueva en Badoo, Haz Amigos, Chatea, Liga.
Decentralize the web with Diaspora. We're fully funded!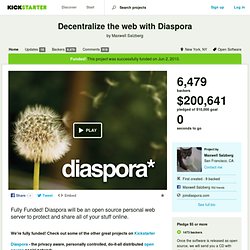 Check out some of the other great projects on Kickstarter Diaspora - the privacy aware, personally controlled, do-it-all distributed open source social network. Sharing in your Neighbourhood. Tagged. LiveJournal.com - Empieza un diario / blog gratis hoy. Mon cartable - Site gratuit de partage de ressources entre enseignants au primaire et au préscolaire. Camphill Communities in England and Wales : Living, learning and working together. Springpad Works Like Pinterest, But Smarter. Smart notebook Springpad is morphing into a smart Pinterest.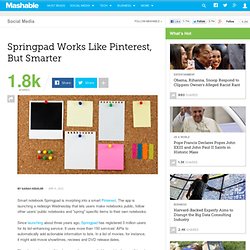 The app is launching a redesign Wednesday that lets users make notebooks public, follow other users' public notebooks and "spring" specific items to their own notebooks. Since launching about three years ago, Springpad has registered 3 million users for its list-enhancing service. Take The Square | Squares around the world. Qwiki. 4chan. Smart Alliance. Shorten urls, share files and track visits - Owly. Tracky - Get your life on Tracky. Busuu. Weheartit.com. Socialphy.
Top 20 Most Popular Social Networking Websitess. Here are the 15 Most Popular Social Networking Sites as derived from our eBizMBA Rank which is a constantly updated average of each website's Alexa Global Traffic Rank, and U.S.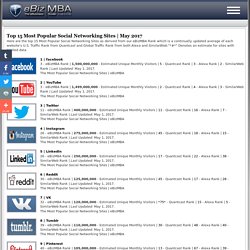 Traffic Rank from both Compete and Quantcast. "*#*" Denotes an estimate for sites with limited data. 1 | Facebook3 - eBizMBA Rank | 900,000,000 - Estimated Unique Monthly Visitors | 3 - Compete Rank | 3 - Quantcast Rank | 2 - Alexa Rank | Updated: April 1, 2014. The Most Popular Social Networking Sites | eBizMBA 2 | Twitter14 - eBizMBA Rank | 310,000,000 - Estimated Unique Monthly Visitors | 25 - Compete Rank | 5 - Quantcast Rank | 11 - Alexa Rank | Updated: April 1, 2014. The Most Popular Social Networking Sites | eBizMBA. Flavors.me : The Digital You. Virtual Worlds, Avatars, free 3D chat, online meetings - Second Life Official Site. Ning - Create and share your own social web apps! Le Village : Annonces gratuites entre voisins de Lille Métropole. People Helping People Shop.
THE FOOD NOT BOMBS MOVEMENT. Friendfeed. Fetlife. [International Network for Peace] As news crews swarmed outside the tile-roofed house of accused shooter James Eagan Holmes' parents in an upscale suburb of San Diego, a stranger 1,300 miles away in Texas grieved for those inside.
"I've been worried about the family," said Lois Robison, 78. "I know what it's like to find out your son has killed several people." Last Friday, when Holmes allegedly opened fire in a movie theater in Aurora, Colo., his parents, Robert and Arlene Holmes, were instantly thrust into a club that no one wants to join: family members of notorious killers. Like the parents of Tucson shooter Jared Loughner, Oklahoma City bomber Timothy McVeigh and Columbine High School killers Dylan Klebold and Eric Harris, they're quickly becoming pariahs, publicly reviled for raising a monster.
Bundlr. Change.org - Start, Join, and Win Campaigns for Change. Flixya - Share Videos, Photos, Blogs, Make Money. Taringa! - Inteligencia Colectiva. Tweepi. Geni.
Storify · Create social stories. FictionCity, llega la red social orientada para artistas. Hoy en Barcelona se ha presentado la red social FictionCity, una solución orientada a artistas de determinadas ramas donde tener un lugar común para que cualquier persona pueda encontrar recursos, otras personas e instituciones que estén interesadas en el artista.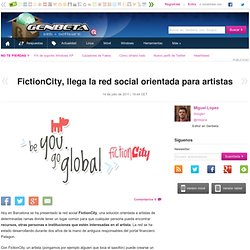 La red se ha estado desarrollando durante dos años de la mano de antiguos responsables del portal financiero Patagon. Con FictionCity, un artista (pongamos por ejemplo alguien que toca el saxofón) puede crearse un perfil en la red. Quirky | social product development. HootSuite - Social Media Dashboard for Teams using Twitter, Facebook, Linkedin.
Discreetic. Fancy. Kickstarter. Nuji - Your social wish list. Phocks. All the pretty people in their wind up cars, Go wandering past with their handlebars.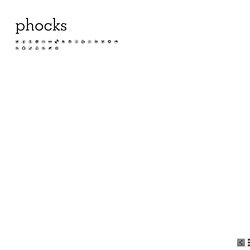 Don't you go on down to the merry go round, For it is high time that you heard the sound. All the birds are flying up into the clouds, While you sit alone and watch the rain coming down, Time's a wasting if you really want to get things done, And you really want to come and have some fun. Look around to the people who fall on the floor, Wont you tell them they don't have to worry no more. Seems the more I tell them, the less they know, And we'll all wake up together if we all decide to go. v2.0 :: a geekier, faster way to bulk add quality followers. Etsy - Your place to buy and sell all things handmade, vintage, and supplies.
People's Network online services from public libraries Home. El Mundo en Acción. Wiser.org: The Social Network for Sustainability. Popplet. SpicyNodes.
---