Rafael Rozendaal
Inner doubts .com by rafaël rozendaal, 2012. Please like .com by rafaël rozendaal, 2010. Sad for japan .com by rafaël rozendaal, 2011. Rhizome Presents Renowned Digital Artist Rafael Rozendaal in web-based VIP Art Fair. Rhizome is pleased to present a solo exhibition of work by outstanding artist Rafaël Rozendaal, who is known for his trailblazing explorations of the web browser, and for his forward-thinking contributions to the curation and sale of digital art.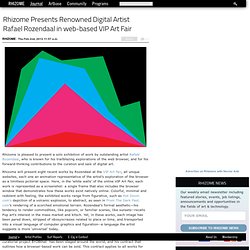 Rhizome will present eight recent works by Rozendaal at the VIP Art Fair, all unique websites, each one an animation representative of the artist's exploration of the browser as a limitless pictorial space. Here, in the 'white walls' of the online VIP Art Fair, each work is represented as a screenshot: a single frame that also includes the browser window that demonstrates how these works exist natively online.
Colorful, minimal and redolent with feeling, the exhibited works range from figurative, such as Hot Doom. com's depiction of a volcanic explosion, to abstract, as seen in From The Dark Past. com's rendering of a scorched emotional terrain. Rafaël Rozendaal Official Website - websites. "Everything Dies" exhibition at Kunstverein Arnsberg. Rafaël Rozendaal | Art Talk. In deze Art Talk!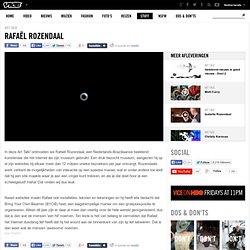 Ontmoeten we Rafaël Rozendaal, een Nederlands-Braziliaanse beeldend kunstenaar die het internet als zijn museum gebruikt. Een druk bezocht museum, aangezien hij op al zijn websites bij elkaar meer dan 12 miljoen unieke bezoekers per jaar ontvangt.
---