Mobiles/Smartphones & Tablets
Asus PadFone, a Versatile 'Brain,' Coming in April - Mobile and Wireless
Asus Chairman Jonney Shih introduced the very versatile PadFone at Mobile World Congress in Barcelona Feb. 27. With this Android-based device, Asus is attempting to cover the entire field of mobility€"from smartphone to tablet to laptop. More than a 4.3-inch smartphone running Android Ice Cream Sandwich, the Padfone is one of a family of complementary devices. It clicks into a 10.1-inch PadFone Station tablet, which can click into a PadFone Station Dock, letting a user move seamlessly between smartphone, tablet and netbook experiences.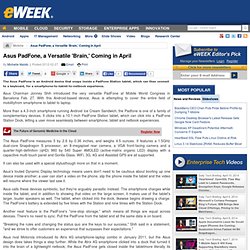 Top 10 Smartphones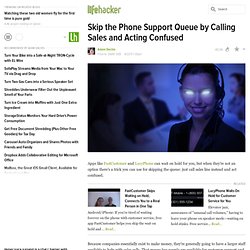 Apps like FastCustomer and LucyPhone can wait on hold for you, but when they're not an option there's a trick you can use for skipping the queue: just call sales line instead and act confused.
Skip the Phone Support Queue by Calling Sales and Acting Confused
Sylvania SYTAB7MX Research
The Mippin Portal has been discontinued
Planet Mobile Web
3D technology isn't just for blockbuster cinema releases and fancy home theaters. The technology is making huge splash on mobile devices, too.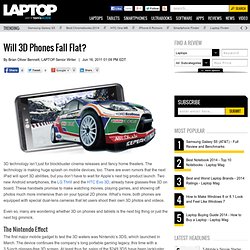 Will 3D Phones Fall Flat?
Best 5 laptops
Back to School 2011 laptop roundup: Top picks for every budget | Crave - CNET
(Credit: CNET)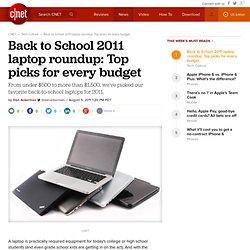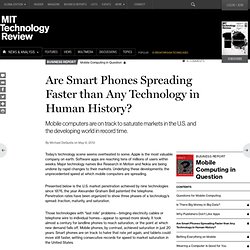 Today's technology scene seems overheated to some.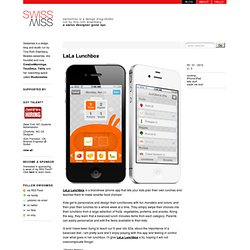 LaLa Lunchbox
LaLa Lunchbox is a brandnew iphone app that lets your kids plan their own lunches and teaches them to make smarter food choices!
El 49% de las empresas españolas ya usan el smartphone como herramienta profesional - Network World - Actualidad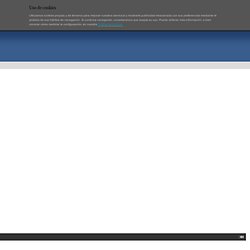 ¿Cuánto cuestan realmente los móviles a cero euros?,Empresas de Telecomunicaciones, medios y tecnología
Un iPhone 4S gratis por cambiarte a Vodafone, un Nokia Lumia 800 por 0 euros al pasarte a Orange o Yoigo o una BlackBerry Curve de regalo por una portabilidad a Movistar. El regalo de terminales de última generación se ha convertido en la última carta con la que juegan las operadoras tradicionales para atraer nuevos clientes o no perder los que ya tienen. Pero detrás de las gratuidades se esconden compromisos de permanencia de mínimo 18 meses y tarifas de voz y datos de hasta 100 euros para que el terminal valga 0 euros.
Comparativa de tarifas de internet móvil para empresas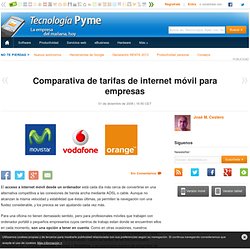 El acceso a internet móvil desde un ordenador está cada día más cerca de convertirse en una alternativa competitiva a las conexiones de banda ancha mediante ADSL o cable. Aunque no alcanzan la misma velocidad y estabilidad que éstas últimas, ya permiten la navegación con una fluidez considerable, y los precios se van ajustando cada vez más.
Informe smartphones i tablets a Europa. Comscore. Gener 2012
El uso de los móviles para realizar actividades comerciales aumentó un 88% en 2011 Los smartphones y las tabletas han dado un giro radical a los hábitos de consumo de los usuarios. Y no sólo porque el m-commerce cada vez sea más importante dentro del sector, sino porque han cambiado los productos que se compran.
Adiós al carro de la compra: se dispara el consumo a través de móviles y tabletas – Equipos de telecomunicaciones – Noticias, última hora, vídeos y fotos de Equipos de telecomunicaciones en lainformacion
Cooking Ideas
Wallet - a smart, virtual wallet for in-store and online shopping
Cómo ahorrar en la factura del móvil [Pag. 1 de 2]
Aplicaciones para realizar llamadas gratuitas entre móviles
toozla - Your mobile audio guide
No os perdais este fantástico proyecto de Victor desde Noruega que se ha creado su própio teléfono móvil.
µPhone: Un teléfono miniatura casero y funcional