Mobiles/Smartphones & Tablets
Mobile. Mobile. Movistar. Web mobile. Asus PadFone, a Versatile 'Brain,' Coming in April - Mobile and Wireless. Asus Chairman Jonney Shih introduced the very versatile PadFone at Mobile World Congress in Barcelona Feb. 27.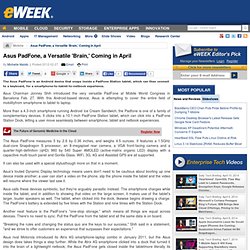 With this Android-based device, Asus is attempting to cover the entire field of mobility€"from smartphone to tablet to laptop. More than a 4.3-inch smartphone running Android Ice Cream Sandwich, the Padfone is one of a family of complementary devices. It clicks into a 10.1-inch PadFone Station tablet, which can click into a PadFone Station Dock, letting a user move seamlessly between smartphone, tablet and netbook experiences. Top 10 Smartphones. GottaBeMobile : Tablets, Mobile Phones, Apps and Multi-Touch News & Reviews. Skip the Phone Support Queue by Calling Sales and Acting Confused. About Mobile. FREE Mobile. Mobiles. Current Projects | Fluid Interfaces. Sylvania SYTAB7MX Research.
21st Century Fluencies. Will 3D Phones Fall Flat? 3D technology isn't just for blockbuster cinema releases and fancy home theaters.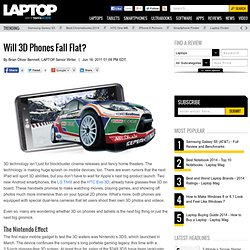 The technology is making huge splash on mobile devices, too. There are even rumors that the next iPad will sport 3D abilities, but you don't have to wait for Apple's next big product launch. Two new Android smartphones, the LG Thrill and the HTC Evo 3D, already have glasses-free 3D on board. These handsets promise to make watching movies, playing games, and showing off photos much more immersive than on your typical 2D phone. What's more, both phones are equipped with special dual-lens cameras that let users shoot their own 3D photos and videos. Best 5 laptops. Back to School 2011 laptop roundup: Top picks for every budget | Crave. A laptop is practically required equipment for today's college or high school students (and even grade school kids are getting in on the act).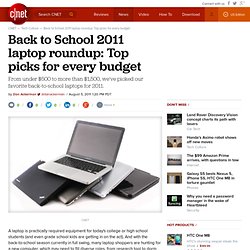 And with the back-to-school season currently in full swing, many laptop shoppers are hunting for a new computer, which may need to fill diverse roles, from research tool to dorm room entertainment system. To help find the perfect system for your academic needs, we've picked our recent favorites from brick-and-mortar stores, online retailers, and build-to-order PC makers, and listed them below, grouped by price. For this particular list, we've stuck to only laptops we consider good-to-great (no clunkers allowed), and those with some specific appeal to students.
Tablette Smartphone. Tableaux Numériques. Tablette tactile. Are Smartphones Spreading Faster than Any Technology in Human History? Today's technology scene seems overheated to some.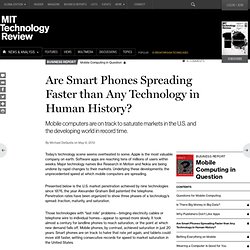 Apple is the most valuable company on earth. Software apps are reaching tens of millions of users within weeks. Major technology names like Research in Motion and Nokia are being undone by rapid changes to their markets. LaLa Lunchbox. LaLa Lunchbox is a brandnew iphone app that lets your kids plan their own lunches and teaches them to make smarter food choices!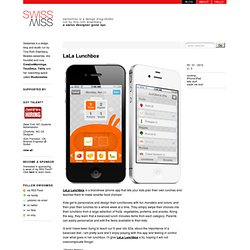 Kids get to personalize and design their lunchboxes with fun monsters and colors, and then plan their lunches for a whole week at a time. They simply swipe their choices into their lunchbox from a large selection of fruits, vegetables, proteins, and snacks. Along the way, they learn that a balanced lunch includes items from each category. Parents can easily personalize and edit the items available to their kids. El 49% de las empresas españolas ya usan el smartphone como herramienta profesional - Network World - Actualidad. Tablettes. ¿Cuánto cuestan realmente los móviles a cero euros?,Empresas de Telecomunicaciones, medios y tecnología.
Un iPhone 4S gratis por cambiarte a Vodafone, un Nokia Lumia 800 por 0 euros al pasarte a Orange o Yoigo o una BlackBerry Curve de regalo por una portabilidad a Movistar.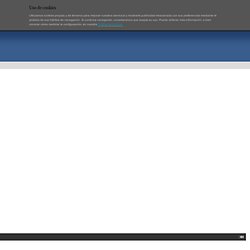 El regalo de terminales de última generación se ha convertido en la última carta con la que juegan las operadoras tradicionales para atraer nuevos clientes o no perder los que ya tienen. Pero detrás de las gratuidades se esconden compromisos de permanencia de mínimo 18 meses y tarifas de voz y datos de hasta 100 euros para que el terminal valga 0 euros. FREE Mobile. Snap.vu - free qr code generator, short url and tracking service for smart mobile/cell phone marketing campaigns. FREE Mobile. Comparativa de tarifas de internet móvil para empresas. El acceso a internet móvil desde un ordenador está cada día más cerca de convertirse en una alternativa competitiva a las conexiones de banda ancha mediante ADSL o cable.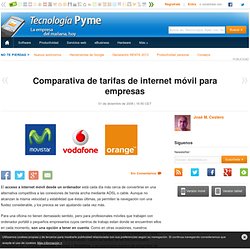 Aunque no alcanzan la misma velocidad y estabilidad que éstas últimas, ya permiten la navegación con una fluidez considerable, y los precios se van ajustando cada vez más. Para una oficina no tienen demasiado sentido, pero para profesionales móviles que trabajen con ordenador portátil o pequeños empresarios cuyos centros de trabajo estan donde se encuentren ellos en cada momento, son una opción a tener en cuenta. Como en otras ocasiones, nuestros compañeros de Xataka Móvil han preparado una magnífica tabla comparativa que habla por sí sola, así que no me extenderé demasiado en la explicación. Cubre las tarifas de las tres principales compañías del mercado, Movistar, Orange y Vodafone, y es una buena manera de comprobar de un vistazo cuales son las opciones de las que disponemos actualemente. Decide.com: Online Shopping for TVs, Computers, Cameras & Electronics.
GroupMe. Informe smartphones i tablets a Europa. Comscore. Gener 2012. SMART PHONE. Teléfonos móviles y tarifas. Xataka Móvil. Adiós al carro de la compra: se dispara el consumo a través de móviles y tabletas – Equipos de telecomunicaciones – Noticias, última hora, vídeos y fotos de Equipos de telecomunicaciones en lainformacion.
El uso de los móviles para realizar actividades comerciales aumentó un 88% en 2011 Los smartphones y las tabletas han dado un giro radical a los hábitos de consumo de los usuarios.
Y no sólo porque el m-commerce cada vez sea más importante dentro del sector, sino porque han cambiado los productos que se compran. Cooking Ideas. Wallet - a smart, virtual wallet for in-store and online shopping. Cómo ahorrar en la factura del móvil [Pag. 1 de 2] Aplicaciones para realizar llamadas gratuitas entre móviles. Toozla - Your mobile audio guide. Mobile Stuff. µPhone: Un teléfono miniatura casero y funcional. No os perdais este fantástico proyecto de Victor desde Noruega que se ha creado su própio teléfono móvil.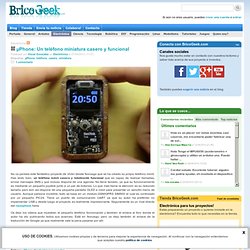 Has leido bien, un teléfono móvil casero y totalmente funcional que es capaz de realizar llamadas, enviar mensajes SMS y que incluso dispone de una agenda. No tiene teclado, ya que su funcionamiento es mediante un pequeño joystick junto a un par de botones. Lo que más llama la atención es su reducido tamaño pero aún así dispone de una pequeña pantalla OLED a color para presentar un sencillo menú de usuario.
---