Magic
Anything is possible - Hypnotic Quickie. Suspending Water Without a Cup Trick. - StumbleUpon. Amazing Trick. Suspending Water Without a Cup Trick. Penn Jillette penn - LOL Theists. I'm sure you're a well-meaning person, and I'm also sure you truly believe everything you say.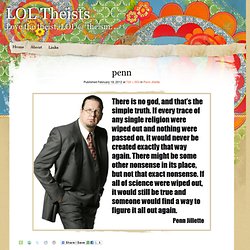 However, you are, regrettably, wrong. "Really now, it is my understanding that physics comes closer and closer all the time to find that there is a consciousness that exists in the universe." I'd love to see the research or proofs that you're inferring here. I'm always interested in new and challenging information. Penn and Teller Explain Sleight of Hand Video - 5min.com. Magic. Magic and Illusions. Amazing Trick. Awesome milk trick!. Dailymotion - Magic Hand Art - a Funny video. Module H, par Shigeru Ban pour Hermès. L'an passé, Hermès lançait, après la réédition du mobilier de Jean-Michel Frank, sa collection de mobilier contemporain avec de grands noms comme Antonio Cittorio ou Enzo Mari.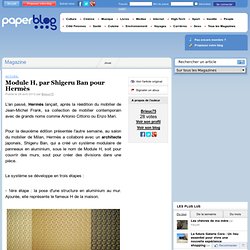 Pour la deuxième édition présentée l'autre semaine, au salon du mobilier de Milan, Hermès a collaboré avec un architecte japonais, Shigeru Ban, qui a créé un système modulaire de panneaux en aluminium, sous le nom de Module H, soit pour couvrir des murs, sout pour créer des divisions dans une pièce. Le système se développe en trois étapes : - 1ère étape : la pose d'une structure en aluminium au mur.
Ajourée, elle représente le fameux H de la maison. The Final 3 - Amazing Math Card Trick. The Final 3 - Amazing Math Card Trick - Video Dailymotion. Magie et sorcellerie... Como lo hizo » Todo lo que quisiste saber sobre magia, y mas... Chip tricks. WTF Magic trick - This'n'That card trick. Most Amazing Magic Illusion Trick Ever.
---