Magazines
Bestiario. Index. BORING POSTCARDS: I still don't know any more about these postcards than what they show and tell.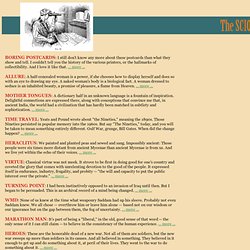 I couldn't tell you the history of the various printers, or the hallmarks of collectibility. And I love it like that. ... more ... ALLURE: A half-concealed woman is a power, if she chooses how to display herself and does so with an eye to drawing my eye. iVillage.com: Health, Beauty, Pregnancy, Entertainment, Women's Community and More. What is Consciousness? - StumbleUpon. DigitalNext: A Blog on Emerging Media and Technology - Digital. Advertisement x Scroll to Continue DigitalNext.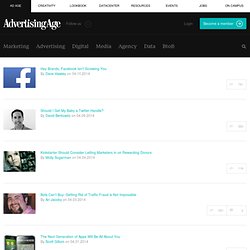 Of All The People In All The World. Of All The People In All The World, a traveling art exhibit in the UK, uses grains of rice to bring the large numbers behind world populations to the grasp of the average human being.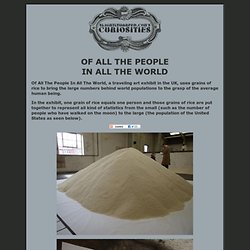 In the exhibit, one grain of rice equals one person and those grains of rice are put together to represent all kind of statistics from the small (such as the number of people who have walked on the moon) to the large (the population of the United States as seen below). Link. Nerd Fitness: How to Properly Track Your Progress. This is the next installment in a series on The Next Web, in partnership with Steve Kamb from Nerd Fitness.
Guides to staying healthy, without giving up your geek lifestyle. A few months back, I told you a story about my friend Saint who went from 60 pounds overweight to having 6-pack abs. All That Is Interesting. Chart Porn. The Girl That Snuck Into a Russian Rocket Factory. The internet is quickly becoming smitten with a young photographer/urban explorer who broke into an unguarded rocket facility in Russia.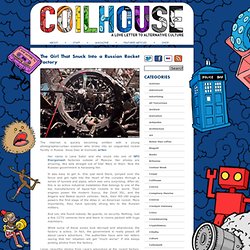 Jesus Diaz at Gizmodo writes: Her name is Lana Sator and she snuck into one of NPO Energomash factories outside of Moscow. Her photos are amazing, like sets straight out of Star Wars or Alien. Now the Russian government is harassing her. NOTCOT. *NOTCOT in sponsored - 01.14.14 - 0 Notes Thank you to Delta® for sponsoring this article.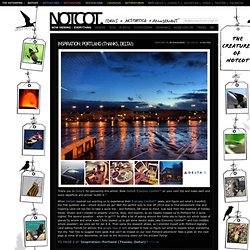 Book Delta® Economy Comfort™ on your next trip and make each and every departure and arrival "worth it." When Delta® reached out wanting us to experience their Economy Comfort™ seats, and figure out what's #worthit, the first question was - where should we go? Well the perfect way to kick off 2014 was to find somewhere new and inspiring (and not too far) to take a quick trip - and Portland, OR came to mind. Arts & Letters Daily - ideas, criticism, debate. WebUrbanist | From Urban Art & 3D Graffiti to Abandoned Cities. Magazine - Politics, Business, Technology, and the Arts.
Lo mejor del cine europeo. Public Gallery. The Art of Manliness | Men's Interests and Lifestyle. Fubiz™ ReadWriteWeb - Web Apps, Web Technology Trends, Social Networking and Social Media. Simple Ideas That Are Borderline Genius 5.
Ideacity. Artist's Atheneum: An Interview with Nandita Raman | International Center of Photography Library. Artist's Atheneum is a reading room installed in the library by Nandita Raman in conjunction with the ICP-Bard/MFA Thesis Exhibition.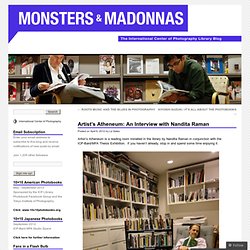 If you haven't already, stop in and spend some time enjoying it. Liz Sales: What inspired Artist's Atheneum? Nandita Raman: In my experience, research for projects can become an insular and convergent process. I have benefited from having conversations about my ideas with friends who are writers, filmmakers, scientists or active thinkers, irrespective of their professions.
They have introduced me to films, books, music and other research that has helped in opening up my practice. GOOD Home Page. The Next Web - International technology news, business & culture. Social Media News and Web Tips – Mashable – The Social Media Guide. Estudio FS - UI Layout & Backend development. Writers & Photographers: Food, Fashion, Humor, Love, Politics, Movies and More. The Creative Finder - Search portfolios and images for networking, collaboration, and inspiration. Explore, Play, Discover: Websites & Activities. Explore, Play, Discover: Websites, Activities & More Explore, Play, Discover: Websites, Activities & More Microscope Imaging Station.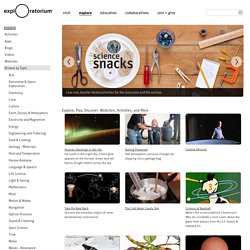 The Rumpus.net. UbuWeb. Edge : Conversations on the edge of human knowledge. Interviews on broad topics, design emphasis.
---