Gadgets
Nokia ha presentado un móvil económico para mercados emergentes, el cual dista mucho de los lanzamientos de smartphones que regularmente ha hecho en los últimos meses. Sin embargo, Nokia no ha descuidado su gama de productos económicos y la ha mantenido más o menos vigente, como podemos notar en el lanzamiento de Nokia 225. Leer el resto de la entrada » Micro 3D es la primera impresora de tercera dimensión compacta y ligera, facilitando el trabajo de sus usuarios con buena calidad y al menor costo posible.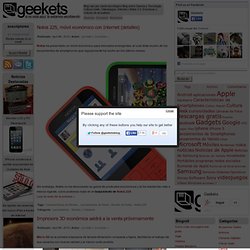 Geekets
A beautiful but creepy vision of the "smart glass" future
Two things: First, considering the touchscreen maps at my local shopping centres ae almost always down or only half work, and smeared with public finger goop, the maintenance factor would be huge in this kind of world. They'd always need constant repairs, cleaning, and upgrading. And the other thing is, though the touchscreen concept works okay at a small handheld level, if every single button you push has no tactile response, that satisfaction of a physical reaction to pressing a button, it can get quite exhausting for the fingers.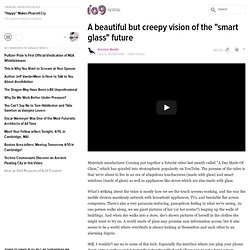 AudioQuest K2 terminated speaker cable - UST plugs 8' (2.44m) pair: Electronics
Subastas en línea en BiDWiZ España: el sitio web número 1 de pujas
Shut Up And Take My Money - Cool Gadgets and Geeky Products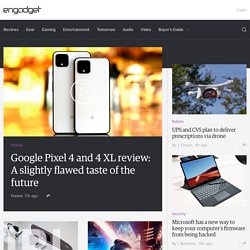 Engadget en español
Tras el éxito cosechado la semana pasada con la vuelta de nuestra sección 'Qué cambiarías de' (que tenía al iPad Air como protagonista, recuerda), hoy nos centramos en otro equipo capaz de generar también todo tipo de críticas: la Xbox One. La nueva generación de Microsoft llegó a finales de noviembre con la idea de romper en el mercado, sin embargo los resultados parecen no haber sido tan buenos como se esperaba. Y es que a pesar de que el rendimiento y potencia del equipo resultan bastante buenos (y prometedores), ya en nuestro análisis a fondo apuntamos algunos aspectos que no nos acababan de convencer como era su (a veces) desordenada interfaz, el sistema Kinect, su apuesta por la televisión o el propio precio del equipo, que ha influido sin duda negativamente en el proceso de captación de jugones que ha terminado yéndose hacia la PS4 (100 euros/dólares más barata). Y eso por no hablar de lo limitado que sigue siendo su catálogo de títulos, claro.
Liquipel Will Make Your Gadgets Completely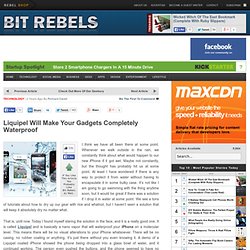 I think we have all been there at some point. Whenever we walk outside in the rain, we constantly think about what would happen to our new iPhone if it got wet. Maybe not constantly, but the thought has probably hit us at some point. At least I have wondered if there is any way to protect it from water without having to encapsulate it in some bulky case.
Gizmodo, the Gadget Guide
Digital AV Magazine
Product reviews and prices, software downloads, and tech news - CNET
Be Awesome Be a Geek.com
It Is Not About the Gadgets - Why Every Teacher Should Have to Integrate Tech Into Their Classroom
Vincent Abry
Hi, Thank you for submitting a purchase order! We've just emailed you a confirmation that we received your request. Next, we'll send you another email either to confirm shipment or let you know if we need any other information. Expect to hear back today or tomorrow. For Faster Processing Fill out our 30-second Buyer Survey.
Biotech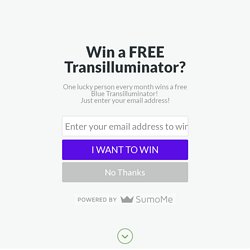 Flowplayer - Flash Video Player for the Web
Mario Bros. Themes Performed On 48 Wine Glasses This is a video of Youtuber Dan Newbie performing Super Mario Bros. themes using 48 wine glasses, two pencils and a frying pan. It sounded very pretty. Kinda reminded me of visiting the Caribbean. Granted I've never been, but in my mind that is what it would sound like.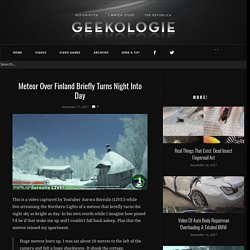 Geekologie - Gadgets, Gizmos, and Awesome
AzR - In Dedication: Thank You, Steve (Only Mac Sounds Used)
Perfect Ice Balls, Everytime: The Ice Ball Mold - Geekologie
Remember that company that was selling perfectly round ice spheres for $8 a pop? Turns out they might have just been cranking them out with this Ice Ball Mold (55mm - 85mm models range from $1,300 - $2,000 -- chintzy marble-sized 30mm mold goes for $200). But now the secret (read: product) is out and you can make them yourself! ICE BALLS -- ICE BALLS! Please note: Ice balls are not to be confused with blue balls, which are free and I'm sure you're all too familiar with.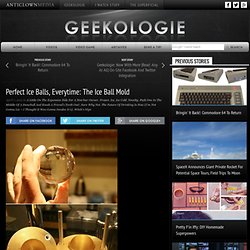 Gadgets — Featured Stories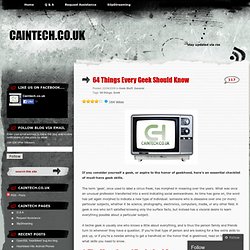 If you consider yourself a geek, or aspire to the honor of geekhood, here's an essential checklist of must-have geek skills. The term 'geek', once used to label a circus freak, has morphed in meaning over the years. What was once an unusual profession transferred into a word indicating social awkwardness. As time has gone on, the word has yet again morphed to indicate a new type of individual: someone who is obsessive over one (or more) particular subjects, whether it be science, photography, electronics, computers, media, or any other field. A geek is one who isn't satisfied knowing only the surface facts, but instead has a visceral desire to learn everything possible about a particular subject. A techie geek is usually one who knows a little about everything, and is thus the person family and friends turn to whenever they have a question.
64 Things Every Geek Should Know & Caintech.co.uk - StumbleUpon
Logitech Wireless Gaming Headset G930 with 7.1 Surround Sound: Electronics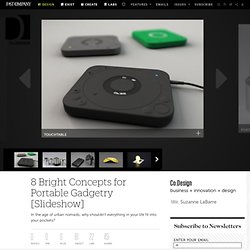 8 Bright Concepts for Portable Gadgetry [Slideshow] | Co.Design
Technology helps you have what you need with you at all times. Computer, phone, iPod, keys, wallet, e-book? By now, all of these items can fit in a small bag (or maybe even a pocket of some XL pants).
Current Projects | Fluid Interfaces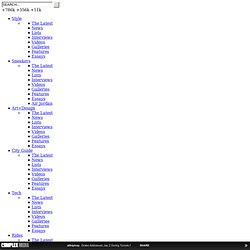 Specs: 85-inch screen, 1080p resolution, Plasma, Automatic Picture Control, Automatic Color Management, BeoLab 10 center speakerPrice: $85,000 Bang & Olufsen only knows how to do things one way: big. So when it came time for the luxury tech company to enter the 3D HDTV market, it did so in the most extravagant way possible: with an 85-inch plasma TV that rests on a mechanized base. Think of it as the Bugatti Veyron of HDTVs.
The 25 Best Gadgets of 2011 (So Far)
Sébastien, fidèle lecteur de Korben.info, a eu la gentillesse de réaliser une procédure d'installation du logiciel Captvty (pour télécharger des émissions en VOD) sous Mac OSX. Voici donc comment faire en quelques étapes simples. Tout d'abord, allez télécharger Winebottler en version stable 1.6.1, installez-le en copiant Wine.app et WineBottler dans votre répertoire Applications et lancez WineBottler au moins une fois. Ensuite recommencez, mais cette fois avec la version 1.7.15 de développement.
Korben - Site d'actualité geek et tech
Cool gadgets for creative offices
Each designer or agency office should be filled with creative and innovative gadgets that surprise our clients and stimulate the imagination. A gadget is a small tool such as a machine that has a particular function, but is often thought of as a novelty. Gadgets are sometimes referred to as gizmos.
Engadget
The 1 percent have long had smartphones from Porsche and Vertu to quench their high-end thirst, but when it comes to dual-SIM handsets, the elite have had to settle for something a little more ordinary. For those in need, Gresso created Azimuth, the first dual-SIM luxury handset. Starting at $2,000, the phone is made of titanium, with both the keys and logo crafted out of 18K or white gold. Since appearances are all that matter, you're getting some pretty low-end specs under the hood, including 2GB of "internal memory," a 1.3-megapixel camera, Bluetooth 2.0 and a tiny 1,100mAh battery. To put things in perspective, Samsung's Galaxy S5 starts with 16GB of built-in storage, a 16-megapixel camera and a 2,800mAh battery.
Stuff for Smart Masses
Portal Turret LED Flashlight w/ Sound
"Cave Johnson here. Introducing the consumer version of our most popular military-grade product: the turret. We box 'em up and ship 'em straight to your doorstep. So you can protect the things that matter most. Just try and get close to that baby. Ha!
Gadgets, Gizmos, and Awesome
Replace Your Keychain w/Technology, Convenience, & Style - Keyport Slide and Blades | Keyport, Inc.
Byte, tecnología aplicada… a la vida
Roku LT - Best gifts for under $50
Portable audio gifts - Holiday gift ideas and gift guide 2011
BestStuff | Main
Gadgets 2012 | Apple iPad 3,Amazon Kindle Fire,Samsung Galaxy Tablet
Engadget
Gifts for the Geek Home
Geek.com
tecnologia y gadgets - clipset
Gizmag | New and Emerging Technology News
3DTin
Cool gadgets for creative offices
Engadget