Gadgets
Geekets. A beautiful but creepy vision of the "smart glass" future. Two things: First, considering the touchscreen maps at my local shopping centres ae almost always down or only half work, and smeared with public finger goop, the maintenance factor would be huge in this kind of world.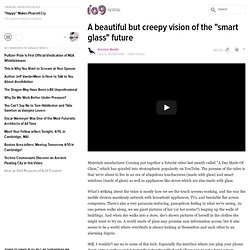 They'd always need constant repairs, cleaning, and upgrading. And the other thing is, though the touchscreen concept works okay at a small handheld level, if every single button you push has no tactile response, that satisfaction of a physical reaction to pressing a button, it can get quite exhausting for the fingers. Internet Gadgets. AudioQuest K2 terminated speaker cable - UST plugs 8' (2.44m) pair: Electronics. Subastas en línea en BiDWiZ España: el sitio web número 1 de pujas. Shut Up And Take My Money - Cool Gadgets and Geeky Products. Engadget en español. Gadgets. Liquipel Will Make Your Gadgets Completely.
I think we have all been there at some point.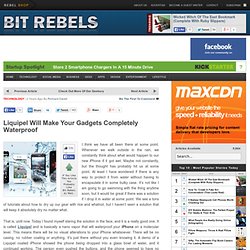 Whenever we walk outside in the rain, we constantly think about what would happen to our new iPhone if it got wet. Maybe not constantly, but the thought has probably hit us at some point. At least I have wondered if there is any way to protect it from water without having to encapsulate it in some bulky case. Gizmodo, the Gadget Guide. GADGETS DIRECTORY. Geek stuff. Digital AV Magazine. Product reviews and prices, software downloads, and tech news - CNET. Be Awesome Be a Geek.com. It Is Not About the Gadgets - Why Every Teacher Should Have to Integrate Tech Into Their Classroom. Vincent Abry. Biotech. Flowplayer - Flash Video Player for the Web. Geekologie - Gadgets, Gizmos, and Awesome. AzR - In Dedication: Thank You, Steve (Only Mac Sounds Used)
Perfect Ice Balls, Everytime: The Ice Ball Mold. Remember that company that was selling perfectly round ice spheres for $8 a pop?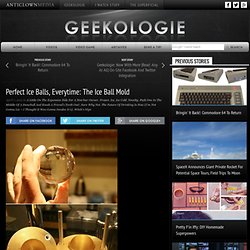 Turns out they might have just been cranking them out with this Ice Ball Mold (55mm - 85mm models range from $1,300 - $2,000 -- chintzy marble-sized 30mm mold goes for $200). But now the secret (read: product) is out and you can make them yourself! ICE BALLS -- ICE BALLS! Please note: Ice balls are not to be confused with blue balls, which are free and I'm sure you're all too familiar with. Gadgets. Gadgets — Featured Stories. 64 Things Every Geek Should Know & Caintech.co.uk - StumbleUpon. If you consider yourself a geek, or aspire to the honor of geekhood, here's an essential checklist of must-have geek skills.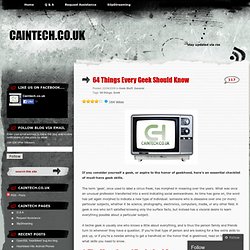 The term 'geek', once used to label a circus freak, has morphed in meaning over the years. What was once an unusual profession transferred into a word indicating social awkwardness. As time has gone on, the word has yet again morphed to indicate a new type of individual: someone who is obsessive over one (or more) particular subjects, whether it be science, photography, electronics, computers, media, or any other field. A geek is one who isn't satisfied knowing only the surface facts, but instead has a visceral desire to learn everything possible about a particular subject. A techie geek is usually one who knows a little about everything, and is thus the person family and friends turn to whenever they have a question. Logitech Wireless Gaming Headset G930 with 7.1 Surround Sound: Electronics. 8 Bright Concepts for Portable Gadgetry [Slideshow] | Co.Design. Technology helps you have what you need with you at all times.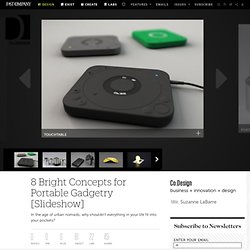 Computer, phone, iPod, keys, wallet, e-book? By now, all of these items can fit in a small bag (or maybe even a pocket of some XL pants). Current Projects | Fluid Interfaces. The 25 Best Gadgets of 2011 (So Far) Specs: 85-inch screen, 1080p resolution, Plasma, Automatic Picture Control, Automatic Color Management, BeoLab 10 center speakerPrice: $85,000 Bang & Olufsen only knows how to do things one way: big.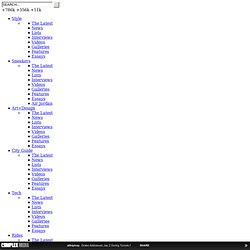 So when it came time for the luxury tech company to enter the 3D HDTV market, it did so in the most extravagant way possible: with an 85-inch plasma TV that rests on a mechanized base. Think of it as the Bugatti Veyron of HDTVs. Gadgets. Korben - Site d'actualité geek et tech. Cool gadgets for creative offices. Each designer or agency office should be filled with creative and innovative gadgets that surprise our clients and stimulate the imagination.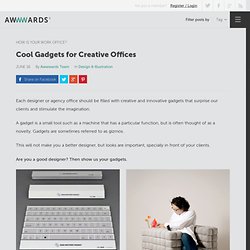 A gadget is a small tool such as a machine that has a particular function, but is often thought of as a novelty. Gadgets are sometimes referred to as gizmos. Engadget. Stuff for Smart Masses. Dead Drops. Portal Turret LED Flashlight w/ Sound. Gadgets, Gizmos, and Awesome. Replace Your Keychain w/Technology, Convenience, & Style - Keyport Slide and Blades | Keyport, Inc. Infusing utility with style, Keyport replaces the out-of-date keychain by streamlining your most important personal everyday items (keys, USB flash drive, mini-light, bottle opener, plus many more in development) into one indispensable device that attaches easily to any auto remote.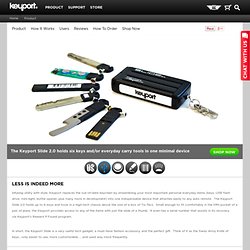 The Keyport Slide 2.0 holds up to 6 keys and tools in a high-tech chassis about the size of a box of Tic-Tacs. Small enough to fit comfortably in the fifth pocket of a pair of jeans, the Keyport provides access to any of the items with just the slide of a thumb. Byte, tecnología aplicada… a la vida. Byte Podcast 416: nuevos productos ViewSonic y Xperia Z1 Compact Llega el episodio 416 de Byte Podcast con noticias que incluyen el anuncio de la quinta edición de Campus Party México, que … 1,083 total views, 6 views today Byte Podcast 415: Slingbox en México y Timely Esta semana en Byte Podcast 415 les contamos la llegada a México del Slingbox, un sistema que les permite llevar su TV … 1,673 total views, 7 views today.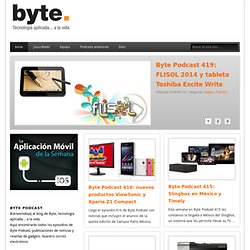 Gadgets. Roku LT - Best gifts for under $50. Portable audio gifts - Holiday gift ideas and gift guide 2011. As one of its daily deals, Newegg via eBay offers the refurbished 1.3-lb.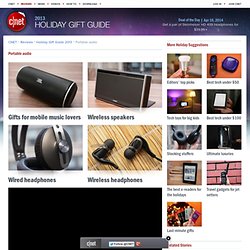 ASUS Transformer Infinity 10.1" 32GB Android Tablet in Amethyst Gray, model no. TF700T-B1-GR, for $179.99 with free shipping. That's $35 under our January refurb mention and the lowest total price we've seen for a new or refurb model. BestStuff | Main. Gadgets 2012 | Apple iPad 3,Amazon Kindle Fire,Samsung Galaxy Tablet. Engadget. Gifts for the Geek Home. A home should be an expression of who you are. Sure, when you're young and broke, your room or apartment might be an expression of who your parents or the people who donate to Goodwill are, but gradually you collect items that express your personality, whether you receive them as gifts or purchase them yourself.
If you are a technologically oriented geek, there are plenty of manufacturers and vendors catering to your tastes in home decor. Interactive LED Dining Table Windell Oksay of Evil Mad Scientist Laboratories built a dining room table with 448 LEDs inside. Geek.com. Tecnologia y gadgets - clipset. Geek. Gizmag | New and Emerging Technology News. 3DTin.
Cool gadgets for creative offices. Inventions & Gadgets. Geekeries. Engadget.
---