Future Perspectives, Think Tanks, Etc.
Juan Meléndez vivió casi dos décadas preso y enfrentó la pena de muerte luego de ser condenado por error Juan Roberto "Johnny" Meléndez Colón repite una y otra vez los números "17 años, 8 meses y 1 día".
17 años, 8 meses y 1 día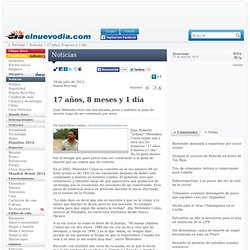 I snagged a free copy of a recent volume published by Médecins Sans Frontières (aka Doctors Without Borders). Humanitarian Negotiations Revealed: The MSF Experience is a series of case studies from a range of humanitarian contexts, combined with a few essays that take broader looks at how MSF's approach has evolved over the years.
Admit complexity: a few takeaways from MSF's "Humanitarian Negotiations Revealed" « Find What Works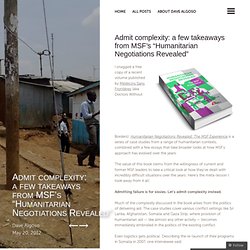 Diplomatie & Geostrategie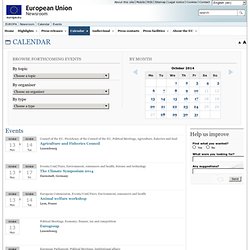 When: 09/05/2012 Where: Europe Topic: Institutional affairs Organiser: European Commission
Newsroom - Calendar - Europe Day 2012 – 62nd anniversary of the Schuman Declaration
La gran demanda y la buena acogida que están teniendo los nuevos canales sociales a día de hoy por parte de las personas, empresas y organizaciones, no copa en absoluto la totalidad de todo individuo físico o jurídico viviente. Los que nos movemos entre blogs, twitters, flickrs y youtubes sabemos que coexistimos con otra realidad totalmente distinta -y muy alejada- de esta euforia que promulga la apertura, la transparencia, la actualización constante de contenido, la relación entre iguales y diferentes, el diálogo entre conocidos y desconocidos, la compartición de información, la discusión de ideas y proyectos, la experiencia colectiva a tiempo real, etc.; a través de unas herramientas que levantan (por qué no decirlo) el temor a quien bien (1) no las conoce, o (2) le abruma tal cantidad de canales, medios, soportes, plataformas y demás espacios que sólo buscan la publicación de información ajena, además de permitir y fomentar la crítica de las aportaciones propias y las de terceros.
La otra cara de la moneda: el rechazo 2.0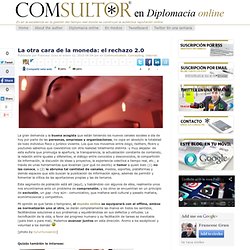 Internet start-up ventures ply their wares at LeWeb conference in ParisEntrepreneurs hope their innovations can match success of Twitter or FacebookInventions range from Wi-Fi bathroom scales to 3D instant messengers Paris, France (CNN) -- With more than 2,000 Internet movers and shakers, the LeWeb conference in Paris is an ideal spot for start-up ventures to hoping to attract the investment and attention that will propel them to Twitter or Facebook-style success. A series of stalls across the venue -- a giant arts complex converted from a disused morgue -- saw fresh-faced entrepreneurs demonstrating gadgets and applications they insisted will change the way we interface with the Internet. These might just be the inventions that everyone will be talking about next year or they could simply slip below the radar.
Are any of these the Web's next big thing?

True World Order Part 1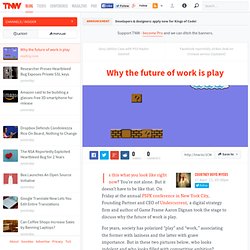 Why the future of work is play - TNW Industry
Is this what you look like right now? You're not alone. But it doesn't have to be like that. On Friday at the annual PSFK conference in New York City, Founding Partner and CEO of Undercurrent, a digital strategy firm and author of Game Frame Aaron Dignan took the stage to discuss why the future of work is play. For years, society has polarized "play" and "work," associating the former with laziness and the latter with grave importance.
Observatoire International des Crises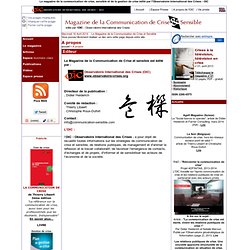 R&D - "Réinventer la communication de crise" Projet ADFINITAS, 2013-2014 L'OIC travaille sur l'après communication de crise et les relations publiques de crise en partenariat avec des acteurs privés. A lire sur le sujet : Article - "La communication de crise est morte, vivent les relations publiques de crise !" Par Didier Heiderich et Natalie Maroun, Publié par l'Observatoire géostratégique de l'information (page 2), 2013, Lire "Séminaire Communication" Aéroports de Paris/Air France/DGAC.
Département des Études de la Prospective et des statistiques- Enquête sur les pratiques culturelles des Français
The Future Of Work Is Play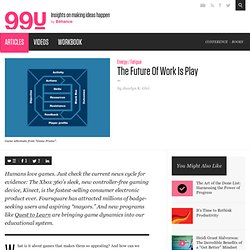 Humans love games. Just check the current news cycle for evidence: The Xbox 360's sleek, new controller-free gaming device, Kinect, is the fastest-selling consumer electronic product ever.
Civilisation TWO | The Blueprint for a New Civilization
Introducing Waysphere: Holonic Social Mapping for Human Beings
OECD – Your Better Life Index
Spain
How's Life?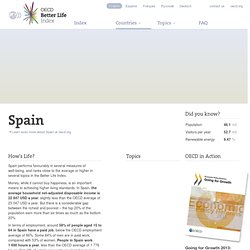 Simulateur 2011 - Australie - Qui serez vous ? Où serez vous en 2011 ?
10 Deadliest Cities
Noticias para Señales de los Tiempos mie, 18 jul 2012
Data Finder: WorldDevlopIndicators
O Estado encontra-se em pronunciada transição. Transformam-se a matriz francesa de divisão entre poderes e o modelo anglo-americano de freios e contrapesos (checks and balances). Hoje, em diferentes nações, o Executivo julga.
Nanointervencionismo » Destaque » Instituto Millenium
Productivity Future Vision (2011)
Share Conference | Social, Media, Music | April 7-9, Belgrade, Serbia | SHARE Konferencija | Social, Media, Music | April 7-9, Beograd, Srbija
World Clock
What is going on in the world?
Envisioning Development: What is Affordable Housing?
I Do Not Want Mercy, I Want You To Join Me
"… those who write the rules are those who profit from the status quo. If we want to change that status quo, we might have to work outside of those rules because the legal pathways available to us have been structured precisely to make sure we don't make any substantial change." (Portrait by Robert Shetterly - Used with Permission) http://www.americanswhotellthetruth.org Thank you for the opportunity to speak before the court.
Devices, Tools, Inventions
L'Observatoire des Inégalités, organisme indépendant d'information et d'analyse sur les inégalités, a mis en ligne début mai 2012 un dossier sur la fracture numérique en France intitulé Technologies de l'information : des inégalités qui se réduisent avec des données, chiffrages et pourcentages issus du dernier rapport annuel du CREDOC : La diffusion des technologies de l'information et de la communication dans la société française (2011).
Fracture numérique : 25% des Français n'ont pas accès à Internet
The Great Debate Contributors: Matt Ridley
The Rational Optimist: How Prosperity Evolves Matt Ridley turns from investigating human nature to investigating human progress.
Seminario Internacional - Políticas Públicas para el Gobierno Electrónico - 23 y 24 de marzo de 2006
LROC Image Browser - wac_nearside
F.
The Rise of the New Global Elite - Magazine
Homepage | FuturICT
A conversation on TED.com: What is the next big thing?
MERIP Home
Resource Center | Open Society Foundations
David Brin has created some of the greatest classics of recent science fiction, including Startide Rising, plus the short stories "The Crystal Spheres" and "Thor Meets Captain America," the latter of which was the basis of the graphic novel The Life Eaters.
David Brin's Existence will make you think about the future a whole new way
WHITE POPPIES FOR PEACE
World population densities mapped
Complete Original '07 Zeitgeist With 2010 Updates by: Peter Joseph
Alternative Technology Association website
FutureMe.org: Write a Letter to the Future
but does it float
L'Observatoire des Tendances
Futurity.org
World Future Society | Tomorrow is built today.
The Future of Science 2021: A Multiverse of Exploration
The next 10 years will be very unlike the last 10 years
Future Shock
Domínio Público - Pesquisa Básica
Como se tornar um líder do século 21
025: The Next Big Thing
Telecom - Infraestrutura de Telecomunicações terá 12,7 bilhões até 2015
Home page - The Research Council of Norway
Knowledge Management and the Smarter Lawyer
Stand Up for Owners' Rights
RESPONSIBLE THINKING
10 Questions for Nobel Laureate Daniel Kahneman