Future Perspectives, Think Tanks, Etc.
17 años, 8 meses y 1 día. Juan Meléndez vivió casi dos décadas preso y enfrentó la pena de muerte luego de ser condenado por error Juan Roberto "Johnny" Meléndez Colón repite una y otra vez los números "17 años, 8 meses y 1 día".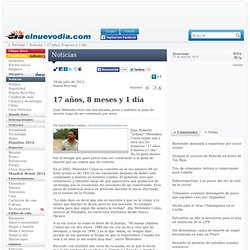 No es para menos: fue el tiempo que pasó preso tras ser condenado a la pena de muerte por un crimen que no cometió. En el 2002, Meléndez Colón se convirtió en el reo número 99 (el total actual es de 140) en ser exonerado después de haber sido condenado a muerte en Estados Unidos. El gobierno tuvo que retractarse y liberarlo luego de que apareciera una grabación de un testigo que lo exoneraba del asesinato de un comerciante.
Esta pieza de evidencia nunca se presentó durante el juicio efectuado en el estado de la Florida. Admit complexity: a few takeaways from MSF's "Humanitarian Negotiations Revealed" « Find What Works. I snagged a free copy of a recent volume published by Médecins Sans Frontières (aka Doctors Without Borders).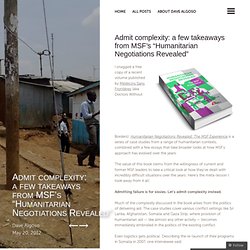 Humanitarian Negotiations Revealed: The MSF Experience is a series of case studies from a range of humanitarian contexts, combined with a few essays that take broader looks at how MSF's approach has evolved over the years. The value of this book stems from the willingness of current and former MSF leaders to take a critical look at how they've dealt with incredibly difficult situations over the years. Here's the meta-lesson I took away from it all: Admitting failure is for sissies. Let's admit complexity instead. Mondialisation. Diplomatie & Geostrategie. Newsroom - Calendar - Europe Day 2012 – 62nd anniversary of the Schuman Declaration.
Fri 18 January 2013 Institutional affairs | Council of the EU Coreper I Mon 21 January 2013.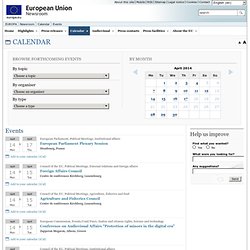 La otra cara de la moneda: el rechazo 2.0. La gran demanda y la buena acogida que están teniendo los nuevos canales sociales a día de hoy por parte de las personas, empresas y organizaciones, no copa en absoluto la totalidad de todo individuo físico o jurídico viviente.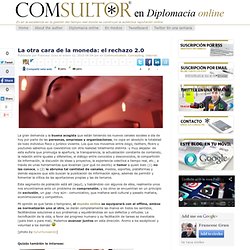 Los que nos movemos entre blogs, twitters, flickrs y youtubes sabemos que coexistimos con otra realidad totalmente distinta -y muy alejada- de esta euforia que promulga la apertura, la transparencia, la actualización constante de contenido, la relación entre iguales y diferentes, el diálogo entre conocidos y desconocidos, la compartición de información, la discusión de ideas y proyectos, la experiencia colectiva a tiempo real, etc.; a través de unas herramientas que levantan (por qué no decirlo) el temor a quien bien (1) no las conoce, o (2) le abruma tal cantidad de canales, medios, soportes, plataformas y demás espacios que sólo buscan la publicación de información ajena, además de permitir y fomentar la crítica de las aportaciones propias y las de terceros. Are any of these the Web's next big thing? Internet start-up ventures ply their wares at LeWeb conference in ParisEntrepreneurs hope their innovations can match success of Twitter or FacebookInventions range from Wi-Fi bathroom scales to 3D instant messengers Paris, France (CNN) -- With more than 2,000 Internet movers and shakers, the LeWeb conference in Paris is an ideal spot for start-up ventures to hoping to attract the investment and attention that will propel them to Twitter or Facebook-style success.

A series of stalls across the venue -- a giant arts complex converted from a disused morgue -- saw fresh-faced entrepreneurs demonstrating gadgets and applications they insisted will change the way we interface with the Internet. These might just be the inventions that everyone will be talking about next year or they could simply slip below the radar. True World Order Part 1. Why the future of work is play - TNW Industry.
Is this what you look like right now?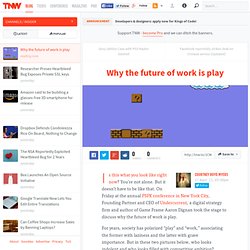 You're not alone. But it doesn't have to be like that. On Friday at the annual PSFK conference in New York City, Founding Partner and CEO of Undercurrent, a digital strategy firm and author of Game Frame Aaron Dignan took the stage to discuss why the future of work is play. For years, society has polarized "play" and "work," associating the former with laziness and the latter with grave importance. Observatoire International des Crises. Agefi Magazine (Suisse) Le "Social licence to operate", article de Didier Heiderich et Farner Consulting, mars 2014 (Pdf) - Lire Le Soir (Belgique) Communication de crise: hors les réseaux sociaux point de salut ?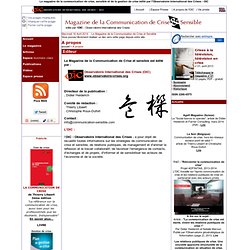 Article de Thierry Libaert et Christophe Roux-Dufort Lire R&D - "Réinventer la communication de crise" Projet ADFINITAS, 2013-2014 L'OIC travaille sur l'après communication de crise et les relations publiques de crise en partenariat avec des acteurs privés. Département des Études de la Prospective et des statistiques- Enquête sur les pratiques culturelles des Français. The Future Of Work Is Play. Humans love games.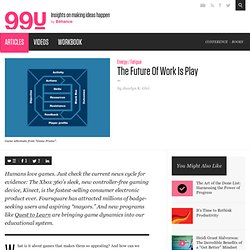 Just check the current news cycle for evidence: The Xbox 360's sleek, new controller-free gaming device, Kinect, is the fastest-selling consumer electronic product ever. Foursquare has attracted millions of badge-seeking users and aspiring "mayors." And new programs like Quest to Learn are bringing game dynamics into our educational system. What is it about games that makes them so appealing? And how can we translate our enthusiasm for play into the workplace? Future. Civilisation TWO | The Blueprint for a New Civilization. Introducing Waysphere: Holonic Social Mapping for Human Beings. OECD – Your Better Life Index. Spain. How's Life?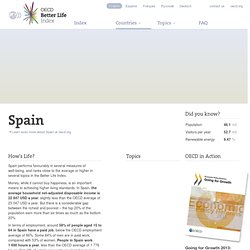 Spain performs favourably in several measures of well-being, and ranks close to the average or higher in several topics in the Better Life Index. Money, while it cannot buy happiness, is an important means to achieving higher living standards. In Spain, the average household net-adjusted disposable income is 22 847 USD a year, slightly less than the OECD average of 23 047 USD a year. But there is a considerable gap between the richest and poorest – the top 20% of the population earn more than six times as much as the bottom 20%. Simulateur 2011 - Australie - Qui serez vous ? Où serez vous en 2011 ? 10 Deadliest Cities. Better World... Projetos. Noticias para Señales de los Tiempos mie, 18 jul 2012. Data Finder: WorldDevlopIndicators.
Nanointervencionismo » Destaque » Instituto Millenium. O Estado encontra-se em pronunciada transição.
Transformam-se a matriz francesa de divisão entre poderes e o modelo anglo-americano de freios e contrapesos (checks and balances). Hoje, em diferentes nações, o Executivo julga. Futuristfi. Futures Thinking. Productivity Future Vision (2011) Share Conference | Social, Media, Music | April 7-9, Belgrade, Serbia | SHARE Konferencija | Social, Media, Music | April 7-9, Beograd, Srbija. World Clock. What is going on in the world? Envisioning Development: What is Affordable Housing? I Do Not Want Mercy, I Want You To Join Me. Tim DeChristopher, who was sentenced Tuesday to two years in federal prison and a $10,000 fine for 'disrupting' a Bureau of Land Management auction in 2008, had an opportunity to address the court and the judge immediately before his sentence was announced.
This is his statement: "… those who write the rules are those who profit from the status quo.
Future Pearlers. Magazines & News. Future Analysis. Devices, Tools, Inventions. Fracture numérique : 25% des Français n'ont pas accès à Internet. L'Observatoire des Inégalités, organisme indépendant d'information et d'analyse sur les inégalités, a mis en ligne début mai 2012 un dossier sur la fracture numérique en France intitulé Technologies de l'information : des inégalités qui se réduisent avec des données, chiffrages et pourcentages issus du dernier rapport annuel du CREDOC : La diffusion des technologies de l'information et de la communication dans la société française (2011). L'organisme souligne des points-clés sur l'équipement et l'accès français à l'informatique, à l'Internet et aux outils connectés. Diminution des inégalités d'accès 85 % des Français possèdent un téléphone portable, 78 % ont un micro-ordinateur et 75 % sont équipés d'Internet à domicile.
La situation s'améliore pour les populations les moins diplômées : entre 2001 et 2009, le taux d'accès à Internet à domicile a été multiplié par 6,8 passant de 8 à 54 % chez ceux qui ont un diplôme inférieur au bac. The Great Debate Contributors: Matt Ridley. The Rational Optimist: How Prosperity Evolves Matt Ridley turns from investigating human nature to investigating human progress. In The Rational Optimist Ridley offers a counterblast to the prevailing pessimism of our age, and proves, however much we like to think to the contrary, that things are getting better. Over 10,000 years ago there were fewer than 10 million people on the planet. Today there are more than 6 billion, 99 per cent of whom are better fed, better sheltered, better entertained and better protected against disease than their Stone Age ancestors.
The availability of almost everything a person could want or need has been going erratically upwards for 10,000 years and has rapidly accelerated over the last 200 years: calories; vitamins; clean water; machines; privacy; the means to travel faster than we can run, and the ability to communicate over longer distances than we can shout. LROC Image Browser - wac_nearside. The Rise of the New Global Elite - Magazine. F. Scott Fitzgerald was right when he declared the rich different from you and me. But today's super-rich are also different from yesterday's: more hardworking and meritocratic, but less connected to the nations that granted them opportunity—and the countrymen they are leaving ever further behind. Stephen Webster/Wonderful Machine. Homepage | FuturICT. A conversation on TED.com: What is the next big thing? MERIP Home. Resource Center | Open Society Foundations. David Brin's Existence will make you think about the future a whole new way.
WHITE POPPIES FOR PEACE. World population densities mapped. Complete Original '07 Zeitgeist With 2010 Updates by: Peter Joseph. Alternative Technology Association website. FutureMe.org: Write a Letter to the Future. But does it float. L'Observatoire des Tendances. Futurity.org. World Future Society | Tomorrow is built today. The Future of Science 2021: A Multiverse of Exploration. The next 10 years will be very unlike the last 10 years. Future Shock. Domínio Público - Pesquisa Básica. Como se tornar um líder do século 21. 025: The Next Big Thing. Telecom - Infraestrutura de Telecomunicações terá 12,7 bilhões até 2015. Home page - The Research Council of Norway. Knowledge Management and the Smarter Lawyer. Stand Up for Owners' Rights.
RESPONSIBLE THINKING. 10 Questions for Nobel Laureate Daniel Kahneman.
---